First count of herbivore in Jalpaiguri district from today
According to sources, the census will be conducted in the forests in the plains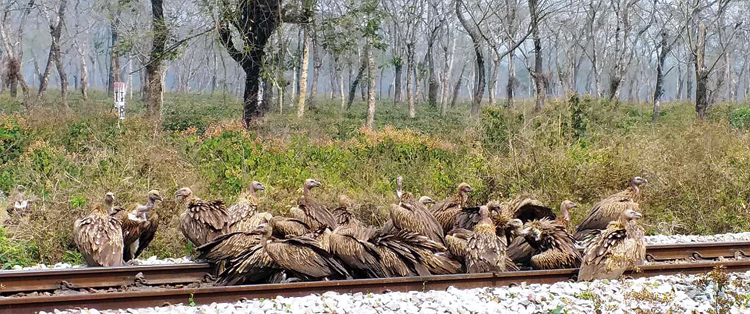 A flock of vultures was sighted on railway tracks near Bagrakote in Jalpaiguri district on Sunday. Kumar Vimal, the divisional forest officer of Jaldapara Wildlife Division, said there were around 200 birds, most of which were Himalayan griffons. The flock had white-backed vultures as well.
Picture courtesy: Kumar Vimal
---
Alipurduar
|
Published 10.03.20, 06:40 PM
|
---
The state forest department will for the first time conduct a comprehensive census of the herbivores in the jungles of plains in north Bengal from Wednesday.
Foresters said apart from rhinos, gaurs and elephants, it would be for the first time that other herbivores would be counted. "The department will conduct the census to know the exact number of different species of herbivores in the forests of north Bengal from March 12 to 14," said Ujjwal Ghosh, chief conservator of forest (wildlife, north).
According to sources, the census will be conducted in the forests in the plains.
The Singalila National Park and Senchal Wildlife Sanctuary in the Darjeeling hills and the Neora Valley National Park in Kalimpong district – the three major dens of herbivores – have been kept out of the exercise. Also, the 80-hectare area in the Jaldapara National Park that was damaged in a recent blaze will not be covered by the census.
"The census will start from 6am. More than 500 persons, including forest staff and NGO representatives, will be engaged in the exercise. They have been provided with necessary training and will count the herbivores through direct sighting and transact methods," a forester said.
He said the main objective of the census was to figure out the population of gaurs. Also, sambar, spotted deer, hog deer, barking deer are some other animals which will be counted. The entire process will be taken up with the technical support of the Wildlife Institute of India, said sources.
In north Bengal, the census of wild elephants and rhinos is conducted in two years.
"Once the number of herbivores is established, it would be easier to get a clear idea of the prey base for predators in the forests of the plains," a forester.