Feisty women battle existential crisis
25 women have been camping out on the Maidan since January 7 demanding rollback of the CAA, NRC and the NPR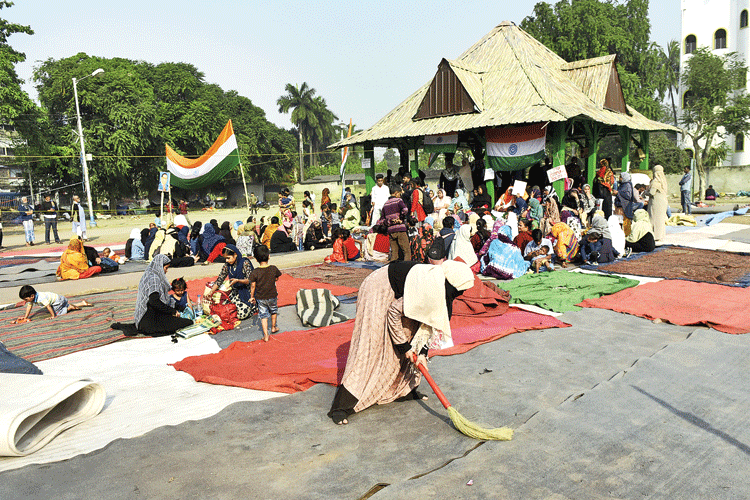 2.26pm: A protester sweeps the sit-in venue at Park Circus Maidan on Tuesday afternoon.
Picture by Sanat Kr Sinha
---
Calcutta
|
Published 14.01.20, 08:09 PM
|
--- Amrin Begum's two daughters are at Park Circus Maidan past 10pm these days. Her husband picks them up while returning home. Like any doting mother, Amrin, 28, would never allow her children to step out in the cold, but not now.
She is on a round-the-clock vigil against the Citizenship (Amendment) Act, the National Register for Citizens and the National Population Register at Park Circus Maidan since January 7. The homemaker knows it is difficult for her daughters — aged four and eight — in the cold, but says her vigil is a struggle for "existence".
"My daughters miss me at home, but I am fighting for them also. It is a question of their and our existence. I will not go back till the CAA is repealed and the plan for nationwide NRC is shelved," Amrin said on Wednesday.
Farhat Islam's three children are taking exams in school. But Farhat cannot go home to help them. "What will exams bring if they are not allowed to stay in this country?" asked Farhat.
Twenty-five women like Amrin and Farhat have been camping out at Park Circus Maidan for the last eight days demanding rollback of the CAA, the NRC and the NPR. Not being able to stay with their family is one of the many difficulties these women are overcoming to stay put at Park Circus Maidan. But their resolve is as strong as on the day when the sit-in started.
There are no tents and toilets and the women have to shout their lungs out to let the visitors hear them because police have not allowed them to use loudspeakers. A small portable microphone they are using is hardly enough to reach their words to those beyond the first circle around them.
The gathering at Park Circus Maidan swells from late afternoon. During evening hours, the crowd count reaches close to 1,000 when many professionals drop in after work. At night, when most people leave, these 25 women and some more men stay back.
"The 25 women sleep cramped on the concrete platform with an overhead shed. But the sides are open and wind hits hard at night," said another woman.
"It is worse for men as they sleep under the open sky with only a blanket over them and rubber sheets to sleep on," she said.
Farhat said they had approached the Calcutta Municipal Corporation (CMC) for permission to set up a temporary tent but it was turned down. A covered tent would have helped them combat the cold at night, she said.
In the mornings, the women have to walk to a mosque nearby to relieve themselves and freshen up. There is a single washroom for all of them. "We are thankful to the mosque authorities that they are allowing us to use the washroom. We wanted to install portable bio-toilets but haven't got permission from the civic body," said Farhat.
A senior engineer of the CMC, however, told Metro that none had approached them for permission to set up bio-toilets or tents on Park Circus Maidan.
"We have neither received any letter, nor did anyone approach us with a verbal request," said the engineer.
For the women on the ground, the difficulties are something they talk about only when prodded. Their day passes shouting slogans, humming songs and delivering speeches on why CAA and NRC should be opposed. "Not having a toilet or sleeping in the cold does not worry us. What bothers us is when will the government listen to our demands. Why should we be asked to show our papers? This is an insult," said 70-year-old Maimun Nisa.
What cheers up these women are the words of solidarity from complete strangers like mother-daughter duo Sarmistha and Averi Chakrabarti. Averi is a post-doctoral fellow at Harvard University and is in town on vacation. The duo were at the protest venue on Wednesday afternoon.
"We felt this is the least we can do for these people. When they have shown such courage to resist the divisive policies of the government, we should at least come and stand by them," said Sarmistha, a retired professor of Calcutta University.
The protesting women said residents of the area had taken care of their food and tea. "You will not believe how autorickshaw drivers, local residents, women and students are coming and giving us tea, water and meals," said one protester.