Fascist surgical strike on JNU: Mamata
'Pak branding uncalled for'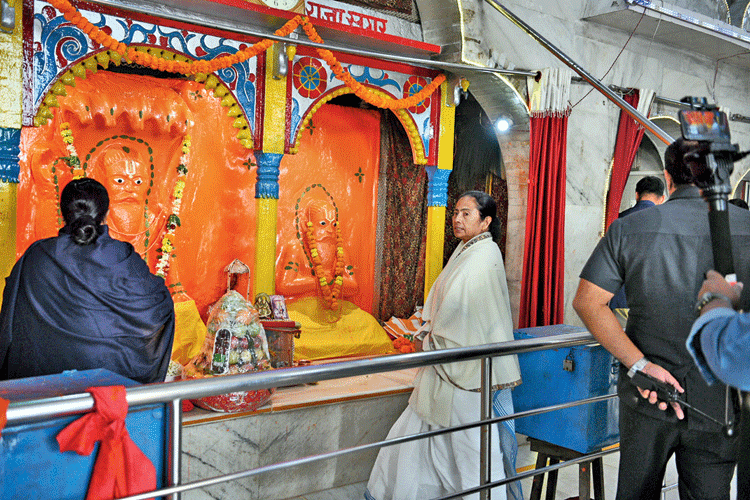 Mamata offers prayers at the Kapil Muni Ashram in Sagar Island on Monday.
Picture by Gautam Bose
---
Calcutta
|
Published 06.01.20, 08:46 PM
|
---
Bengal chief minister Mamata Banerjee on Monday called the attack on students at the Jawaharlal Nehru University a "fascist surgical strike" and exhorted students to fight together to oust the Narendra Modi government.
Defending the citizens' right to protest and dissent in a democracy, without being branded as enemies of the state, the Trinamul Congress chief tore into the Narendra Modi government and the Union home ministry under Amit Shah for the JNU incident.
"Today I am a full-time politician. But I started my political career as a student leader, as a student worker. So, I know student politics very well. I am now seeing how they are torturing students and even professors. It is shameful," said Mamata. "This is absolutely wrong. This was a fascist surgical strike. A fascist surgical strike," she added.
On Sunday evening, even as the attack was being carried out at the JNU, she had issued a statement in support of students and teachers there and promised to send a delegation of Trinamul leaders to the central university on Monday morning.
However, the four-member team led by former railway minister Dinesh Trivedi was prevented from accessing the university by police on Monday.
"Whoever speaks against them, they paint the person as if they are an enemy of the country. Branded as anti-national, Pakistani…. Pakistan is not a democratic country but I can proudly say India is. But look at what happened at JNU, JMI, IIT Kanpur, JU," Mamata said.
"Delhi Police is not in (chief minister) Arvind Kejriwal's hands, so the Centre is doing whatever it likes. It keeps them inactive and lets BJP workers do whatever they feel like," she added.
The chief minister said the JNU attack was no different from atrocities unleashed on dissenters in Lucknow, Moradabad and elsewhere in Uttar Pradesh, or Shaheen Bagh in Delhi.
Mamata has said governments come and go in democratic politics, but a majority in Parliament does not let the ruling party do whatever it feels like.
"Everyone has to work in accordance with the Constitution. Democracy cannot be reduced to a joke," she said.
"I will appeal to all student communities to be together, and to fight together, against this government. Let us all fight together," she added. "Now, it is a very dangerous situation in the country. I do not know what will happen tomorrow. It is just like we are seeing a second Freedom struggle."