Farms turn pastures in water rage in East Burdwan
Burdwan and Birbhum account for almost 30 per cent of West Bengal's kharif output of around 110 lakh tonnes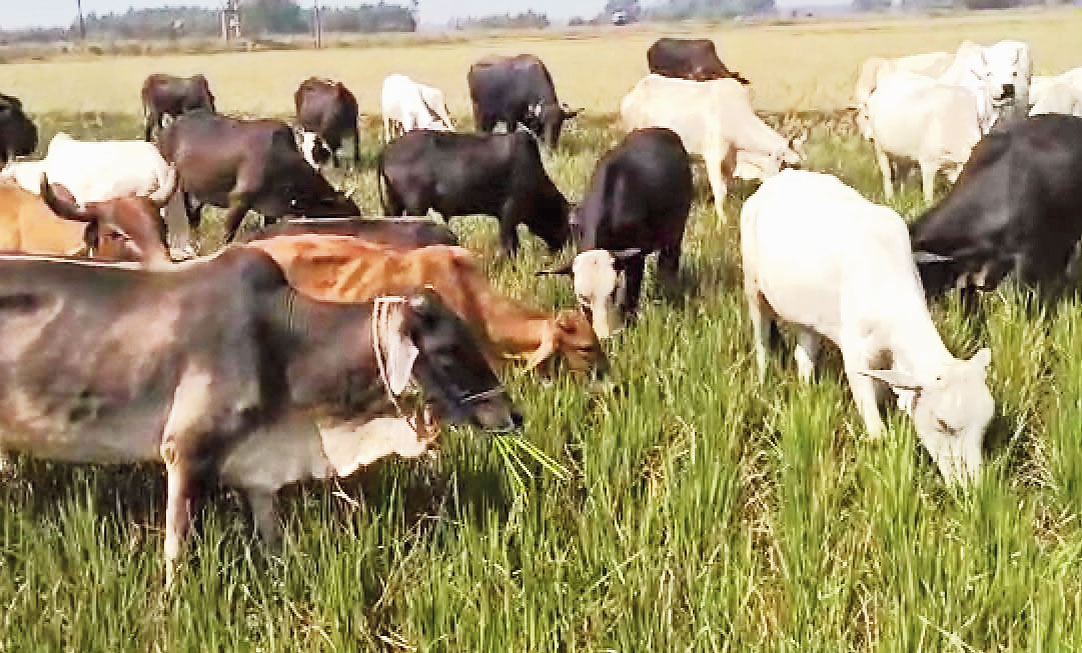 ---
Burdwan
|
Published 26.10.18, 08:18 PM
|
---
Hundreds of farmers in East Burdwan's Bhatar and Mangalkote let cows into their paddy fields on Friday to protest lack of irrigation facilities.
The agitation to save the kharif (monsoon) crops from drying up left the administration in a fix as it came barely three weeks before harvest.
"The crop is fast drying up due to lack of rain since September-end. The situation is alarming and water is needed immediately," said an agriculture department official.
A 13-day Puja holiday made matters worse as the departments concerned could not arrange for water then. Sources said in East Burdwan said monsoon-dependent paddy on 2.8 lakh hectares of the 3.3 lakh cultivated (84 per cent) was in danger, sources said. "Birbhum received 60 per cent less rainfall since September-end and East Burdwan 84 per cent," said a source.
A scientist in the agriculture said most rice varieties cultivated in Bengal needed abundant water in the final stages when the grains start maturing.
Sources said the water shortage could have been averted had the agriculture and the irrigation departments kept track of the situation and responded accordingly.
State agriculture minister Ashish Banerjee met Burdwan officials on Thursday. "We have asked the Damodar Valley Corporation (DVC) to release water from its dams but they do not have enough in their reservoirs because of inadequate rain (upstream) in Jharkhand," said Banerjee.
A DVC official contested the minister's assertion. "We have shortage but had released water between October 12 and 18," said the official.
The release came after the state approached the Central Water Commission on October 10.
"But nobody followed it up during the (Puja) vacation as the officers could not realise that water released during the seven-day period was not enough," a state official said.
Burdwan and Birbhum account for almost 30 per cent of the state's kharif output of around 110 lakh tonnes.
"The crisis could reduce production by 6 lakh tonnes. This is significant as the state produces about 155 lakh tonnes of paddy annually against its requirement of 150 lakh tonnes," said an official.