Farmers near border cry crop damage in Jalpaiguri
'The tea plantation that was on an Indian land has been turned into a football playing field by the Bangladeshis'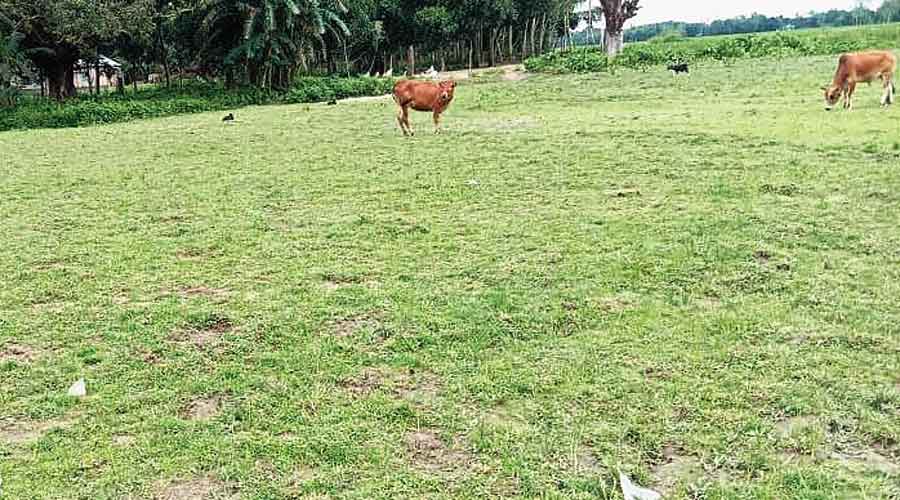 ---
---
Some farmers of South Berubari, under Jalpaiguri's Sadar block close to the India-Bangladesh border, reached the office of the district magistrate here on Wednesday with the allegation that some Bangladeshi residents were damaging their crops.
In South Berubari, there are around 60 farmers with around 156 bighas of farmland beyond the barbed fences of the border, within 150 yards on the Indian side and till "zero point". They are residents of villages like Baruipara, Bhutiapara, Daspara and Chawshpara, all under Jalpaiguri's block Sadar block.
"For past few months, some Bangladeshis are damaging our crops on a regular basis. I had a tea plantation spread over an area of eight bighas. These people have uprooted around 5,000 tea bushes from the land and now they are not allowing us to plant fresh tea bushes. I had brought in the seedlings but those have also been damaged. We have informed local officials of the BSF and the police but nothing has been done to help us so far," said farmer Bappa Roy.
The farmers, accompanied by district leaders of All India Forward Bloc, filed a complaint with district magistrate Abhishek Kumar Tiwary and sought his intervention.
Gobinda Roy, a former MLA and a state secretariat member of Forward Bloc, said these farmers were facing problems on a regular basis.
"The tea plantation that was on an Indian land has been turned into a football playing field by the Bangladeshis. The administration should raise the issue to appropriate levels so that these people can farm on their land," Roy said.
Along the India-Bangladesh border, there are hundreds of Indian farmers who cross fences through gates guarded by the BSF to reach in their fields beyond the fences. Some districts like Cooch Behar even have Indian villages located beyond the fences.
"We want to make it clear that if the problem persists, we would be forced to launch a sit-in with the affected farmers on the border. Many of them are entirely dependent on the agricultural produce from the land they own for years now. If they cannot farm or cultivate tea bushes on their own land, it is tough for them to run their families," Saradaprasad Roy, the Jalpaiguri district Forward Bloc president, said.
The farmers said the BSF allowed them to move through the gates from 8am onwards. By 4pm, they return to their villages.
"The Bangladeshi miscreants on a number of occasions take away our crop ready for harvest, either early in the morning or after we return from the field," said Harishchandra Roy, a South Berubari resident.
DM Tiwary said he had been apprised about the issue. "We will soon speak with officials of BSF and the police. All necessary steps will be taken in this regard," he said.