Facility scale-up for Covid battle in the hills
Darjeeling district hospital, at present has no ventilators for Covid-19 patients; plans are afoot to get four such machines for the healthcare centre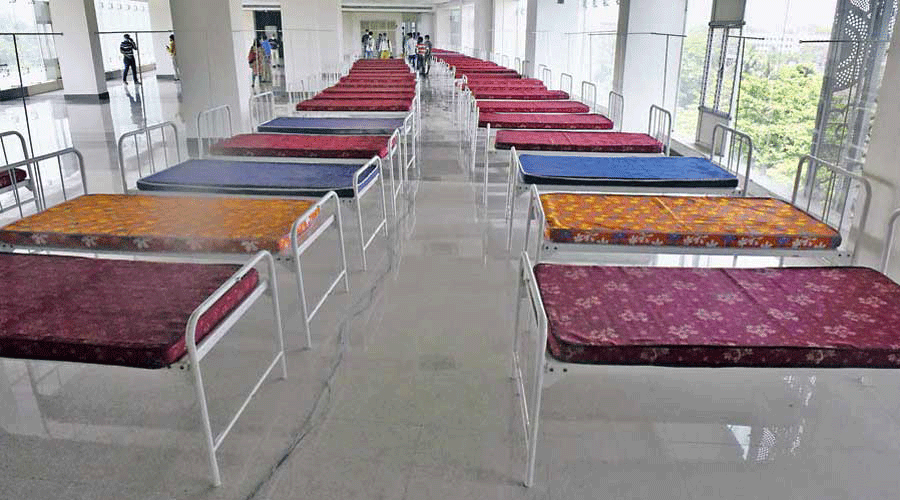 Each GTA official has been entrusted to look after specified hospitals and other centres.
File picture
---
Siliguri, Darjeeling
|
Published 20.05.21, 12:50 AM
|
---
The Gorkhaland Territorial Administration (GTA) has appointed five officials to liaison with hospitals and safe homes across the hills to look into infrastructure and related issues following a relative surge in Covid-19 cases in the Darjeeling hills.
The two district hospitals in Darjeeling and Kalimpong, and the Covid-19 hospital in Triveni near Teesta lack oxygen  plants. Even facilities like CT-scan are lacking in Darjeeling.
Samden Dukpa, the GTA executive director, will coordinate with Sonam Bhutia, also an executive director and joint executive directors Bhaskar Moktan, Manabendra Modak and Arijit Mitra along with "executive engineers of the concerned civil and electrical divisions for addressing to any infrastructural issues that may be raised by the hospital authorities".
Each GTA official has been entrusted to look after specified hospitals and other centres.
A GTA official said that plans were afoot to get four ventilators for Darjeeling district hospital.
This hospital has no ventilator for Covid-19 patients.
Social organisations and even political parties are focussing on getting oxygen concentrators in the hills to tide over the present situation.
As part of Project CARE (Critical Aid Response) an initiative of Edwards Foundation and Darjeeling Initiative, 13 oxygen concentrators have been donated to the Planters' Hospital in Darjeeling.
Darjeeling BJP MP Raju Bista and the five MLAs of the district have also donated more than 12 oxygen concentrators to various hospitals in the region.
Many medical professionals, however, have cautioned that while oxygen concentrators have come as relief,  the administration should focus on long term infrastructure in the hills. Doctors maintain that though concentrators can work continuously over long periods and are hassle-free as no cylinders are needed, these cannot supply enough oxygen to severe patients."Concentrators can supply between 5 to 10 litres of oxygen per minute. But patients needing high flow of oxygen require anything between 16 litres to 45 litres of oxygen per minute," a senior doctor explained.
"The concentrator is useful for mild cases but the administration must focus on setting up oxygen plants and stocking enough oxygen cylinders," he added.
Oxygen cylinders can supply high flow oxygen.
The Darjeeling district health department has decided to engage 500 health workers (swasthya bandhu) for treatment of Covid-19 infected patients across the district.
They have already been provided with necessary training by the health officials through orientation camps organised in different blocks.
"We will engage around 500 health workers to help in Covid treatment. They have already been trained through orientation camps by the district health officials and will start their services from Thursday," Pralay Acharya, the chief medical officer of health (CMOH) of Darjeeling district, said on Wednesday.
Sources in the department said altogether, around 2.75 lakh health workers would be providing their services across the state, particularly in rural and semi-urban areas.
"Though they don't have a medical degree, they can render their services in preliminary and basic treatments in interior parts of the state. The decision to engage them was taken by the chief minister Mamata Banerjee on May 5," said a source. 
On Wednesday, 20 more beds were added and a new ward was opened for Covid patients at Siliguri district hospital. Gautam Deb, chairperson of the BoA of Siliguri Municipal Corporation, formally opened the ward.