Erosion brings South 24-Parganas school on brink of collapse
It is one of the four primary education facilities on the island with 55 students and three teachers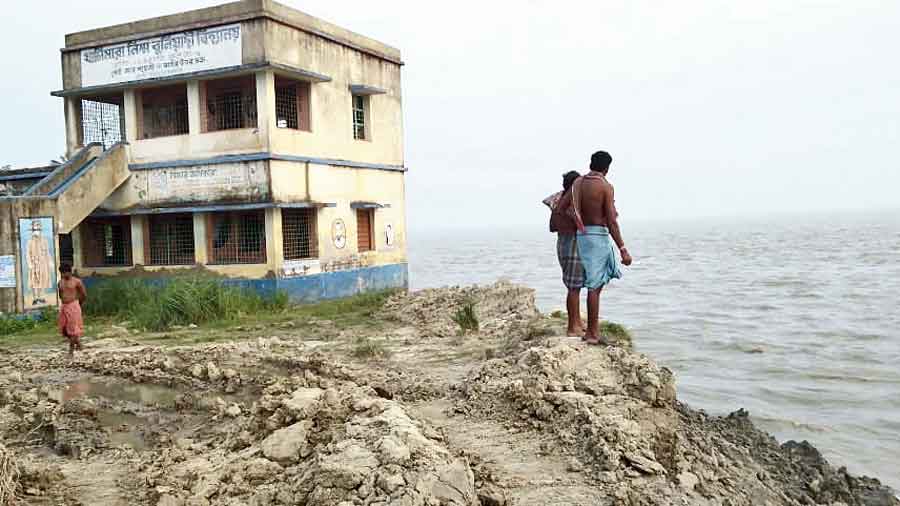 The school building in Ghoramara island, South 24-Parganas, endangered by erosion.
Hedaytulla Purkait
---
Calcutta
|
Published 17.10.21, 12:06 AM
|
---
The state government has decided to relocate a primary school in Ghoramara island of South 24-Parganas as its two-storey building cannot be used any further with erosion slowly devouring the structure that stands on the banks of the Hooghly in an area ravaged by Cyclone Yaas.
Khasimara Nimno Buniyadi School, on the verge of being swept away by the river, is one of the four primary education facilities on the island, with 55 students and three teachers.
"We will relocate the school very soon. As a first step we are trying to shift it to any available government or private building. Later, we will construct a building for it," said Ajit Nayek, chairman of district primary school council in South 24-Parganas.
Teachers of Khasimara Nimno Buniyadi School said they did not have space to store dry ration for midday meals or preserve documents.
"We have shifted key documents to another primary school. We distribute dry ration the same day we receive it," said Shankar Prasad Panda, its headmaster.
Sources said the need to relocate the school assumed urgency as the state government is working on a schedule to open schools in November on alternative days.
"The state government is yet to decide on a date to reopen schools but expect things to happen soon," said an official of the district's education department.
"The situation in Khasimara is the worst. But I know of two more schools in Gosaba and Patharpratima where school buildings are likely to collapse into the river. So, we have to chalk out relocation plans for those two schools too," Nayek added.
According to Nayek, at least 150 schools in the district had become risky for use after they bore the brunt of Cyclone Yaas in May this year. Sources said Ghoramara was also badly affected by Cyclone Amphan in May last year.