Erosion below rail line hits trains in Murshidabad
The stretch from below the Azimganj-Farakka line of Eastern Railways' Malda division, halfway between Sujnipara and Jangipur was hollowed out by a strong current or flood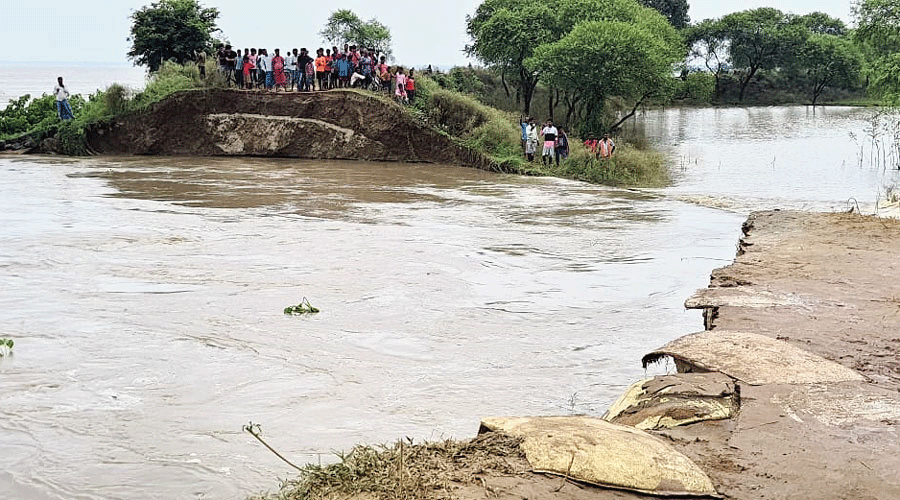 Water gushes into Bhutni island after the embankment collapse on Friday.
Soumya De Sarkar
---
Behrampore
|
Published 15.08.21, 01:57 AM
|
---
Incessant rain on Friday evening led to the sudden erosion of 70 metres of land below the railway line in Murshidabad's Ahiran village on Saturday around dawn.
The stretch from below the Azimganj-Farakka line of Eastern Railways' Malda division, halfway between Sujnipara and Jangipur was hollowed out by a strong current or flood.
Since Friday night, as rain pounded the stretch, trains got delayed. After Saturday's erosion, at least 11 trains had to be rerouted from Farakka via Rampurhat and Burdwan. Farakka station hosts a dividing line.
"On Saturday, Nabadwip Dham-Malda Express was cancelled and many special trains including the Kamrup Express and Teesta Torsa Express were rerouted," said an Eastern Railways official on Saturday. These trains were to originate from Howrah station and operate on the North Bengal-Katwa route, for which Farakka is a vital cog. The Farakka-Azimganj line was also closed.
"Repairs started at the crack of dawn and the target is to finish them by Sunday evening. Operations may resume on Monday at best," said Malda division's PRO Pawan Kumar.
The development reportedly caused widespread distress to passengers hailing from Suti, Samserganj, and Jangipur, most of whom travel to suburban areas or to Calcutta on trains for their livelihood.
"We will lose too much time trying to traverse this 250km to Calcutta by bus. It is impossible to keep up that routine daily, and moreover buses provide no guarantees of service. We hope things are back to normal by Monday," said Jangipur businessman Amal Biswas, 40.