Empowering women, a stitch at a time
Nari Seva Sangha will host a play at Madhusudan Mancha on November 22 as part of its 75-year celebrations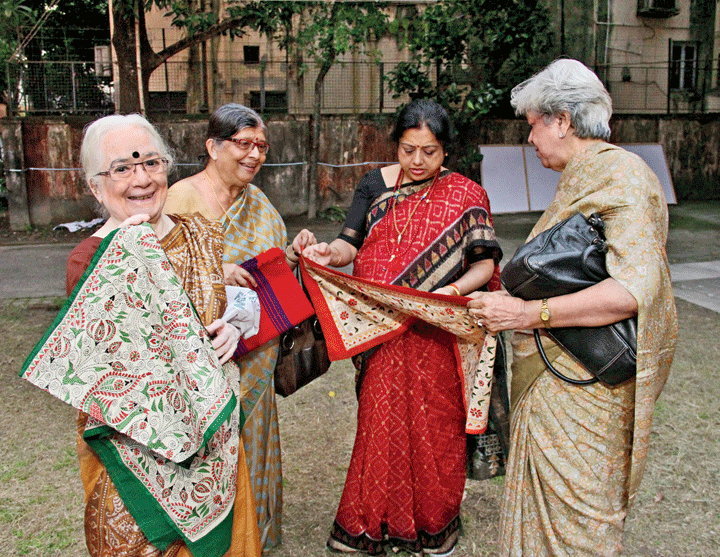 Monjula Datta, vice-president of Nari Seva Sangha, displays a kantha product as Debjani Sengupta, secretary, and committee members Achina Bhattacharya Kundu and Tapati Guha look on
Koushik Saha
---
Calcutta
|
Published 12.11.19, 09:12 PM
|
---
At 80, Maya Dutta still travels from her home in Bansdroni to Jodhpur Park every day, changing autos and buses, to teach tailoring to women at the 75-year-old organisation where she herself had learnt the skill.
Established in 1944, Nari Seva Sangha carries on its endeavour to empower marginalised and economically backward women by giving them vocational training. Many have taken on the role of teachers, after completion of training, and even those who take on jobs elsewhere keep their association with the organisation alive.
The organisation moved to its current address, a three-storey building spread over two bighas in Jodhpur Park, from Jhowtala Road in 1976.
"It was initially set up to help the famine victims of Bengal," said Ranjana Mukherjee, the joint secretary of the NGO.
The early patrons of Nari Seva Sangha included the likes of Sarojini Naidu, Lady Abala Bose. Syama Prasad Mookerjee was its first president and former chief minister Bidhan Chandra Roy the first vice-president, respectively. It was under Seeta Chaudhuri, honorary secretary, and her team of social workers that the organisation started empowering orphaned and disadvantaged women by training them in various skills.
The campus also houses a shelter for women and a hostel for working women and research students. Among the current residents is 90-year-old Namita Bose, Nari Seva Sangha's oldest teacher.
The usually quiet campus was buzzing with activity on Tuesday as the members of the organisation prepared for the 75th anniversary celebrations.
Helping out with the arrangements was Bandana Dutta, 48, a senior technician with a gadget company.
An orphan, Dutta had been shifted to the NGO from a shelter in Midnapore when she was 18. She had just passed her Madhyamik then.
"It is here that I signed up for various vocational classes. Nari Seva Sangha helped me gain confidence, pursue a technical course with Webel and prepared me for my current job. I also get stitching and art assignments on the side. I do not live on the campus anymore but this is my home where I keep coming back," Dutta said.
The organisation offers courses in spoken English and computer besides tailoring, knitting, weaving, batik and book-binding. Products made in these units are also sold at the annual fete and exhibitions.
"The tailoring course is the most popular," Mukherjee said.
The Nari Seva Sangha canteen, run by the residents, is known for such delicacies as fish chop, mutton chop, patishapta and nimki besides a range of pickles and jams. It also takes on catering assignments.
Krishna Mookerjee, the president of Nari Seva Sangha and one of its oldest members, said the organisation is mulling ways to move forward.
"There are many more employment options available now. Our courses are still top- notch but we are thinking of how to make them more attractive. We may also open doors to children in future," the 86-year-old Alipore resident said.
Vice-president Monjula Datta agreed. "We need to reach out to a larger section. We have to find newer ways to make girls self reliant and confident," she said.
Secretary Debjani Sengputa said the organisation at present trains 30 girls living in the shelter and some outsiders as well. "We have has room for 80 though," she said.
Maya Dutta, a teacher at the tailoring unit, rued that only a few students now want to take up teaching. "Earlier most of my students would want to teach after completing the training. Now they want to open their own boutiques," she said.
The organisation will host a play at Madhusudan Mancha on November 22, as part of its 75-year celebrations.