Emergency! Child born in cop car
After the child was born, the mother and the baby were taken out on a stretcher and admitted to the hospital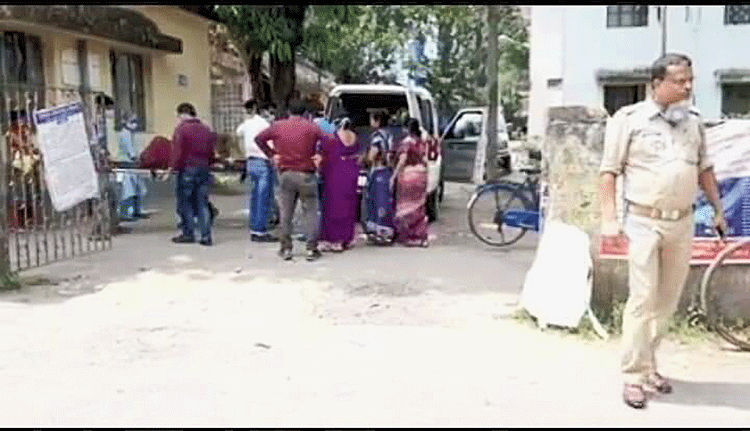 ---
|
Calcutta
|
Published 25.03.20, 08:52 PM
---
A woman gave birth to a girl inside a police vehicle that was taking her to hospital as her husband was unable to arrange for an ambulance during the lockdown on Wednesday.
Sanjiv Chakravorty, the inspector-in-charge of Sonarpur police station, was making rounds of his area when he spotted a man with an amputated arm standing alone on a deserted road around 12.10pm.
The officer stopped his vehicle and asked him: "Bari theke beriyechen keno? (Why have you stepped out)."
The man, Surinder Gupta, told the officer that his wife, Jyoti, was pregnant and he was looking for an ambulance to take her to hospital. "I asked him to bring his wife. But when he said 'chalne ke layak nahi (she is not in a position to walk)', I realised it was an emergency," Chakravorty told Metro.
The officer immediately asked his guards to run to the man's home, a few minutes from the main road, and carry the woman to the vehicle. The woman was made to lie on the back seat of Chakravorty's multi-utility vehicle.
"By the time I could intervene, birthing had begun. The woman was in great pain. We rushed to the Subhashgram hospital," Chakravorty said.
He alerted the district medical officer of health and asked him to keep a team ready at the hospital, around 5km from the woman's home.
As soon as the vehicle reached the hospital, a medical team attended to the woman in the car.
"My daughter was born inside the police vehicle. Mother and daughter are both fine. I do not have words to thank the IC sahib," said Gupta, who sells chanachur at Koley Market in Sealdah for a living.
After the child was born, the mother and the baby were taken out on a stretcher and admitted to the hospital.
Chakravorty said he had never faced a situation like this in his 24-year-long career.
"We have been requesting people to stay indoors all these days. It is a tireless task, but to be able to help someone like this is a matter of good fortune to me. I am happy that we could help both the mother and the child," said the officer.