Elephant herd leaves behind calf in Lalgarh
Keepers name baby jumbo Ashwini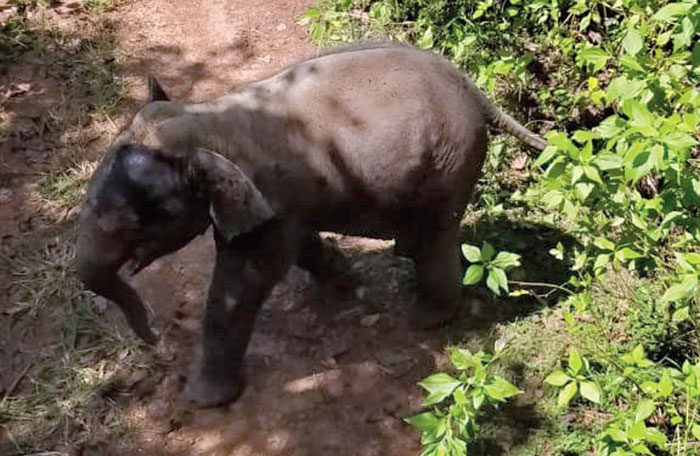 ---
|
Calcutta
|
Published 16.10.19, 12:14 AM
---
An elephant calf, separated from its herd in the forests of Lalgarh last Thursday, has found a new home at a zoo in Jhargram.
The female calf, barely a year old, was part of a herd of over 50 elephants straddling the forests of Lalgarh. Last Thursday, the calf started trailing the rest of the herd.
"When our men spotted the calf around 9.30am on Thursday, it was separated from the herd by a good 3-4km. We were initially sure that the mother and the herd would come back to take the baby," said Sakti Sankar Dey, the chief conservator of forests (western circle).
The forest guards kept a close watch on the calf till 5pm to protect it from wild animals — hyenas and wild dogs — and ensure the baby did not stray into the human settlements near the forest.
The calf ran amok in the jungle but inside a small area. It was scared and growing restless with every passing hour. After sundown, the forest officials decided to shift the calf out of the jungle.
"The calf was too young to survive on its own in the forest. There was no other option," Dey said.
A hula party arrived with two improvised mini vans. The area was cordoned off and two experienced guards grabbed the trunk and tail of the calf. Two more tied its feet with a rope and pushed it into another mini van.
The calf weighs around 200kg. But in the absence of her mother, she was extremely nervous and the hula party did not have much trouble in guiding her to the van, said a local forest official.
The calf was taken to the Jhargram mini zoo, around 4km from Jhargram station and over 35km from the spot in Lalgarh. "The calf cried through the first night at the park. Every time our keepers visited the calf, they saw tears rolling down her eyes," said an official at the park.
But the calf has started adjusting to its new home. She is on a diet of fruits, fodder and glucose-laced water.
The keepers have named her Ashwini, since she was found in the Bengali month of Ashwin. Since the calf has been in human company, there is virtually no chance that her herd will accept it in the wild again.
"We will try to train the calf as a kunki elephant. But for now, we just want it to settle now in human company," said a forest official.