Elephant calf hit, herd goes after car
The 3 occupants of the car managed to escape during the jumbo fury on Asian Highway 2 in Bagdogra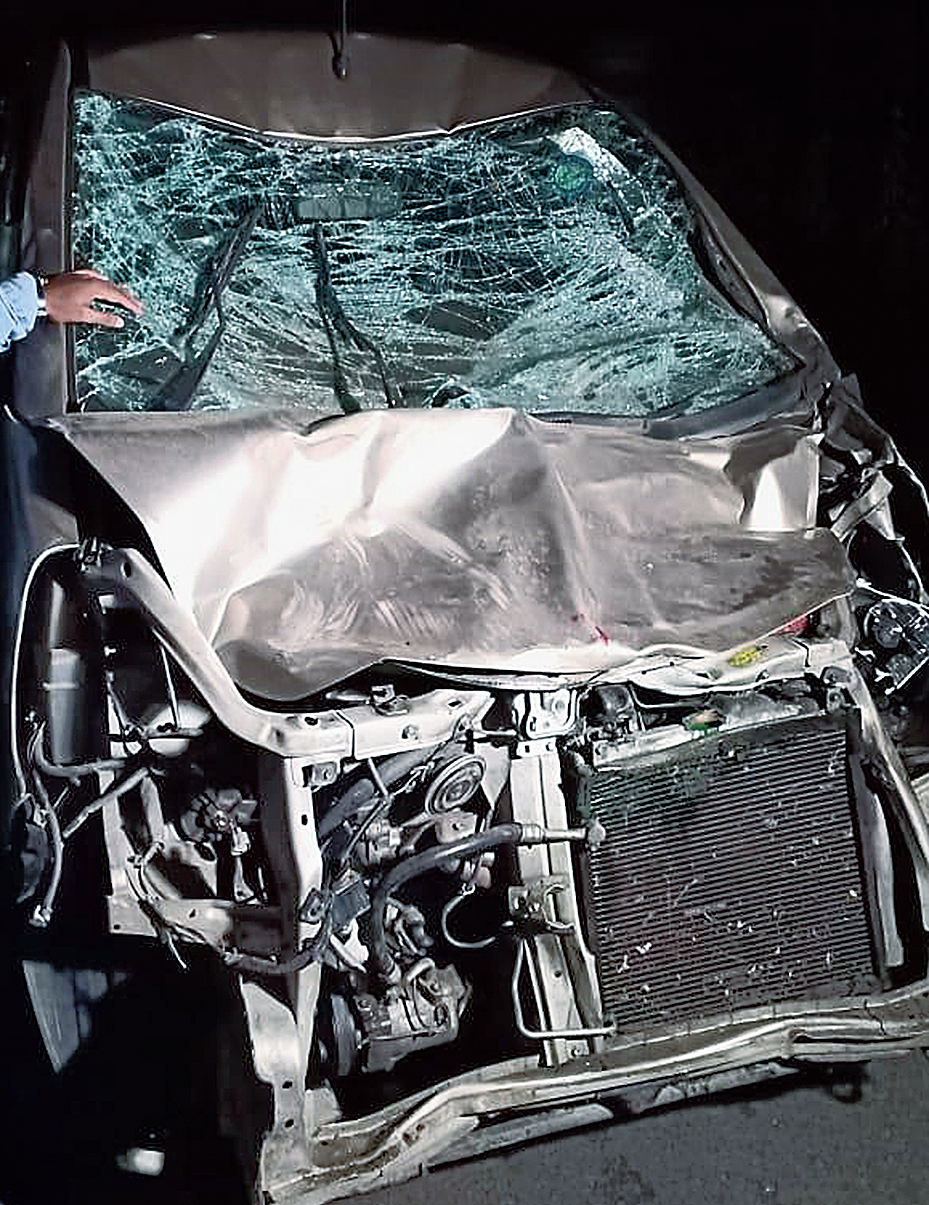 The car damaged by the herd of wild elephants near Siliguri.
Picture by Passang Yolmo
---
Siliguri
|
Published 08.11.19, 10:08 PM
|
---
An elephant calf was hit by a speeding car on a highway near Siliguri on Thursday night, triggering an attack by its herd on the vehicle.
The three occupants of the car managed to escape during the jumbo fury on Asian Highway 2 in Bagdogra.
"Around 10pm, a group of elephants was crossing the highway. A car headed towards Bagdogra rammed into the calf. Immediately after the accident, others in the herd charged at the car and damaged it," said a forest official.
After being hit, the calf slumped beside the road and lay groaning in pain. When forest officers arrived, the herd was still there at the spot. The team rescued the calf and treated it.
"We tranquillised the calf and found that the animal's left foreleg was wounded because of the accident. We treated it. Later in the morning (on Friday), the calf walked back towards the herd in the Bagdogra forests," a forest officer said.
"Our men have been asked to keep an eye on the calf and see whether its wound started healing," the forester added.
Sources said a herd of around 80 elephants had been wandering in the forests of Bagdogra for the past few days.
"They are often intruding into nearby tea estates on the fringes of the elephant corridor and even villages. We are on alert and have often been guiding the herds back into the forests," the officer said.
Carcass in reserve
The carcass of a young adult male elephant was found in the Buxa Tiger Reserve in Alipurduar on Friday.
Suvankar Sengupta, the field director of the reserve, ruled out poaching for now but said the forensic department was waiting for post-mortem and forensic reports to ascertain the exact cause of death.
A team of forest officers found the carcass along a stream during routine patrols.
Additional reporting by our Alipurduar correspondent