Effigy and new equations heat up hill politics
Anit Thapa was 'welcomed' by hundreds of supporters on his "return" to Kurseong from Darjeeling on Sunday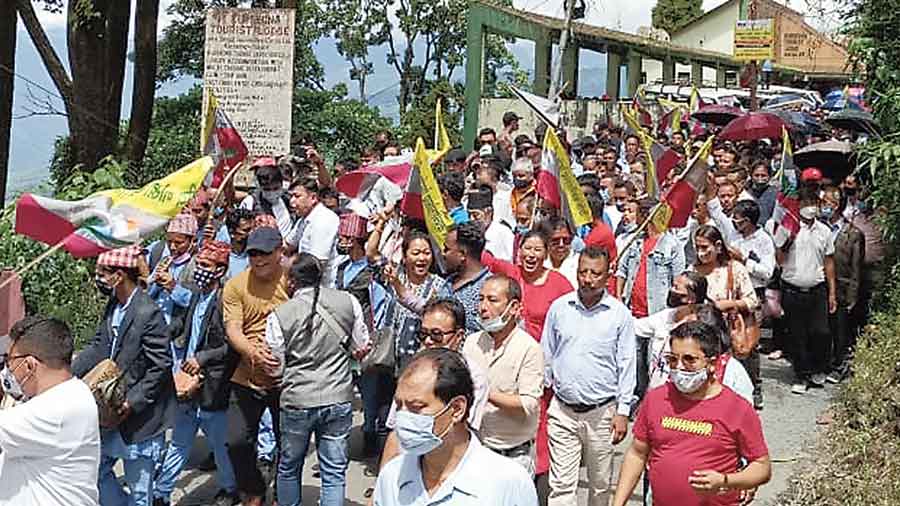 ---
Darjeeling
|
Published 13.09.21, 12:59 AM
|
---
It was a politically charged Sunday in the hills, almost akin to poll season.
Anit Thapa was "welcomed" by hundreds of supporters on his "return" to Kurseong from Darjeeling on Sunday. The two hill towns are apart by 35-odd kilometres.
Thapa returned to his home town after nearly two months and for the first time after floating his new political party, the Bharatiya Gorkha Prajatantrik Morcha.
"Our supporters came out on the streets to welcome me. There is a lot of work to be done in the hills," said Thapa.
S.P. Sharma, the general secretary of Akhil Bharatiya Gorkha League (ABGL), Bharati Tamang faction, was out in Darjeeling with an effigy of Darjeeling MP Raju Bista of the BJP, complete with a garland of shoes and slippers.
Sharma and his followers protested the Centre's failure to convene tripartite talks within the first week of September on the "permanent political solution". Bista had last month said Union home minister Amit Shah had assured him of holding a meeting within September first week.
When Sharma reached Bista's residence, Matterhorn in Darjeeling, Gorkha National Liberation Front (GNLF) leader and Darjeeling MLA from the BJP, Neeraj Zimba, was ready to welcome Sharma with floral garlands.
After a sarcastic exchange between the two leaders, Sharma left, refusing to enter the MP's residence despite being invited to do so by Zimba. Sharma said he refused because Zimba didn't allow the media to accompany Sharma inside the residence.
"The tripartite meeting will take place in September. I am ready to be garlanded with shoes and slippers if it does not happen," said Zimba.
Barely half a kilometre away from Bista's residence, Ajoy Edwards, who after quitting the GNLF has decided to form his own political party, addressed his supporters.
Many from Lebong and adjoining areas of Darjeeling pledged him their support. Edwards also promised to work for the community. "I am overwhelmed by the support I am getting from people who were never associated with any political party," said Edwards.
Bimal Gurung of the Gorkha Janmukti Morcha, the tallest leader of the hills from 2007 till all his three candidates lost the 2021 Assembly election, also held a meeting in Belatar, some 10km from Kurseong. Here, 40-odd supporters from Anit Thapa's party joined Gurung's party. 
Amid the political cacophony, the Kanchenjungha was clearly visible from the region after months.