Ajoy Edwards launches new party, promises to be different without tilt
Most hill parties are aligned with either the BJP or the TMC and the Gorkha leader's announcement is being seen as an attempt to provide a new option in politics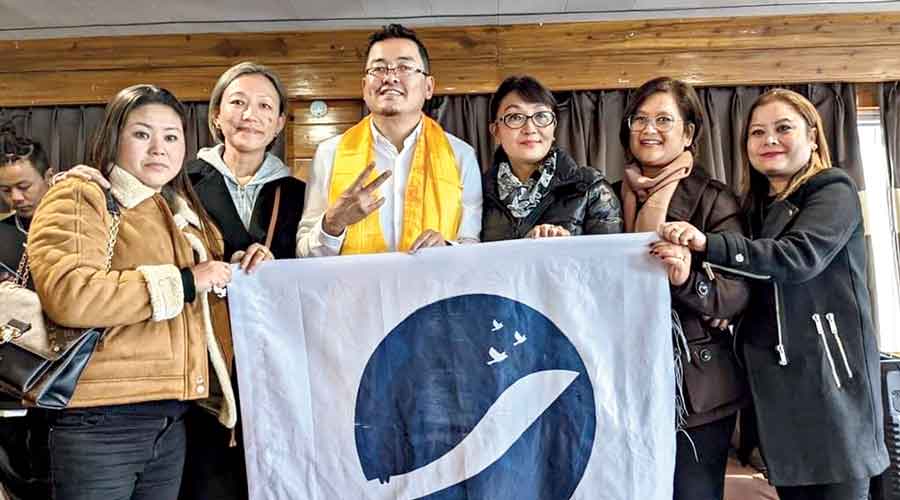 The Hamro Party's flag being unveiled on Thursday.
Telegraph photo.
---
Darjeeling
|
Published 26.11.21, 01:42 AM
|
---
Ajoy Edwards, owner of Darjeeling's famous restaurant Glenary's and a well-known philanthropist, has named his political outfit as Hamro Party (Our Party) with a promise to remain independent of parties in power in the state and at the Centre.
Most hill parties are aligned with either the BJP or the Trinamul Congress and Edwards's announcement on Thursday is being seen as an attempt to provide a new option in hill politics.
"The name of the party has been selected by the people, the silent majority. The situation in the hills seems such that the majority of the people did not want to vote on Facebook and Instagram for fear of being identified even in this simple exercise," Edwards said at an event held in Mirik.
Edwards and his team had released four names, Jan Shakti, Janta Kalyan Party, Jan Awaaz and Hamro Party, from a list of 122 names that people suggested for the new party.
Voting could be done through WhatsApp, SMS, Facebook, Twitter, Instagram and email, but Edwards said most preferred to vote through WhatsApp, to avoid identification.
"The Hamro Party celebrates our oneness while accepting the plurality of the place. This is everyone's party, your party, mine party," said Edwards.
Members of the new party, however, stressed that they would not be on crutches of the BJP or Trinamul.
"We will remain independent but if we are voted to govern, we will maintain ties with all powers for the betterment of the place. In the past, we had seen how people had to suffer because of lack of diplomacy by our hill leaders," said Edwards, 48.
The Hamro Party also unveiled its flag on Thursday.
The party will, however, be launched from Peshok tea garden, where it would be holding a medical camp.
Gurung meets Partha
Gorkha Janmukti Morcha president Bimal Gurung and other leaders of the party met Trinamul minister Partha Chatterjee in Calcutta.
"The delegation submitted that since the proposed political solution and election to GTA are co-related, elections to GTA should not be held immediately as it might create confusion among the general public. However, elections to panchayat and municipality should be held," said a Morcha leader.