East West Metro axe on 5 buildings in Bowbazar
52 buildings in the area are feared damaged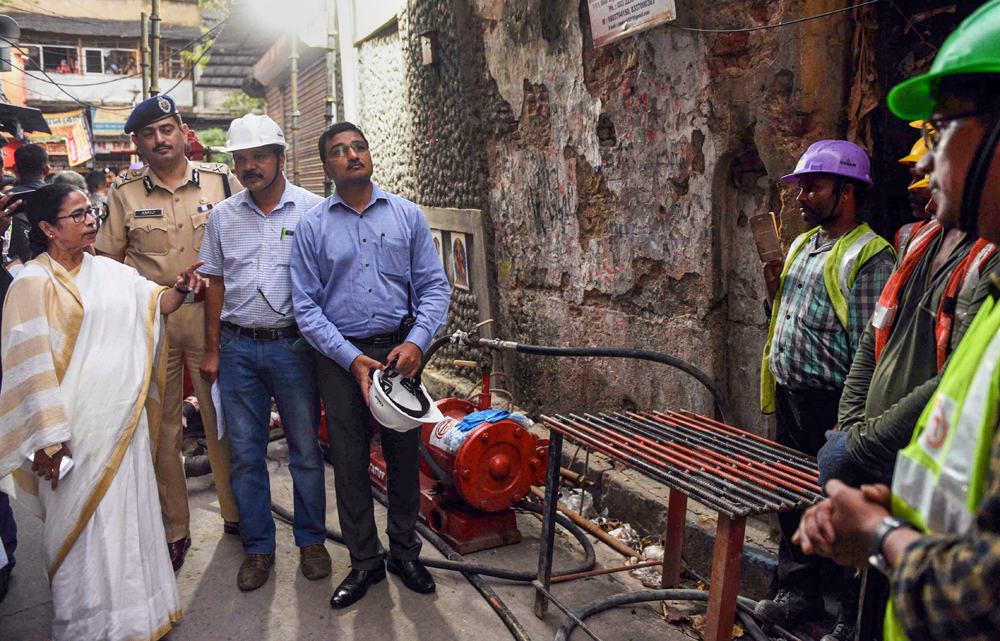 West Bengal Chief Minister Mamata Banerjee interacts with technicians at Bowbazar area, Calcutta on Monday, September 2, 2019.
(PTI)
---
Calcutta
|
Published 02.09.19, 10:55 PM
|
---
At least five buildings in Bowbazar will have to be demolished after they tilted as a result of water leaking into a tunnel for the East West Metro, railway officials said on Monday.
Fifty-two buildings in the area are feared damaged, the officials added. The five that face demolition were just above a 90-metre stretch of the tunnel-boring machine, into which water had started gushing from Saturday afternoon, causing severe subsidence of the land.
The authorities tried desperately to inject concrete into the tunnel and around these buildings to stop the cave-in that had started on Saturday afternoon, but the buildings along Durga Pituri Lane and Shakrapara Lane off BB Ganguly Street continued to sink.
Sonali Sil, resident of a building on 13A Durga Pituri Lane that was damaged the most as it was located directly above the portion of the tunnel-boring machine where the water is accumulated, said: "There is almost nothing left of the house barring the façade. On Saturday, when cracks had appeared, the engineers had assured us that we need not worry."
Sil said her husband Jayanta was the owner of the three-storey building, built approximately 200 years back.
Till Monday morning, the railway authorities had evacuated 363 people from 18 buildings, including the five that are to be demolished. In the afternoon, the Kolkata Metro Rail Corporation (KMRC), the implementing agency for the East West project, submitted a fresh list to Calcutta police identifying 30 buildings from where people were evacuated.
Officials said another 22 buildings have been identified where evacuation might be required if the subsidence does not stop.
The residents have been put up at hotels for now, but many of them might have to be moved to apartments elsewhere while their homes are rebuilt by the Metro.
The tunnel-boring work is going on between Esplanade and Sealdah for the project that aims to connect Salt Lake Sector V with Howrah Maidan through the Hooghly.
Chief minister Mamata Banerjee visited the site on Monday evening and asked the residents not to enter the buildings. Mamata said she has convened a meeting with all the agencies, including the KMRC, at Nabanna on Tuesday.