Seaside erosion: Shankarpur-Tajpur stretch of Marine Drive closed
According to sources, road was unable to bear the brunt of Durga Puja traffic and recent rainfall and hence, caved in at several places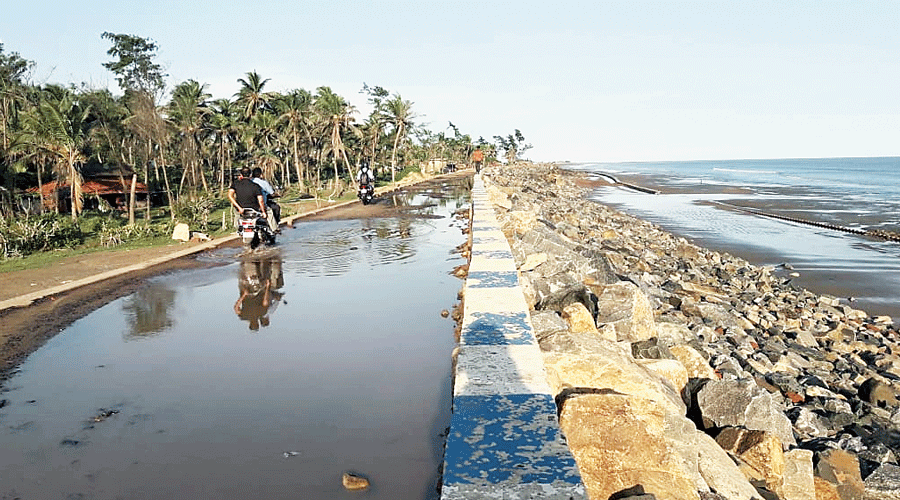 Two-wheelers ride along a stretch of the Marine Drive.
The Telegraph
---
Tamluk(EastMidnapore)
|
Published 14.10.22, 12:49 AM
|
---
The East Midnapore district administration has closed the 3km-long Shankarpur-Tajpur stretch of Marine Drive owing to seaside erosion, barely three weeks after the chief minister inaugurated the project.
Sources said the road was unable to bear the brunt of Durga Puja traffic and the recent rainfall and hence, caved in at several places. The Marine Drive was to be a vital thoroughfare for tourists travelling to Digha, Mandarmani and Tajpur.
"The Shankarpur-Tajpur stretch is 3km long and is the newest part of the Marine Drive to be constructed just three months ago. Big potholes formed along the stretch because of the monsoon and sea tides. Water is accumulating in the potholes. As a result, accidents happen when vehicles fall into the potholes. The administration closed off the 3km stretch last week," said a source.
The 30km Marine Drive was constructed at a cost of Rs 173 crore. The damaged portion of the road starts near the gates of Tajpur port.
Mamata Banerjee had inaugurated the Marine Drive on September 14 in the lead up to the Puja season.
Bimal Dalai, a resident of Chandpur, said: "During Durga Puja, many tourists took the Marine Drive route and got into danger. Several of them were stuck in the pothole for hours." Chaitali Bhattacharya, a resident of Howrah, complained that he had been "jolted" after crossing the "smooth stretch" of the highway from Digha till Mandarmani. "The 3km road from Tajpur to Shankarpur was rather rough. At some places, the potholes were about a foot deep and put my car in danger. I was rescued with the help of local people."
"In 2020 and 2021, the road from Tajpur to Shankarpur was washed away by floodwaters stemming from cyclones Amphan and Yaas. Later, the construction of concrete sea dams started in those parts and were each about 3.5km long. The irrigation department was given responsibility for road works.
Recently, officials had claimed that the road between Tajpur and Shankarpur was "completely unfit for traffic because of regular floods ".
Biswajit Jana, chief of the local Talgachari 2 gram panchayat run by the Trinamul Congress, said: "The road work was of very poor quality to begin with. It is not right to inaugurate the road, that too by the chief minister, without making it properly. The administration and irrigation department should have been more careful. I have asked to keep this road closed until proper repair.
Subhashis Bera, executive engineer (Contai) of the irrigation department, said: "There were some problems in the construction of the Marine Drive road given natural factors. By November, when the winter tide subsides, concrete roads will be paved. Until then, travel through that section is completely prohibited."