Durga Ma prescribes warm water for Abhijit Banerjee's sore throat
Durga Ma is the now-octogenarian help who lived with the Banerjees for 40 years when they lived on Mahanirban Road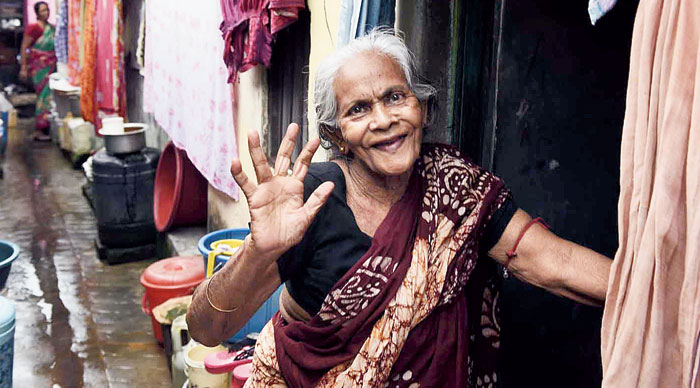 ---
|
Calcutta
|
Published 24.10.19, 12:13 AM
---
Abhijit Vinayak Banerjee's first visitor of the day was Durga Ma, the now-octogenarian caregiver who lived with the Banerjees for 40 years when they lived on Mahanirban Road.
Durga Mondal reached Banerjee's apartment at Saptaparni on Ballygunge Circular Road early on Wednesday.
She enquired about his sore throat and advised him to sip warm water.
"He could barely speak… he has a sore throat. I told him to have gorom jol (warm water). He said he is having it," said Mondal, who lives in a slum in Garcha, close to where the Banerjees lived before they shifted to Saptaparni in 2011.
Mondal woke up early on Wednesday and started from her home at 6.30am.
"I walked to their home on Ballygunge Circular Road... it's not very far and it took me half an hour. I go there every month to meet Boudi (mother Nirmala Banerjee). But today I went specifically to meet Jhima. I wanted to meet him because he is all over television. I was happy to see him," Mondal said.
Banerjee was still in his room when Mondal reached. "I went up to his room. He was still resting. We sat there for a while and then came to the living room," she said.
Mondal said she met Banerjee after a few years. The last time was at the first birthday celebration of Banerjee's son.
Mondal had been invited to the family gathering along with her son and grandchildren.
Banerjee was still a child when Mondal started working for the family as a help. Nirmala Banerjee had just had her second son, Aniruddha Bhaskar.
"Jhima was a little older than three and both the brothers called me Durga Ma. Their friends outside school also started calling me by the same name," Mondal said.
Mondal no longer gets to meet Banerjee too often but pays regular visits to "Boudi".
"He usually comes for a short duration and is busy. But this time I wanted to meet him specially because I have been seeing him on television for the past week. There is so much talk about him and I remember the days when I would take him to school," she said.
Mondal was at Banerjee's home for half an hour. "He asked about my children and also my grandchildren," she said.
Nirmala Banerjee served Mondal sweets and also packed some for her home. "Mishti khelam (I ate sweets)," Mondal said.