Dropout spectre in BJP-Trinamul clash belt
Ground realities suggest the BJP-Trinamul fighting may have hit local students the hardest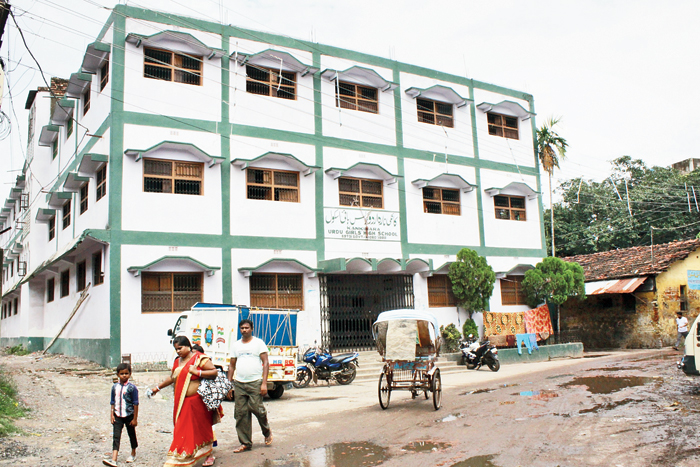 The Kankinara Himaytul Ghurba High School
Picture by Pranab Biswas
---
Calcutta
|
Published 29.09.19, 08:00 PM
|
---
The two-month-long Kankinara-Bhatpara political violence — which began in late May when the BJP won the Barrackpore Lok Sabha seat — claimed at least eight lives and dented the local economy but ground realities suggest the BJP-Trinamul fighting may have hit local students the hardest.
At the Kankinara Himaytul Ghurba High School, one of five big ones in the area, around 15 per cent of its 1,800-odd students have stopped coming since the violence erupted in May. "Nearly 200 of our students have not been heard of since May. After the violence subsided in August, I tried to locate them in the vicinity but could not find any of them," said headmaster Akhtar Hussain.
"I had met some of the parents in August after the violence had died down but they still seemed in a panic over their own and their families' lives," he added.
In late August, The Telegraph had carried a report detailing how local school authorities were concerned that students had not returned despite term exams in the first week of September that would determine their academic performance.
But now, the authorities are contending with the possibility that their students might not return at all.
"The parents of these children are mostly day labourers in local jute mills. The midday meal, rather than actual classes, here used to be a big incentive for both parents and the children because it eased the burden at home. But now, we suspect the families have relocated permanently to save their lives and livelihoods," Hussain said, referring to the families of 900-odd mill workers, mostly Muslims from Bihar and Uttar Pradesh, who live across three slum areas in the town.
There are five government schools in the area catering to around 6,000 students, most of whom hail from these families. At the Shams Urdu High School, Sarbodaya Vidyalaya, Jagdal Town School and Kankinara Urdu Girls' High School, authorities say though some students have returned since August, their attendance has plunged 5-10 per cent.
"It is true that the BJP's rise created a scare among minorities but the violence since May has affected everyone equally," said a teacher at the Shams Urdu High School, adding 50 of their 1,500 students were still not attending classes.
"Most of their homes have been razed, so they are without basics, not to speak of their books and uniforms. We are sure many such families will not be returning," the teacher added.
The Naihati-Jagaddal unit of the Association for Protection of Democratic Rights (APDR), a Calcutta-based social organisation, has been tracking the plight of students since June.
"Some families have taken our help in getting rehabilitated and sending their children back to school but largely the sentiment among people was a desire to flee the violence here," said Debasish Paul, secretary of the Naihati-Jagaddal unit of the APDR.
"We have not been successful in locating most of the students still not attending classes," said Paul, whose organisation has been working with the local schools and district administration.
District officials, who had insisted in August that they were addressing students' needs, said this week they had launched "confidence-building measures", including awareness campaigns among families still in the area.
"We understand that many of them were terrified by the violence. But we hope they will have trust in our measures and return along with their children," said North 24-Parganas district magistrate Chaitali Chakraborty, adding district officials had been providing aid to students still in the area.
The APDR's Paul termed the situation "quite alarming". "At a time the state has been observing the 200th birth anniversary of Ishwar Chandra Vidyasagar, a large section of students are leaving education. This is not good for society and does not reflect well on politicians," Paul said.