Digha tourists drop Covid guard, land in jail
Rowdy tourists have beaten up civic volunteers on a few occasions when police tried to do their job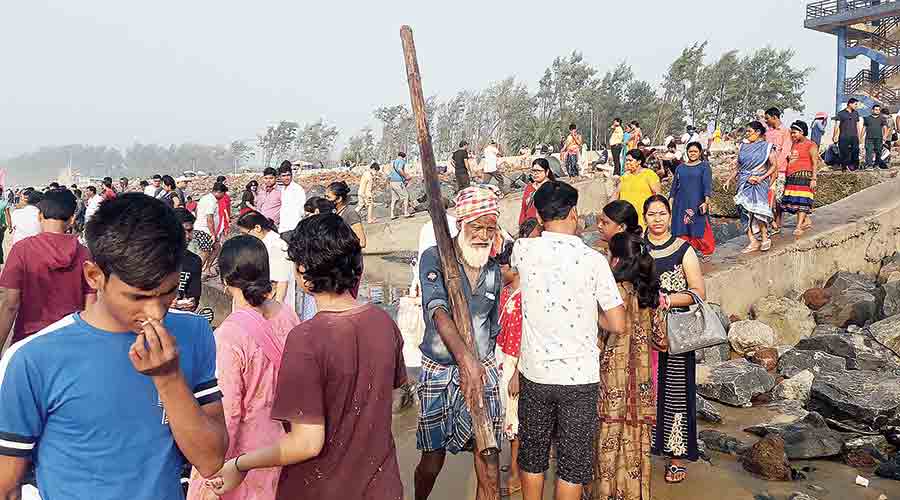 Tourists without masks crowd on a beach in Digha
The Telegraph picture
---
Tamluk(EastMidnapore)
|
Published 31.10.21, 01:45 AM
|
---
The majority of tourists visiting East Midnapore's Digha amid the progressive reopening of the local hospitality industry are shunning Covid protocols and likely causing a spike in the number of new reported cases in the district.
Police sources said they had "been forced" to arrest errant citizens following reported laxity in enforcing pandemic protocols during Durga Puja.
Digha Police Station and Digha Coastal Police Station have arrested 100 tourists over the past three days, with cases being filed against them under Section 51B of the Disaster Management Act (2005).
Digha police station officer-in-charge Buddhadev Mal said: "There was an unusual crowd in Digha over the holiday season. According to Covid protocols, police are making loudspeaker announcements exhorting tourists to follow the guidelines, but no one is listening."
Police sources said rowdy tourists had even beaten up civic volunteers on a few occasions when the latter tried to do their job. "This is a certain class of tourists who wantonly flout the rules. This week's arrests were a precedent to other tourists," an officer added.
Arrested tourists are being kept in the police station for several hours and are being granted bail on personal bonds. Although all these tourists can go home, they will have to appear in court on a subsequent infraction as well as pay a fine.
"The administration has warned tourists as well as hotels. Most hotel staff do not wear face masks," said a district official.
On Friday, the block administration held an emergency meeting with two hoteliers' associations in Digha.
Block development officer of Ramnagar-1, Bishnupada Roy, said local trains would start from Sunday. "Crowds could grow in the long run. Hotel staff have been instructed to look into the matter in consultation with the hotel owners' association and be vigilant."
The crackdown, however, has not gone down well with tourists. "Some of the tourists are very upset because of the strict action. Enforcement is not so strict anywhere in the state. So why is it being exaggerated here?" asked a friend of the arrested tourist, adding that the police could have rather detained him.
Bipradas Chakraborty, joint secretary of the Digha Shankarpur Hoteliers' Association, said the police were doing "the right thing" by arresting reckless tourists. "We have asked the police to take action in any hotel break rules."