Dhandha Manda
Where have the big economy milestones of the Modi government — demonetisation and GST — and promises to boost Make in India initiatives left traditional businesses?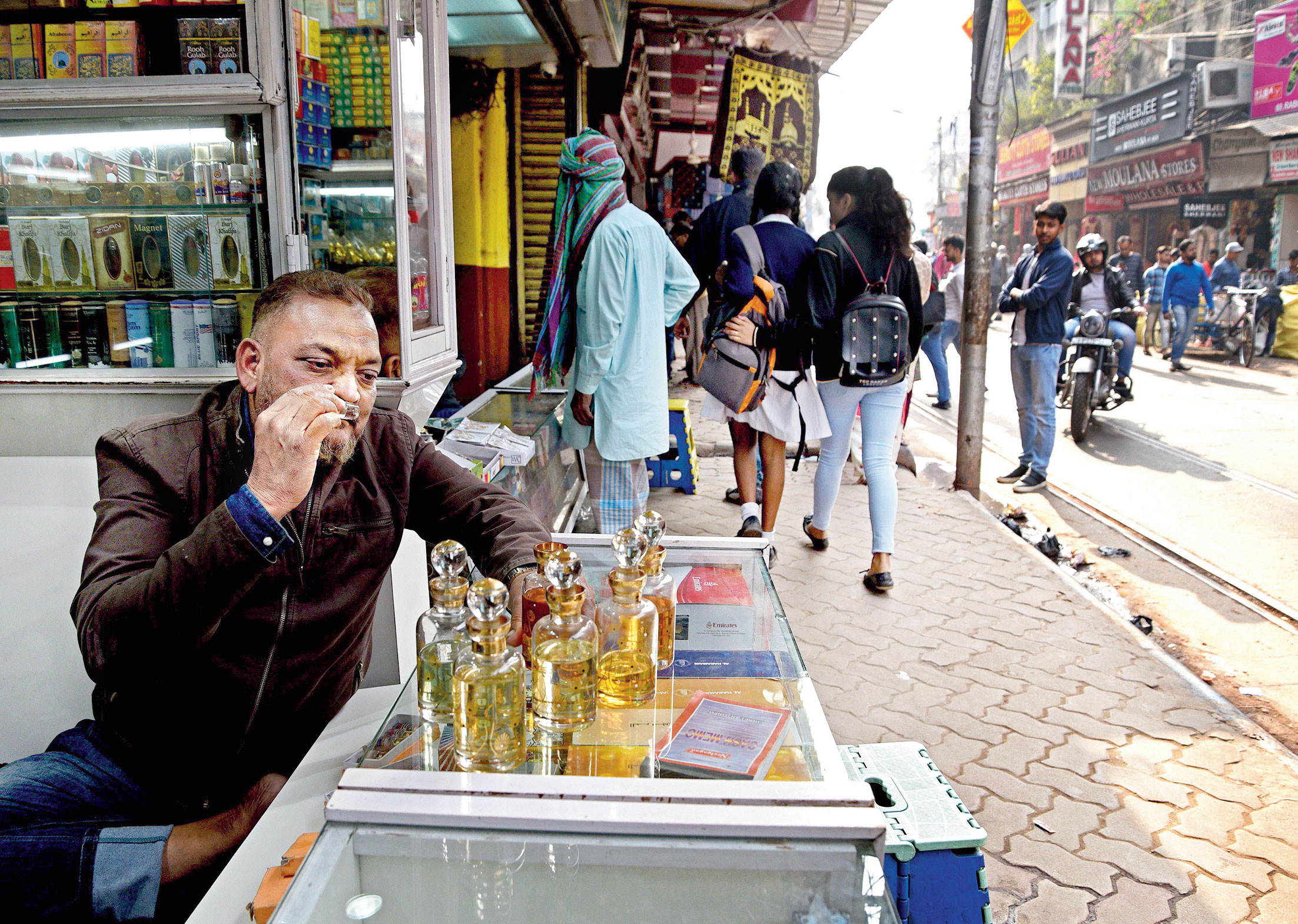 DOWNTURN STREET: Fahimuddin, owner of an attar shop in Chitpore, checks out his ware.
Picture by Ankit Datta
---
Published 01.02.20, 07:25 PM
|
---
Chitpore Road in north Calcutta stretches only about five kilometres from Bagbazar to Lalbazar. But if one were to count the olden reference to it in Bipradas Piplai's Manasa Bijay from 1495, it is safe to say that the road contains in its sweep more than five centuries of tradition, individual talent and economic wisdom.
The road, now known as Rabindra Sarani and once considered the principal artery of colonial Calcutta, is not easy to negotiate given the gaggle of hand-pulled vehicles, cycle rickshaws, ageing goods vehicles, auto-rickshaws and yellow taxis. And if one were not trying one's best to avoid getting run over or having stray iron rods puncture the gut, one would notice the street's unique character. Indeed, Chitpore Road is a sort of live counter of really small and medium enterprises. Iron safe-makers. Printers' ink manufacturers. Litho printers. Book binders. Offset printing presses. Paper traders. Publishers. Tobacco sellers. Sewing machine retailers. Shops selling utensils — bell metal, brass, aluminum, steel. Fly whisks. Musical instruments — tabla, harmonium, pakhawaj, mridanga. Kitchen knives, machetes and shearing tools. Marble idols. Attar. A teeming business hub.
But beneath all the buzz and cacophony, is business really teeming?
We — photographer Ankit Datta and myself — begin our walk a little way off Bagbazar from G. Paul & Sons on Kashi Mitra Ghat Street. It is the residence-cum-studio of sculptor Gopeswar Paul, one of the pioneer idol-makers who came from Krishnagar in the early 20th century to settle down in Kumartuli — the potters' hub. In the 1930s, Gopeswar was invited to demonstrate his clay-modelling skills at the British Empire Exhibition in London. Now times have changed and we find the studio filled with bronze and fibreglass Vivekanandas and Vidyasagars instead of traditional clay idols.
We walk to Kumartuli Street which is nearby. It is weeks ahead of Saraswati Puja and the artisans are busy putting finishing touches to the idols. Babu Pal, secretary of the association of artisans, confirms that in the past few years, the sudden spurt of pujas — Sherawali, Santoshi Mata, Jagannath — has boosted business. As we walk towards Banamali Sarkar Street, we find other shops selling accessories of idols and faux weaponry.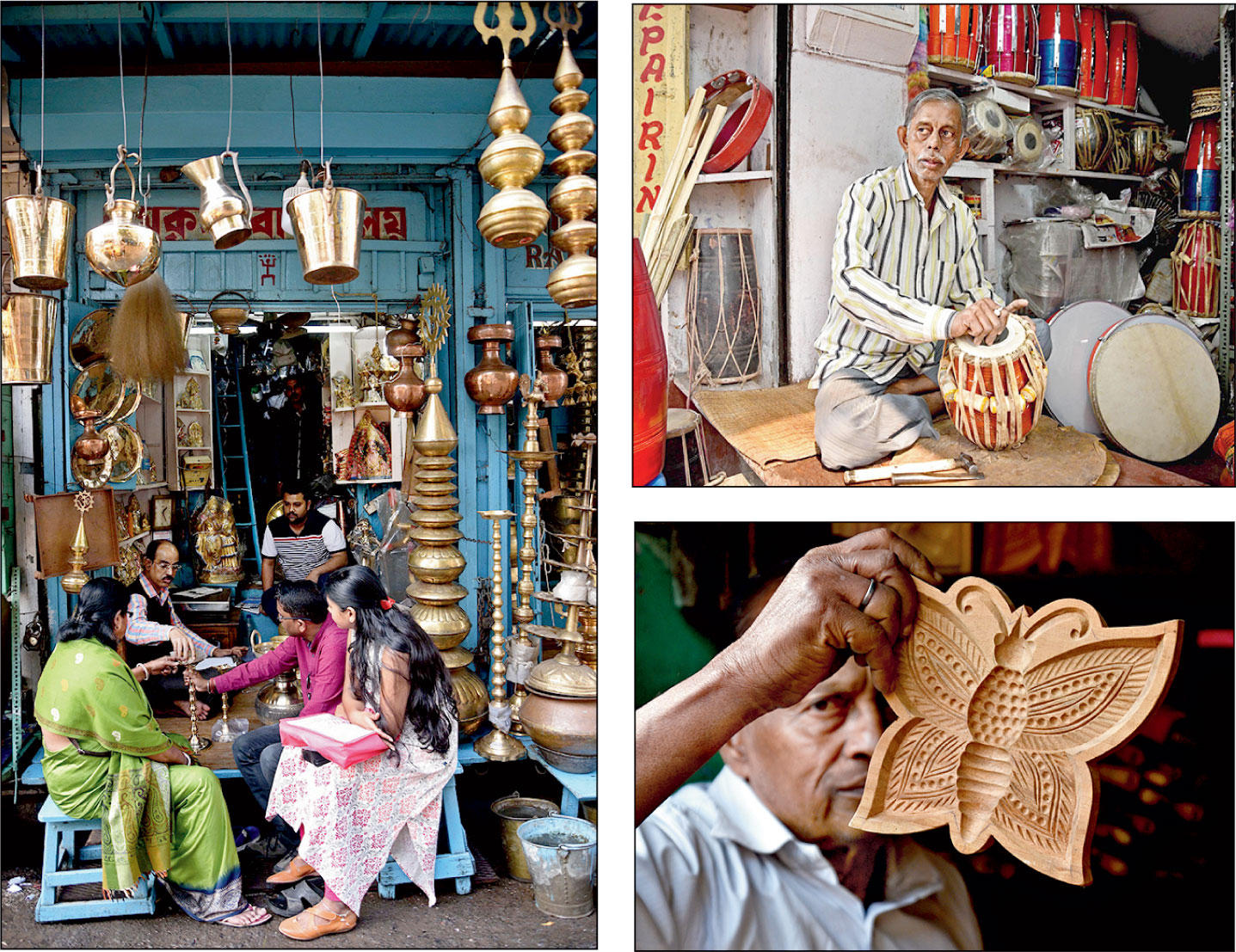 In the 16th century and thereafter, the fact that it was frequented by pilgrims, combined with its proximity to the Hooghly river, began to attract canny tradesmen to Chitpore Road.
There was Sutanuti, the textile market near the Sovabazar area.
There was Garanhata, where timber merchants arrived from the Sunderbans in boats heavy with garan kaath or poor man's timber.
There was the burgeoning Bagbazar, a general market, so named after its locatedness on the baank or bend of the river.
There was Lalbazar that was a typical Indian bazaar set up by the textile merchant, Lalmohun Basak.
A little way from Kumartuli — a 10 minute's walk — is Sovabazar Crossing, a jangle of autorickshaws and minibuses. A stone's throw away is Battala, so named after a grand banyan and landmark, which alas has been gone a hundred years now. Around the mid-19th century, a publishing industry developed here, churning out primarily low-priced religious texts, almanacs and textbooks. The irony is that in the later years, the label "Battala literature" came to be used for the erotic and pulp fiction which also emanated from this place. The infamy earned led to the haemorrhaging of a once thriving industry, and in good time the neighbouring College Street became the bhadralok booklovers' haunt.
One of the few Battala publishers to survive the bad name is Diamond Library. As the publishing industry ebbed away, jatra or folk theatre companies set up shop here. Says Baidyanath Seal, a co-owner of Diamond Library, "We no longer have a printing press. Lithographs and woodcuts vanished ages ago." Until recently the publishing house survived on jatra scripts that were in great demand in rural Bengal. "Now our lifeline is religious literature, especially books on Vaishnava kirtan," adds Seal. Books on astrology, tantra, homeopathy and sex education also sell.
The Sils were one of the oldest Battala printers, but they shifted their base to College Street some years ago. Mohan Sil, who also co-owns Akshar Library on College Street, says, "My grandfather Purna Chandra founded the press at 40 Garanhata Street over 150 years ago. We are the fifth generation." That their business is thriving is evident from the piles of Ramayana, Mahabharata, Gita and Purohit Darpan, which is an instruction manual for Hindu priests. Their bestseller, however, is Benimadhab Sil's Panjika, an exhaustive almanac. "Most of our customers are in rural Bengal," says Mohan, whose daughter and nephews have joined the business recently.
In 1756, the Nawab of Bengal, Siraj-ud-Daulah, took this very road to capture the old Fort William that stood not very far from Lalbazar. And almost a hundred years later, in 1839, the dirt track became the first road in all of India to be macadamised or paved. And then, with the arrival of the British, Chitpore's identity as a traders' hub or vocation street strengthened, an identity that thereafter evolved and took care of itself.
After crossing Garanhata and Natun Bazar, we walk past the grimy signboard of the abandoned sweetshop of K.C. Das, the descendant of Nabin Chandra Das who invented the rasogolla in 1868. Contiguous to it are shops selling intricately crafted sandesh moulds — butterfly and fish — along with wooden utensils. Narayan Chandra Das runs one such shop. "We survive on orders from sweetmeat shops. There's also some demand for ladles and spoons for non-stick pans," he says.
Then comes the stretch that is known as Tablapatti.
Nawab of Awadh Wajid Ali Shah arrived in Metiabruz in 1856 with his kin and grand entourage. The nawab enjoyed classical music, dance and the fine artistry of courtesans, and naturally some of Calcutta's who's who too were inspired by his life and style. Sometime end-19th century, baijis or courtesans and musicians from Lucknow started to settle down along Lower Chitpore Road. Salim Manzil at 92 Rabindra Sarani used to be the kotha of Gauhar Jaan, the first classical singer of India to cut a record. Courtesans and accomplished artistes Krishnabhamini, Indubala and Angurbala too owned and lived in mansions in and around this area. No guesses why a lot of shops for the retail and repair of musical instruments came up in Chitpore.
Out of a proud row of 20, only three survive today. Sukdeb and Basudeb Saha are the co-owners of Star Harmonium that was founded by their grandfather, Binod Bihari, 117 years ago. Sukdeb talks about the time their father, Piyari Mohan, made a fortune out of this very business. Many of the courtesans, their accompanists and tabla players were the Sahas' customers. In recent times, tabla exponent Pandit Jnanprakash Ghosh visited their shop frequently. Sukdeb says, "At the shop owned by Kanaibabu, Vilayat Khan and Pandit Ravi Shankar would get their sitars crafted."
Piyari Mohan had also helped set up music shops for his son-in-law and their children. They had several shops in Ganesh Garh, a mansion that had been built in the early 1900s to house nearly 200 small businesses. According to Shyamal Rudra, owner of National Harmonium, who belongs to another branch of the family, the structure resembling Jaipur's Hawa Mahal was razed to the ground in the early 2000s. Today, in its place stands a shopping mall.
Where Tablapatti ends, the walk suddenly acquires a perfumed quality. The showroom of attar retailers, Ramprasad and Gayaprasad, retains its vintage décor complete with heavy wooden furniture. They also sell rose water, syrups, food essence and zarda. "It costs quite a lot to maintain the ancient interior," says D.K. Agarwal, a fifth-generation owner.
The gaddi of Harishchandra Gupta & Grandsons — also attar wholesalers — is off the main road and deep inside the fruit wholesale market. The shop set up in 1818 has chandeliers hanging from its ceilings, and on its walls are framed pictures of deities and portraits of previous generations of owners. The shelves are packed with khuppis or casks filled with attar and essential oils. Eighth generation perfumer Prabhakar Gupta traces his origin to Kanauj in Uttar Pradesh. "Our attar, mostly of natural origin, is as good if not better than French perfumes. But we couldn't learn the art of branding or advertising like them," says Prabhakar. Fahimuddin, who is owner of the kiosk, Madeena Attar, mutters words of gratitude for the state government, which has revived the Chitpore name and the Chitpore attar through its Biswa Bangla enterprise. Old attar, new bottle.
At the corner of the pavement leading to Colootolla stands Faujdari Balakhana, the erstwhile residence of the military governor of Hooghly from the Raj era. On the ground floor there is an attar shop from 1824; it is called Haji Khuda Buksh Nabi Buksh. Co-owners and brothers Neyazuddin and Shafiquddin explain how they have innovated and diversified to survive and flourish. Now they sell rose water, kewra water and agarbatti compounds too. In keeping with the times, they have launched roll-on versions of popular attars as well.
Yet, all the perfumes of attar gali cannot sweeten the story of the still bustling bazaar that is Chitpore Road. "The business has been going down ever since notebandi, followed by the imposition of GST," says Mohammed Hashim, general secretary of Rabindra Sarani Traders' Association. He adds, "And now with the CAA and NRC on the anvil, the sense of doom has only intensified."