Democracy bulldozed by BJP, says Mamata
Maharashtra developments shocking: Bengal CM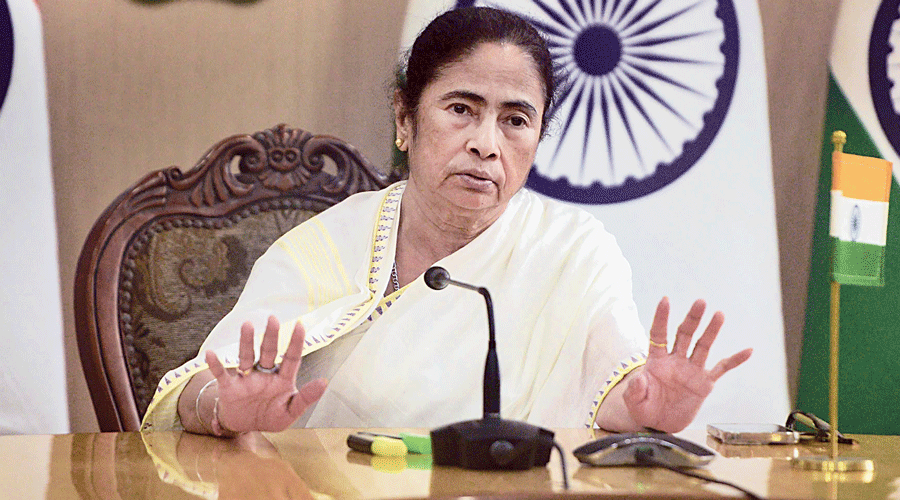 Mamata Banerjee
File picture
---
Calcutta
|
Published 24.06.22, 12:11 AM
|
---
Mamata Banerjee on Thursday said the ongoing political crisis in Maharashtra was "shocking" and accused the BJP of trying to topple yet another democratically elected government in "unethical" and "unconstitutional" ways.
"Democracy is being bulldozed by the BJP government. I feel very sad and it is an unfortunate fact that the federal structure of this country is being totally demolished by the BJP," the Bengal chief minister told a news conference at Nabanna, the state secretariat.
"There is a presidential election ahead and the BJP is falling short in terms of the votes. So, they have picked and chosen this time to topple the Maharashtra government…. What is going on in Maharashtra, it is shocking…. An unethical matter, an unconstitutional attitude."
"They are distributing huge amounts of money. The amount of money at their disposal has no limits. Is it not a big scam? That one ruling party is purchasing elected representatives with money?" she asked.
The Trinamul Congress chairperson demanded answers on why the BJP was distracting its own government in Assam — which she said should be busy in flood-mitigation — and advised the saffron camp to send the defecting MLAs from Maharashtra to Bengal instead.
"Assam, they have a big flood there. Instead of helping the people (in Assam), why is the central government disturbing the Assam government? Purchasing MLAs, sending them to Assam," said Mamata.
"Instead of Assam, send them to Bengal, we will give good hospitality, and we will take care of democracy. Don't worry," she added.
The ongoing situation in Maharashtra is apparently another edition of the notorious "operation lotus" — a term denoting the ouster of a non-BJP government through defections. The BJP had attempted it unsuccessfully in Maharashtra and Rajasthan before also, but tasted success by felling duly elected governments in Karnataka and Madhya Pradesh.
"After Maharashtra, they will topple other governments also. If this is the plan, is it a fact then that they are trying to go towards a presidential form of government in India?" Mamata asked. "They have changed so many institutions. The economic situation is at its worst. The political situation is at its worst. If anybody protests, they respond with only bulldozers."
Mamata feared for the present and the future of Indian democracy under the BJP.
"I am really telling you that in India, I am in doubt whether any democracy works here (now). Where is democracy? Where is the justice people are getting, from where? A democratic government, if they bulldoze democracy, what will happen to justice?" she asked.
"We want justice for the people, we want justice for the Constitution, we want justice for electoral mandates, we want justice for (Maharashtra chief minister) Uddhav Thackeray and all like him."
She advised the BJP against pursuing ploys that had come to be associated with Operation Lotus.
"Because you are in power today, you are playing games with the power of money, muscle-power, mafia-power. Sooner or later, you will be out of power. When you are not in power tomorrow, what will remain for you? Nothing. Do not finish democracy. These things should not be happening," said Mamata.
"Do not break parties with fear or favour. These methods could be used, someday, to break your party too. But that is not democracy. I don't support that," she added.