Darjeeling zoo to get a takin, a Bhutanese animal, from Germany
Hill zoological park to send red pandas to Germany in exchange programme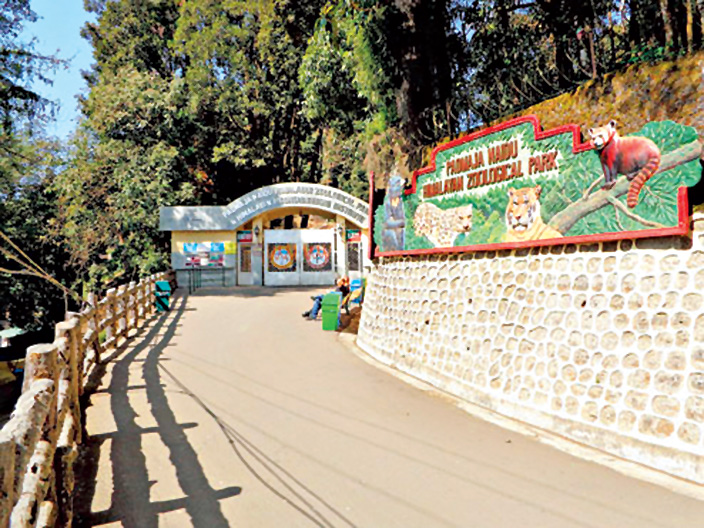 The entrance to the Darjeeling zoo.
The Telegraph picture
---
Darjeeling
|
Published 31.12.18, 09:39 PM
|
---
The zoo here will have an added attraction in the new year as takin, an antelope-like goat, will be flown from a German zoological park.
The takin is the national animal of Bhutan where it is called the Dong Gyem Tsey.
Rajendra Jakher, the director of the Padmaja Naidu Himalayan Zoological Park in Darjeeling, said: "As part of an exchange programme, five takins — three males and two females — will be brought from Tierpark Berlin." "We will send a male and female red panda to Berlin, probably in March," he added.
The Darjeeling zoo authorities are expecting the new animals to reach by January 20.
Takins usually live in altitudes ranging from 3,300ft to 14,000ft and are found mostly in the eastern Himalayas and parts of China.
The Darjeeling zoo was in talks with the Berlin park for almost a year before the deal was struck. "We want to house most of the animals found in the eastern Himalayas," said Jakher.
The Darjeeling zoo is internationally recognised for conservation breeding programmes of red panda, snow leopard and Tibetan wolf.
The zoo here currently boasts 21 red pandas. The sex of five red pandas has not yet been determined.
Established on August 14, 1958, the Himalayan Zoological Park was a joint venture between Union department of science and technology and Bengal's education department. In 1975, then prime minister Indira Gandhi dedicated the zoo in memory of former Bengal governor Padmaja Naidu.
In 1993, the zoo was transferred to the Bengal forest department and is now recognised as among the best zoos in the country and is one of the must-visit points for tourists in Darjeeling.