Darjeeling traffic plan
Most of the existing parking lots in town have been taken over by 'taxi syndicates'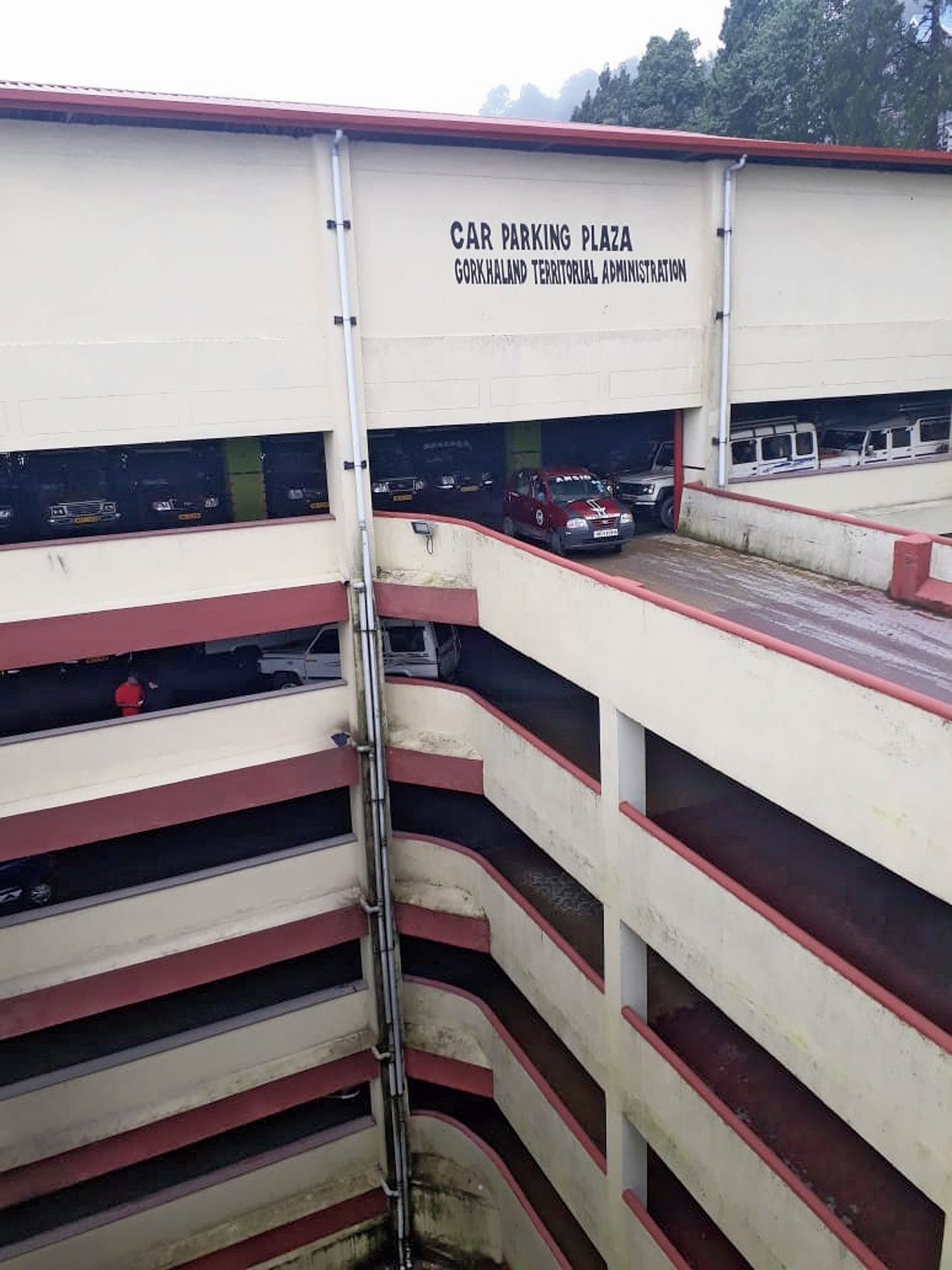 A parking lot at Singamari in Darjeeling.
Telegraph file picture
---
Darjeeling
|
Published 30.01.20, 07:48 PM
|
---
Darjeeling police and municipality have decided to set up 17 new parking spaces in town in an effort to streamline traffic before the start of the coming tourist season.
Of late, there has been additional burden on roads in the hill town because of a new trend of tourists driving their own vehicles to Darjeeling.
Among the 17 will be a dedicated paid parking space for private vehicles — a first-of-its-kind initiative in the Queen of Hills.
"Darjeeling traffic police and the municipality conducted a survey which has identified 17 new parking spaces in town. The rooftop parking at Old Barrack Market (beef market) in Motor Stand will be converted into a paid parking for private vehicles," said Rahul Pandey, DSP (town).
Most of the existing parking lots in town have been taken over by "taxi syndicates".
"Over the past couple of years, there has been a rise in the trend of tourists from neighbouring states like Bihar, Jharkhand and Sikkim and countries like Nepal and Bhutan driving to the hill station in their own vehicles. These visitors hardly find space to park their vehicles and a dedicated lot would be welcomed by them," said a tour operator.
Dedicated paid parking spaces for two-wheelers will come up at Darjeeling Motor Stand and H.D. Lama Road among others.
The authorities plan to allot a new lot for taxis which are parked at the Barrack market rooftop now.
The rooftop shops at the parking plaza near Darjeeling Government College have been dismantled. "Only those taxis not attached to any syndicates are being allowed to use that space. Tourists now have to walk for five-seven minutes to visit Darjeeling zoo and HMI," said Pandey.
Even though parking plazas near Darjeeling Government College and the railway station had been thrown open almost a year ago, many complained that the facilities were not being utilised properly as "no government authority has taken charge of them".
To decongest town, the Darjeeling police have taken a number of initiatives which include dedicated pick-up and drop points, diversion of traffic and ban on parking along congested roads.
A survey by the traffic police suggests that average travel time between Ghoom and Darjeeling, an 11km entry route to the hill town, was 23.5 minutes in the past three-four months, while one had to spend up to 1.45 hours to cover the same distance during the previous tourism seasons.
"Our data suggest the average time for travel from Ghoom to Darjeeling Motor Stand, covering a distance of 11.2km, was 26.5 minutes for October, November and December," said Pandey.
The October-December period is a tourism season and data from the earlier seasons show that travellers had to spend up to 1.45 hours to cover the same distance.
A number of initiatives have reduced congestion on the entry route along NH55.
"During the tourism season, 4,100 people used to visit Batasia Loop everyday and 150 vehicles would be parked on the site at any particular time. During the off-season, 450 people go to Batasia a day with 30 vehicles parked there at any time," said Pandey.
Studies by the police suggest the vehicles are parked for 40-50 minutes. Most of the tourists would be made to visit Batasia Loop in the morning after the trip to Tiger Hill to watch sunrise. "We restricted the number of vehicles to Tiger Hill and during their return, they have to take the INA Bypass. Thus, congestion on NH55 has reduced," said Pandey.
Also, the military was asked to replace the four trucks used for travel to and fro 16 times a day to ferry students with small vehicles.