Darjeeling: New hill troika before civic floor test
Edwards alleges BGPM, which is led by Anit Thapa, is using unscrupulous means in a bid to gain control of municipality from HP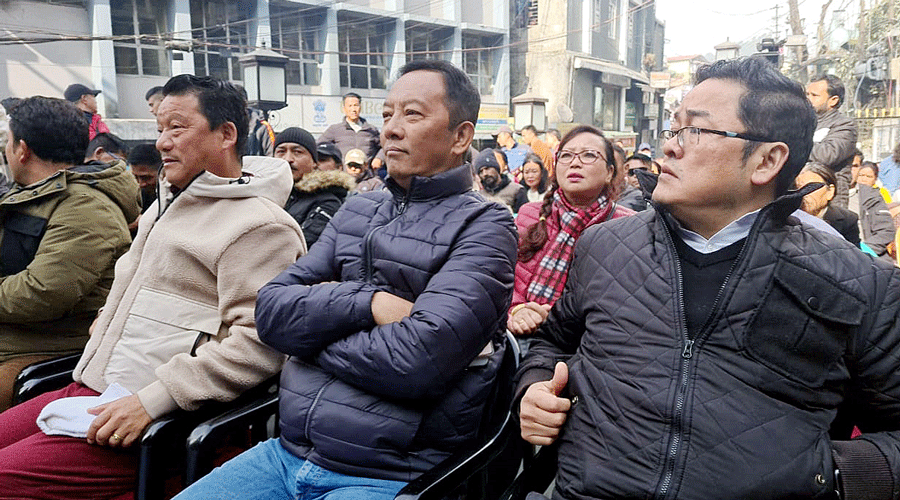 (From left) Bimal Gurung, Binay Tamang and Ajoy Edwards at a dharna in Darjeeling on Tuesday.
The Telegraph
---
Siliguri
|
Published 28.12.22, 03:51 AM
|
---
The political arena of Darjeeling hills on Tuesday saw a new equation as three prominent political faces came together at a demonstration in the city and vowed to work together for the longstanding demand for statehood.
On Tuesday morning, Ajoy Edwards, who heads Hamro Party, launched a demonstration near Capital Hall in Darjeeling town located next to the civic body. The Bharatiya Gorkha Prajatantrik Morcha (BGPM), which is led by Anit Thapa, is using unscrupulous means in a bid to gain control of the municipality from HP, Edwards alleged.
"We have launched the Gorkha Swabhimaan Sangharsha today (Tuesday) and it will continue for a month. Despite being elected by people, attempts are being made to usurp the civic body from us. We will continue our protest and want other political forces to join us," said Edwards.
Gorkha Janmukti Morcha president Bimal Gurung, and Binay Tamang, in Trinamul now, attended the event. Both spoke on the demand for Gorkhaland.
Later, the trio told newspersons that they would work jointly to protest any alleged violation of democracy in the hills.
"The state and the Centre should know that.... democracy is being violated. We will work with a common forum to protest," said Gurung.
Tamang said that earlier his party's stand was to be neutral with both HP and BGPM. 
Earlier this month, Edwards and Tamang reached Delhi to attend a seminar hosted by Gurung's party on the statehood issue.
"It seems a new political alignment is developing in the hills ahead of the panchayat elections.... to counter the BGPM," said a veteran in hill politics.
The protest was launched a day ahead of the meeting in the civic body when Ritesh Portel, chairman of the HP-led board, has to prove his majority.
The hill civic body has 32 seats. One is vacant after a resignation. At the polls earlier this year, Hamro Party won 18 seats and the BGPM eight.
A few weeks back, six HP councillors defected to the BGPM. Two Trinamul councillors declared they would back the BGPM. Now, Thapa's party has 16 — the magic figure — and has staked a claim on the civic body.
Edwards claimed Thapa and his party colleagues resorted to unfair means to get HP councillors on board.
In this scenario, SDO Dulen Roy ordered prohibitory orders under Section 144 of the CrPC in and around the civic body area from 6am to 10pm on Wednesday.
Édwards said they would continue with their demonstration. 
BGPM spokesperson  Keshav Raj Pokhrel expressed confidence that his party would prove its majority in the floor test on Wednesday.