Darjeeling MLA Amar Singh Rai is 'son of soil' nominee
Trinamul has never won the Darjeeling Lok Sabha seat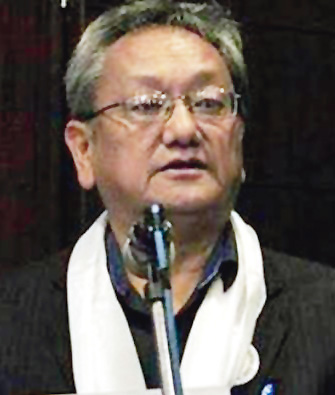 Amar Singh Rai
The Telegraph picture
---
Darjeeling
|
Published 12.03.19, 08:06 PM
|
---
The Gorkha Janmukti Morcha-Trinamul Congress combine has picked Darjeeling MLA Amar Singh Rai as its candidate for the Darjeeling Lok Sabha seat in line with demands from some sections for a "son-of-the-soil" nominee.
Rai, a Morcha MLA, will contest on the Trinamul symbol, as reported in Tuesday's edition of The Telegraph. Trinamul has never won the Darjeeling Lok Sabha seat.
Morcha leader Binay Tamang dwelt on the "son-of-the-soil" theme. "We have selected a son-of-the-soil candidate, as demanded in the hills," Tamang said on phone from Calcutta where he was present when Mamata Banerjee announced the list of Trinamul candidates.
But the Gorkha National Liberation Front (GNLF), the Morcha's main Opposition in the hills, objected to a Morcha MLA contesting on a Trinamul symbol.
"This must be the first such instance in Indian politics. An MLA of a particular party is fighting another election on the symbol of another party," said GNLF leader Niraj Zimba.
Morcha spokesperson Suraj Sharma said that in the past, the hills had voted the BJP and the Congress. "These parties did nothing for the hills. We are now in alliance with a party that has brought a lot of development," said Sharma.
The soft-spoken Rai is a former vice-principal of Loreto College — now christened Southfield College — and was part of a Morcha panel. In 2011, he won the Darjeeling municipality election and was made chairman.
After his term as civic chief, he won the Assembly seat as a Morcha nominee in 2016.
While being MLA, Rai was appointed to the board of administrators of the Tamang-headed Gorkhaland Territorial Administration (GTA) as a member in charge of education.
"In the past one-and-a-half years, 1,187 teachers have got permanent jobs. He (Rai) had also pursued (the cause of the) Darjeeling Hill University that will soon come up in the hills. Even during his tenure as the Darjeeling civic chief, Amar Singh Rai had managed to get a Rs 105-crore project to revamp the water distribution system," said Sharma, the Morcha spokesperson.
Morcha leaders cited an ongoing court case as another reason for Rai contesting on a Trinamul symbol. The case relates to a dispute over the Morcha president and secretary. The Election Commission is yet to take a call on the matter.
Following the announcement of Rai's candidature, Tamang said a meeting of the Morcha central committee and frontal organisations would be held on March 15.