The Darjeeling hills where identity plays a major role not just in politics but also in social discourse celebrated Nepali New Year 2080 on Friday with much gusto and great fanfare which had been missing for the past few years.
Celebrations which included public parades were held not only in majortowns like Darjeeling, Kurseong and Kalimpong but also in relatively smaller places like Mirik and Bijanbari.
While Anit Thapa, chief executive of the Gorkhaland Territorial Administration (GTA) participated in a parade in Kurseong, Ajoy Edwards, the president of the Hamro Party, and Bimal Gurung, the head of the Gorkha Janmukti Morcha, participated in events at Kalimpong, along with Kalimpong MLA Ruden Sada Lepcha.
Lepcha belongs to Thapa's Bharatiya Gorkha Prajatantrik Morcha (BGPM) and is a rival of Edwards and Gurung.
"The Nepali New Year celebration cutting across political lines was aimed at strengthening the Nepali identity. This issue is emotive for Nepali-speaking Indian citizens, many of whom feel that their Indian identity is at times questioned," said a Darjeeling-based writer.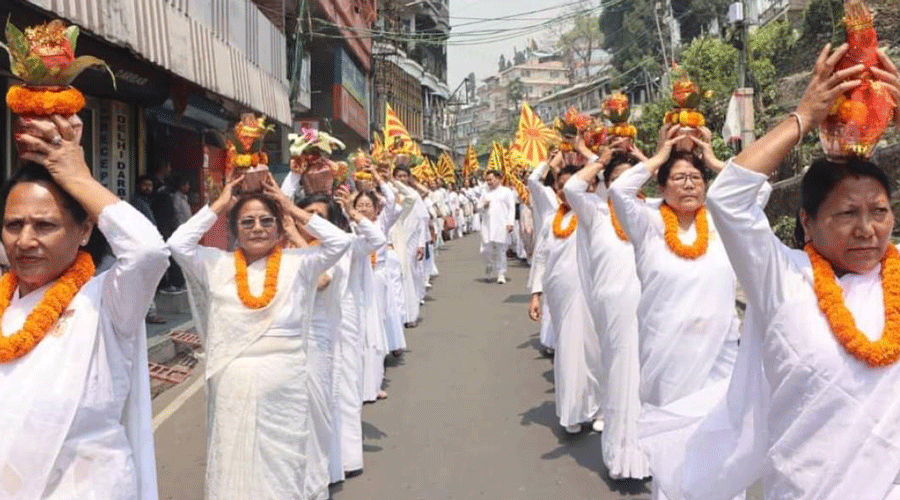 Women in a procession in Kuresong on Friday. Passang Yolmo
Thapa's message at the celebrations was laced with identity.
"A community will be secure when their culture, dress, food and music remain alive.... Our unity and integration will keep our culture alive," said Thapa.
Edwards, too, spoke on similar lines in Kalimpong.
"We as a community are a minority in this country. Irrespective of our political ideology, we have to remain united," said Edwards.
The organisers of the events, which are mostly apolitical in many places, too, left little doubt that the programmes were planned to preserve the community's distinct identity.
"In Kalimpong, a tableau on Major Durga Malla was taken out. Various community symbols, including musical instruments, and other tools which were in a state of oblivion were refreshed before the public," said a local resident.
Major Malla was the first Gorkha freedom fighter to be sent to the gallows by the Britishers on August 25, 1944.
The day is celebrated as Gorkha Balidan Diwas to highlight the sacrifice of Gorkhas during the freedom struggle. A statue of Major Durga Malla was unveiled within the Parliament complex by the then Prime Minister Manmohan Singh in 2004.
"The celebration in the hills was beyond a New Year celebration. A celebration of this grandeur had not been seen in the last few years," said a resident.