Cyclone Yaas: Farmers forced to fend for themselves
Bhangar suffered huge financial losses last year when Amphan ripped through Bengal ravaging standing crops in several districts, especially South 24-Parganas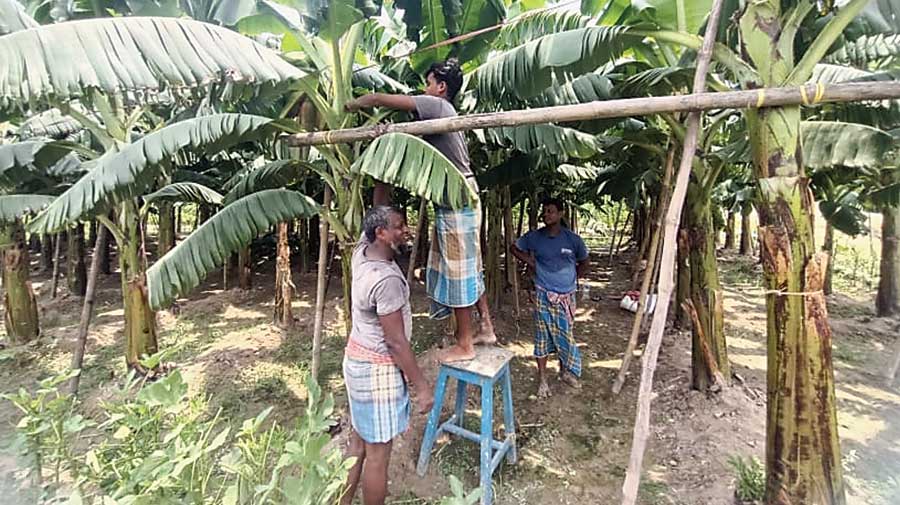 ---
Calcutta
|
Published 26.05.21, 01:52 AM
|
---
Sirajul Islam Goldar was busy tying the banana plants on his farm to a bamboo structure in a last-ditch attempt to save the trees from the wrath of Cyclone Yaas.
"This is just an attempt to save the plants from being blown away. But I don't know whether it will work," said the middle-aged Goldar who owns the farmland that's half the size of a standard football field in South 24 Parganas's Bhangar, barely a few hours before the cyclone was to make the landfall.
Goldar is one of hundreds of farmers in Bhangar who suffered huge financial losses last year when Cyclone Amphan ripped through the state ravaging standing crops in several districts, especially South 24-Parganas.
"I had grown 350 banana trees. For the price of Rs 220 a pound, I would have earned around Rs 1.5 lakh. Amphan razed all the trees to the ground," Goldar told The Telegraph on Monday.
According to government estimates, Amphan destroyed around 3,500 hectares of crops in just one of the two blocks in Bhangar, a sprawling agrarian belt, on the outskirts of Calcutta. The total loss in the entire South 24-Parganas district was almost 96,900 hectares and Rs 824 crore in monetary terms, affecting over 5 lakh farmers.
A huge quantity of vegetables sold in Calcutta's markets come from these areas. While last year's destruction had resulted in massive losses for the farmers on one hand, the price of vegetables in the city had also shot up because of demand-supply mismatch.
Since then, Goldar and his likes have been instructed by the local administration to plant as many crops as possible to minimise losses. However, many of the crops, especially banana, papaya and cauliflower, are yet to be ready for harvest.
"I had lost crops worth more than Rs 1 lakh last year. When I heard about this new cyclone, I hoped that BDO or the panchayat would send some preliminary help or at least tell us about how to brace for it. But nothing has happened. So, I'm doing it myself," said Aynal Haque Mollah while digging a one-foot-deep trench along the boundary of his farm to ensure that rainwater was drained out.
Although the government had announced compensation and relief schemes for the people affected by Amphan, most of these farmers complained that no benefits had reached them. Mollah himself said Amphan had destroyed a large portion of his house. Officers from the local panchayat had come to note down his details and told him that he was eligible for the compensation. But Mollah hasn't received a penny even after a year.
Alleged misappropriation of Amphan relief funds became a major issue in the recent Bengal Assembly polls and the anger among the farmers was one of the reasons for the Trinamul Congress's defeat in Bhangar by ISF candidate Nawsad Siddiqui.
Ahead of Yaas, farmers with bigger land size and leaders of the local Farmer Producer Organisations have come forward to help people with small plots to prepare themselves so that the damage is minimal.
"When we heard that there would be another cyclone, we immediately started speaking to farmers. We told them to set up bamboo structures and dig trenches," said Jabbar Khan, the chairman of a FPO.
Khan said the likes of him took the initiative because the damage otherwise affected the market adversely. Last year, according to Khan, immediately after Amphan, cultivators from Bhangar had to get vegetables from Malda, Murshidabad, North 24-Parganas and sometimes even from Ranchi and Bangalore meet the demand.
"We mainly sell vegetables in Calcutta. For about a month after Amphan, we had to depend on crops from other parts of the state and the country. Naturally, the lady's finger we sold at Rs 15 a kilo became as costly as Rs 30 a kilo," Khan said.