Cyclone Yaas: Anger over decrepit shelters in East Midnapore
District officials, however, have insisted that the pandemic was responsible for the ill-preparedness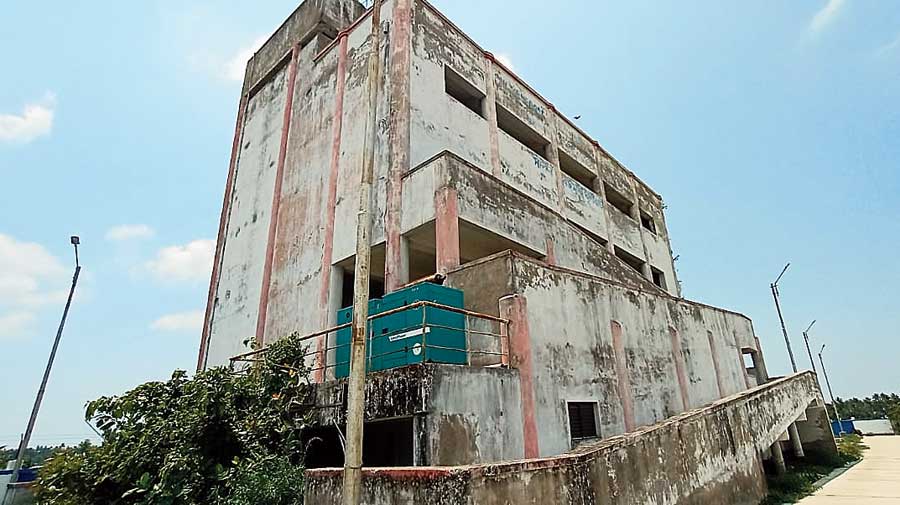 ---
Tamluk(EastMidnapore)
|
Published 23.05.21, 02:37 AM
|
---
At least a dozen cyclone shelters out of 43 in East Midnapore, constructed by the district administration in 2009, are decrepit and unfit to be used in the lead-up to Cyclone Yaas that is set to make landfall in South Bengal by Wednesday.
Panchayat officials and residents of the area have expressed their disappointment at the development, some even citing their disbelief that a "repeat" of May 20, 2020, when Cyclone Amphan hit the area, could be possible. Back then too, many cyclone shelters were dilapidated.
District officials, however, have insisted that the pandemic was responsible for the ill-preparedness.
Trinamul leader and panchayat pradhan of Sarda gram panchayat in East Midnapore's Deshpran block, Rakesh Maity, said the shelter in his jurisdiction was in a mess and no effort had been made to renovate it.
A three-storey cyclone shelter in Maisha Munda village sits in a 7km straight line from the coast. Barely used since inception, it has peeling paint and crumbling plaster. In one of three halls on the ground floor, the floor is coated with cow feed and excrement, signalling ad hoc usage by local farmers to shelter cattle.
The structure, built to house 2,000, now has most of its doors and windows stolen or missing, its generator out of commission, and pieces of the tiled upper floors chipped away. Electricity lines lie disconnected or torn down by weather.
Asked about the stark lack of preparedness shortly after the Trinamul government returned to power, minister Akhil Giri blamed the pandemic.
"The pandemic has not allowed us to ready these structures for use during the oncoming Yaas. We came to know about damages after Amphan, and will submit new proposals for repair when possible," said fisheries minister Giri, also Ramnagar MLA.
Disaster management officials in the area even claimed lack of knowledge on the discrepit structures.
"Block officials have not conveyed this information to us. I will take reports  and will instruct public works to repair as needed this week," said disaster management official Mrityunjay Haldar.
Sources confirmed no major changes could be made in two or three days, and the best they could do was likely to restore power and reinstall missing windows and doors.
"The lack of maintenance is unfortunate, but it is not a new thing. These structures have been crumbling for years," added Giri.
On Friday, the district administration approved minor repairs of a handful of cycloneshelters but Sarda was not among them.
On Saturday, Trinamul's district coordinator Mahmud Hossain emailed Akhil Giri and irrigation minister Saumen Mahapatra for their immediate attention on the plight of this centre as well as others in the area.As an alternative, rural officials have enlisted six schoolhouses.
Residents expressed ire on Saturday that Amphan had not left officials better prepared. "Disappointment for us, as we will suffer, and shame on them (officials)," said Deshpran block resident Maidul Hossain, 32.