Nandigram in 2007 rerun
Around 1,000 block roads and wave black flags at police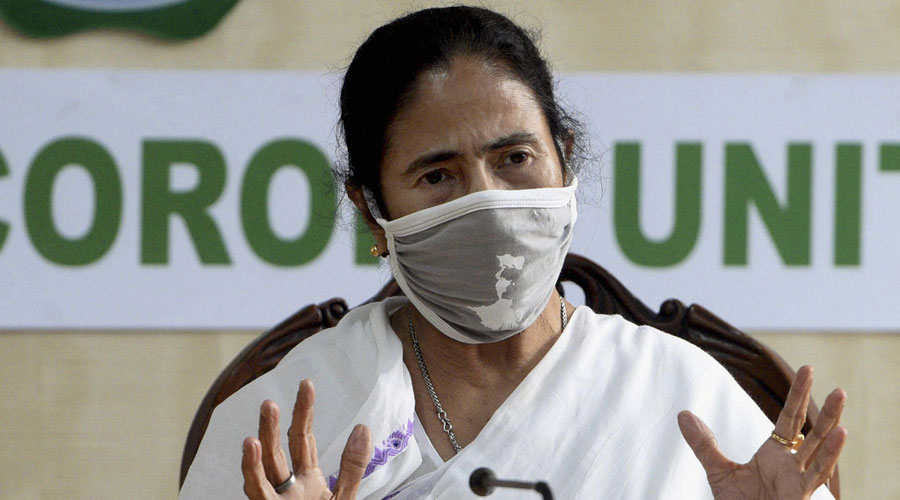 ---
---
Around 1,000 villagers blocked roads and waved black flags at police in Nandigram on Thursday morning in an eerie reminder of the 2007 land agitation which is considered as one of the reasons for the downfall of the CPM government in 2011.
The 1,000-odd agitators at 11am came to the 100-foot-long Hazrakata canal bridge, the same spot where villagers had gathered on January 3, 2007, to demolish the link and keep the police at bay.
It was more than symbolism, said protestor Sheikh Kalamuddin, whose home was badly damaged by Cyclone Amphan. "In 2007, we protested against the then state government, asking them not to neglect our needs. Today (Thursday), we blocked the same bridge with tree trunks so as to give a strong warning to the current state government."
On Monday, many panchayats in the Nandigram area had published lists of the names of people who had been wrongfully compensated on flex banners, the move coming a week after the chief minister turned her attention to the issue and asked the state secretariat to monitor the compensation situation in Nandigram directly.
On Thursday, the protest at Hazrakata was dispersed after OC Ajit Jha met protesters and promised they would receive their compensation within 15 days. Protesters, however, said they would keep an eye on the situation.
"In 2007, we fought for our earth and land. In 2020, we are fighting for our homes. We are desperate," said Kalamuddin, a resident of Nandigram's Kendamari who until March worked in Calcutta's Metiabruz as a tailor. On May 20, the second storey of his family's mud home was blown away. "All male members in my family are now sleeping under tarpaulin sheds in the courtyard," he said. "I spent Rs 9,000 from my own savings for basic repairs."
Later in the day, a handful of similar protests erupted in front of panchayat offices in other areas of Nandigram, where residents directly accused panchayat officials of corruption, such as Trinamul panchayat member Mehera Biwi in Bhekutia. "We have showcaused panchayat member Mehera Biwi," said pradhan Mamata Das.
District committee members of Trinamul convened a meeting in Nandigram in the evening. "We asked all booth presidents to give comprehensive lists within 48 hours of ineligible persons who got dole," said block vice-president Abu Taher. "Other than getting the money back, we will also take action against party workers found guilty." According to data made public on Tuesday, 5,792 persons out of more than 40,000 households with recorded damage in Nandigram-I had received the dole.
Stampede injury
At Kultali in South 24-Parganas, three women were injured in a stampede-like situation in front of the Kultali block development office on Thursday after 1,000 villagers queued up to register their names for Amphan relief. The injured were admitted at a block hospital in Jamtala. "Around 10am a group started to push each other and fell down on the concrete floor. People started running on others," said Ashima Halder, one of the women who received injured on her chest and legs.