Fallen trees hurdle to power supply
Rural areas of North 24-Parganas still without electricity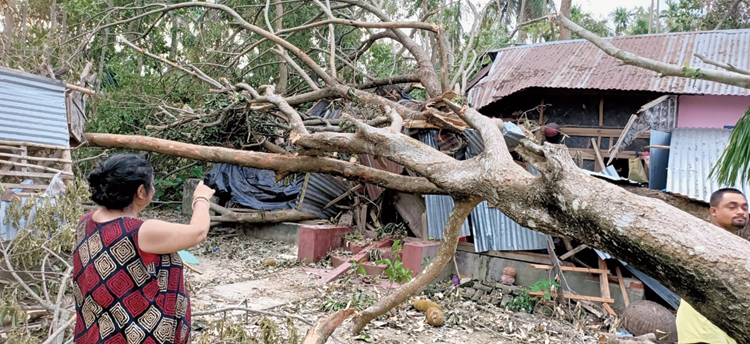 The tree that fell on Nibedita Dutta's house in Thakurnagar.
Picture by Chanchal Pal
---
Bongaon
|
Published 26.05.20, 11:29 PM
|
---
Six days have passed since Amphan hit Bengal but Nibedita Dutta of Thakurnagar in North 24-Parganas is yet to enter her damaged home. She, along with her husband Sagar, had left home on the night of the cyclone after they got trapped for an hour when a big tree fell on their residence and damaged it in a big way.
While Sagar has suffered an arm fracture the duo were rescued from under the tree by their 15-year-old son.
Sagar, a cable TV operator, has undergone surgery at a Bongaon nursing home on Tuesday, but none from the local administration has bothered to help the couple remove the gigantic tree that lies on their house.
Not just one tree, but Amphan has uprooted several trees that have left the area under the cover of darkness for six days. Trees lying uprooted across vast stretches of North 24-Parganas have become the main impediment to restoration of power supply, WBSEDCL official said.
While power supply has been restored in towns, the WBSEDCL authorities have no clear idea when rural areas of Basirhat, Barasat and Bongaon subdivision will get back electricity because uprooted trees needs to be cleared.
A WBSEDCL officer in Basirhat said: "Power supply could be restored in only about 20 per cent of the rural areas of the district so far. The infrastructure has been severely damaged with over 40,000 trees uprooted. So, it is not clear when the normalcy could be restored."
On Tuesday, a team of the Odisha Disaster Rapid Action Force (ODRAF) was engaged in clearing trees in many areas of the district amidst demonstrations and road blockades by angry villagers.
The 500-member ODRAF team began assisting Bengal in the post-cyclone restoration work in several areas of North 24-Parganas and South 24-Parganas.
Jyoti Prakash Halder, block development officer of Bagdah, where two ODRAF teams were pressed into action, said: "There has been a huge number of trees uprooted. We are trying the best...but the work is too huge."
Insiders in the district administration said the lack of manpower and machineries had hindered the clearing of uprooted trees from main supply routes. The administration is worried as the ODRAF team would leave the district soon and much of the clearing job would remain incomplete.
Gaighata panchayat samity member Dhyanesh Narayan Guha said: "A huge number of trees were uprooted in Gaighata block. The situation is quite the same in adjacent areas. I have developed teams of local youths to clear the trees. But unfortunately, owing to lack of time, we could not help many families to remove trees that damaged their houses."
An officer at WBSEDCL's Bongaon divisional office said: "In many areas, we could not take up restoration work since the uprooted trees and their branches have not been cleared. Nevertheless, we are trying our best to restore supply at emergency facilities like hospital, and police station."