Youth's faith in tree proved wrong
Sheikh Asmat's mini truck bought using all his savings, was parked under a peepal tree he thought would protect during cyclone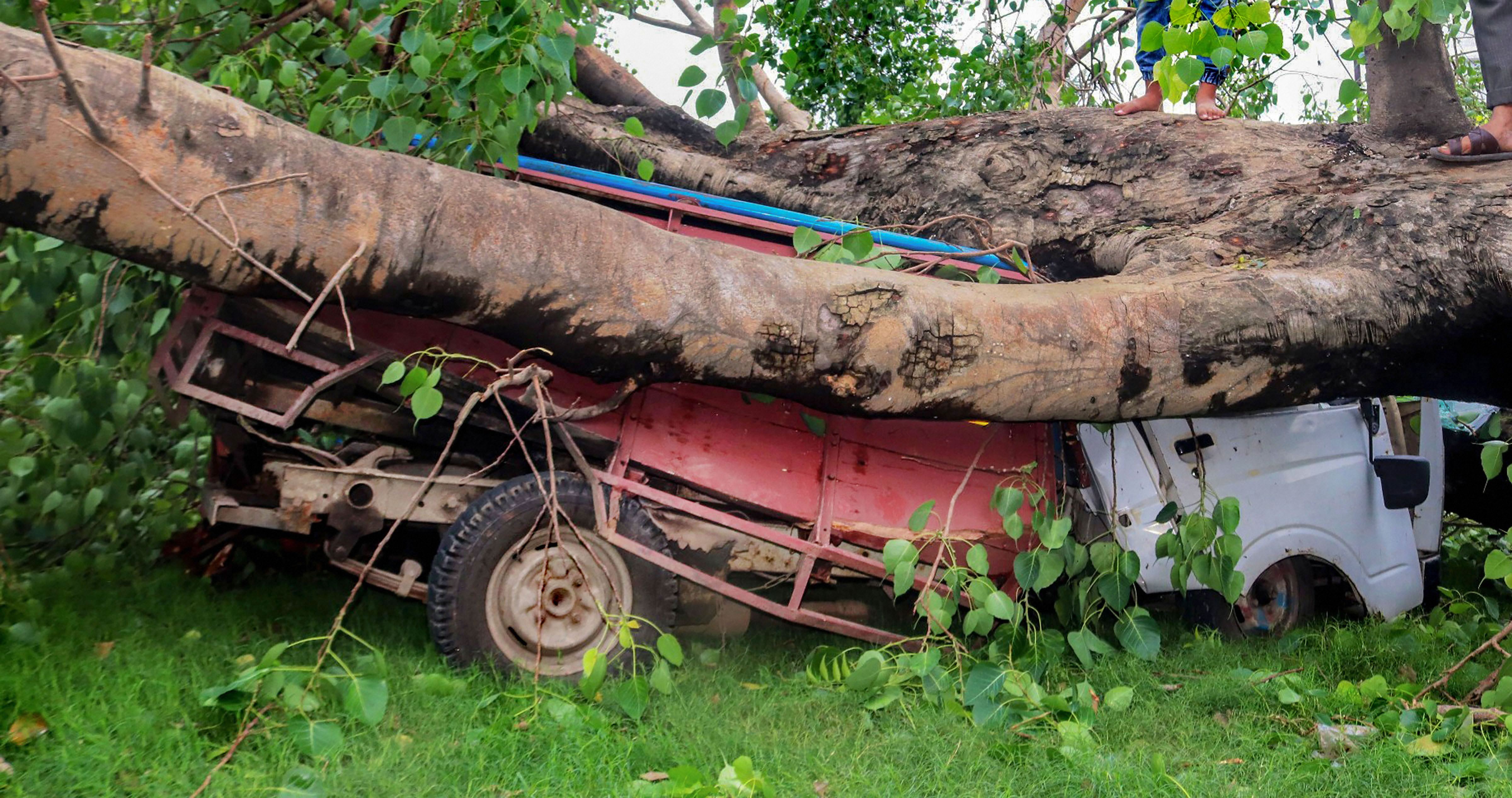 ---
|
Burdwan
|
Published 21.05.20, 10:07 PM
---
Cyclone Amphan shattered the dreams of a youth in Burdwan which was largely unaffected by the storm compared to the widespread destruction wrought on other areas of Bengal.
Sheikh Asmat, 27, always kept his mini truck that he had purchased recently using all his savings parked under the peepal tree outside his home at Neelpur in Burdwan town.
"I always thought the tree would provide my prized truck with protection. But exactly, the opposite happened," Asmat, who purchased the truck late last year, said on Thursday.
"I started getting business in January, but it plummeted following the lockdown. Since then, I started keeping it under the tree," youth said.
Asmat, who had taken a loan of Rs 1.5 lakh from a private bank to buy the old mini truck, spent Rs 1.30 lakh from his savings to repair and remodel it eight months ago. Since then, the vehicle has been the only source of income for Asmat and his family.
He said on Thursday that he had been hoping to get a little business in the coming week so that he could save up for Id. "I don't know what will happen now. How can I pay the instalment? It is an old vehicle and I am not sure when I will get insurance," he said.
Asmat, who is the eldest of the four brothers, is worried how the family would make ends meet with the loss of the truck.
"My brothers work as masons but they have no income ever since the lockdown was imposed. We are worried because we also have to take care of our elderly parents. If the lockdown was not bad enough, Amphan has aggravated our problems," Asmat said in a voice that reflected his worries.
One of Asmat's friends said it was sad that Asmat's hopes were pulverised by a tree that he had great faith in.
"When three other vehicle owners had moved away their mini trucks before the cyclone roared, Azmat stood by his faith in the tree that it was strong enough to bear the cyclone. The tree did not honour his faith and came crashing down on his vehicle," the friend said.
"He has no other sources of income or savings. He spent all of his savings to buy the vehicle. We don't know how he will manage the situation," said Somnath Dey, president of a local club in Neelpur.