Amphan aid misappropriation FIR in Nandigram
Panchayat pradhan charged with putting the names of two persons from the same home 'deliberately on the beneficiary list'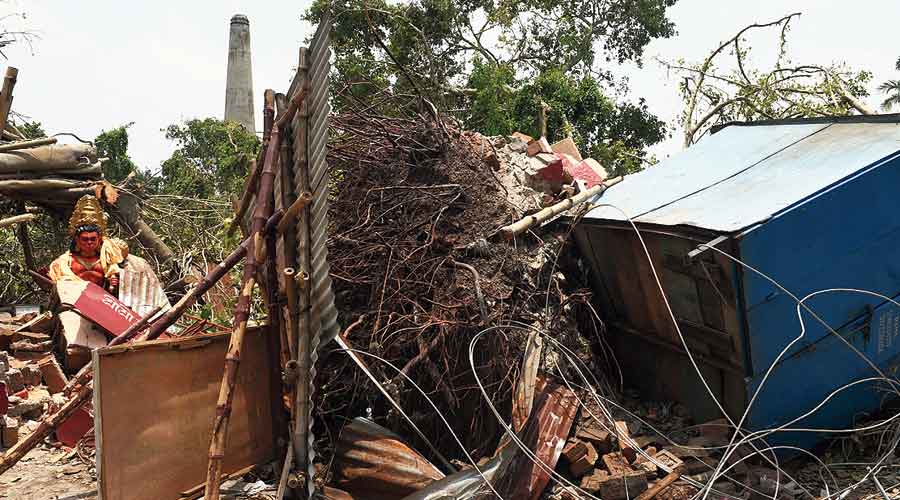 ---
---
East Midnapore's Sutahata police on Wednesday started a probe into alleged misappropriation of Amphan aid by a panchayat pradhan after the block administration lodged an FIR, the first in the district, against the panchayat functionary through an email on July 2.
In the email to the officer-in-charge of Haldia's Sutahata police station, block development officer (BDO) Sanjay Sikdar charged Trinamul-affiliated Ashadtalia panchayat pradhan Shibani Bakuli with putting the names of two persons from the same home "deliberately on the beneficiary list".
Officials said that last week it emerged that the duo, Subhas Parua and his wife, residents of Jamalchowk, had made it to the list of Amphan beneficiaries though their house had been partially damaged. The administration froze the release of the dole to the Paruas and initiated action against Bakuli.
Peeved with the FIR filed against her, Bakuli said there were at least "a 100 Trinamul workers and leaders in Nandigram" who openly appropriated the Rs 20,000 dole.
"Why is no one saying a word against them, forget an FIR? I want to know why an FIR was filed against me when the persons in question neither belong to my family nor have received any money," she lashed out.
Bakuli held the block and panchayat officials responsible for the error. "The two-step verification procedure before giving nod to the list had not been done properly. The husband's name was on the first list, while the wife's name got added later. This will be rectified. I am just being maligned by party rivals," she said.
"Why is the BDO (Sanjay Sikdar) demanding penal action against me," she demanded to know.
Haldia SDO Adneet Punia said he was aware of the complaint filed by the BDO. "I will look into the matter," he said.
On the lack of action against panchayat functionaries who allegedly misappropriated funds, the SDO said the administration would act on specific complaints.
In a related incident in Nandigram, at least 400 residents of Mohammedpur protested with Trinamul flags in front of the panchayat office demanding aid. Protesters, mostly allied to the ruling party, said they demanded legal action against Trinamul's pradhan Sheikh Habibul. Protester Minhaj Ali Khan said: "We want our funds or legal action against the leaders."
Habibul said he had personally met protesters and would hold a meeting with them this Sunday where persons would be "rightfully compensated".