Crowdfunding to meet kidney transplant cost in Suri
Amit and his family received an unexpected shock in October when he collapsed one day during his daily exercise regimen at the local field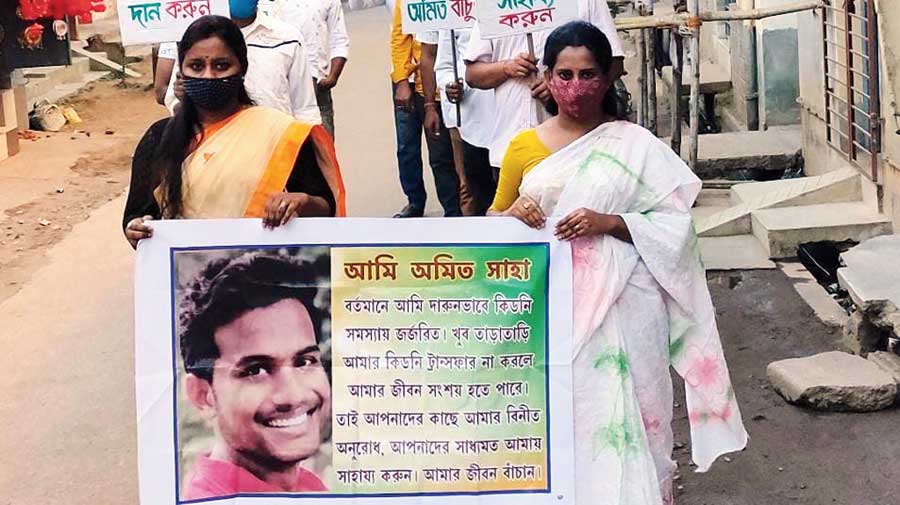 Friends of Amit Saha on a crowdfunding drive in Suri
Telegraph picture
---
Suri
|
Published 28.11.20, 01:35 AM
|
---
College graduate Amit Saha has dedicated his life to books even though the 25-year-old resident of Suri is no bookworm.
Now, his friends and wel--wishers are into a crowdfunding to raise Rs 10 lakh to pay for his kidney transplant.
After graduating with a Bachelor of Arts degree from Birbhum Mahavidyalaya in 2017, he put himself into the local community by founding the Sishumon platform to help school-going children with books and clothes, alongside preparing hard for entrance examinations himself.
Known as an ardent and vigorous youth immersed in social work, Amit and his family received an unexpected shock in October when he collapsed one day during his daily exercise regimen at the local field.
"I thought it was a regular injury. I was doing exercises to practise for the state police entrance examination," said Amit, whose father works at a sweetmeats store in the town.
"However, doctors diagnosed me with a kidney condition and before I knew it, I was on a train to Vellore for further tests," added the youth who was at home recently. Although Amit finds himself in the midst of turmoil, his existing goodwill and friendships in the local society have stood firm by him.
A crowdfunding effort aimed at raising Rs 10 lakh to pay for the kidney transplant Amit will need to recover, is already underway.
When Amit visited the Christian Medical College in Vellore, he was told that he would require kidney transplant and the procedure would cost Rs 10 lakh. Helpless in the face of the huge financial cost involved, his family turned to the local community.
"I have pledged one of my kidneys to my son. There is not much more that we as a family can do," said Rina, Amit's mother.
"We are from a hand-to-mouth family and are immensely grateful that his friends are standing up in this way. We have spent all our savings of Rs 50,000 in Vellore, and we don't make more than Rs 9,000 a month as a family," she added and referred to the vigorous efforts undertaken by Amit's friends to raise the required fund.
The efforts have so far reportedly helped raise Rs 2 lakh from the local community through campaigning and flex banners. During the Durga Puja, Amit's friends had placed donation boxes at local pandals expecting people to contribute.
"Amit is the last person we expected to find in such a situation. He was always bubbling with life and activity. It is our duty to help," said Animesh Das, one of Amit's friends, adding that they were trying "every possible source" in the area to meet the Rs 8 lakh deficit.
"It is a faraway goal. Perhaps, we will not make it," Das said.
Nonetheless, Amit remained hopeful and deeply grateful for their efforts.
"Their effort towards my recovery is enough for me; it is a great blessing. We don't know what will happen financially but their goodwill will help me live long," he said.