Crashed tank highlights plight of P&T Quarters
The tank crashed to the ground on March 12 but no one was hurt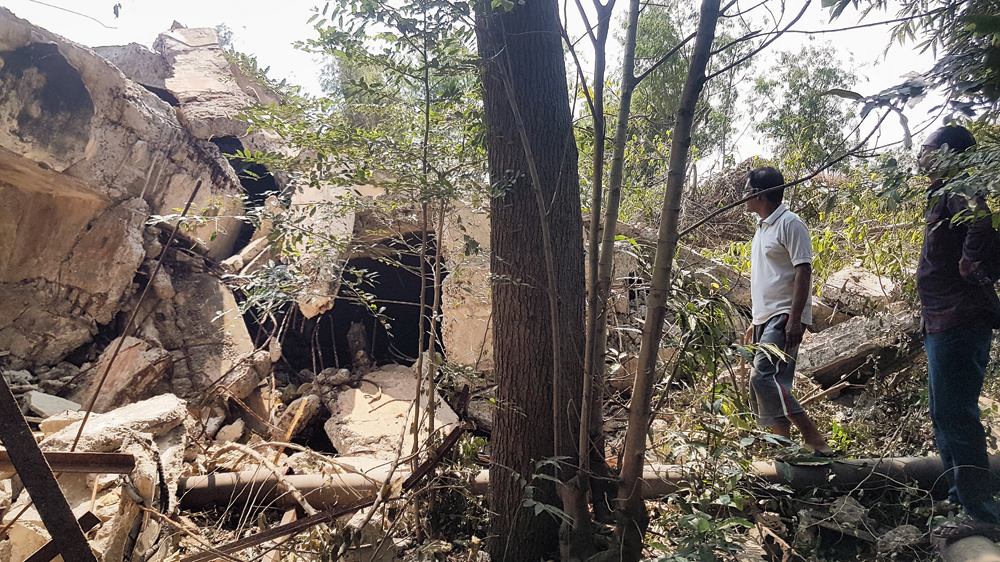 Residents inspect the remains of the collapsed tank at P&T Quarters
Picture by Brinda Sarkar
---
Calcutta
|
Published 19.03.20, 08:45 PM
|
---
Most residents of the Post and Telegraph (P&T) Quarters in CC Block have started receiving water days after one of the water tanks in their complex collapsed.
The tank crashed to the ground on March 12 but no one was hurt. They have one more tank in the complex that is still standing but even this one has chunks missing and is in need of repairs.
"The postal department is in charge of our buildings' interiors and BSNL is responsible for roads, street lights, sewerage and water supply," said Gopal Gond, secretary of P&T Housing Complex CC Block Salt Lake Occupants' Association. "We have written to them innumerable times to come and repair the tanks but they say they have neither the money nor the manpower after many employees took VRS."
In fact, he says that since February, BSNL has withdrawn the staff that would operate the tanks too. "Despite the departments deducting a water and maintenance fee from our salaries, we residents now have to pay three people out of our own pockets to run the tanks. These men narrowly escaped death when the structure fell that day," Gond says.
Background story
Construction of the P&T quarters began in 1976, with the then minister of communications Shankar Dayal Sharma laying the foundation stone. Residents started moving in from 1982. It has 1,020 flats in 85 buildings out of which 160 to 170 are occupied at present.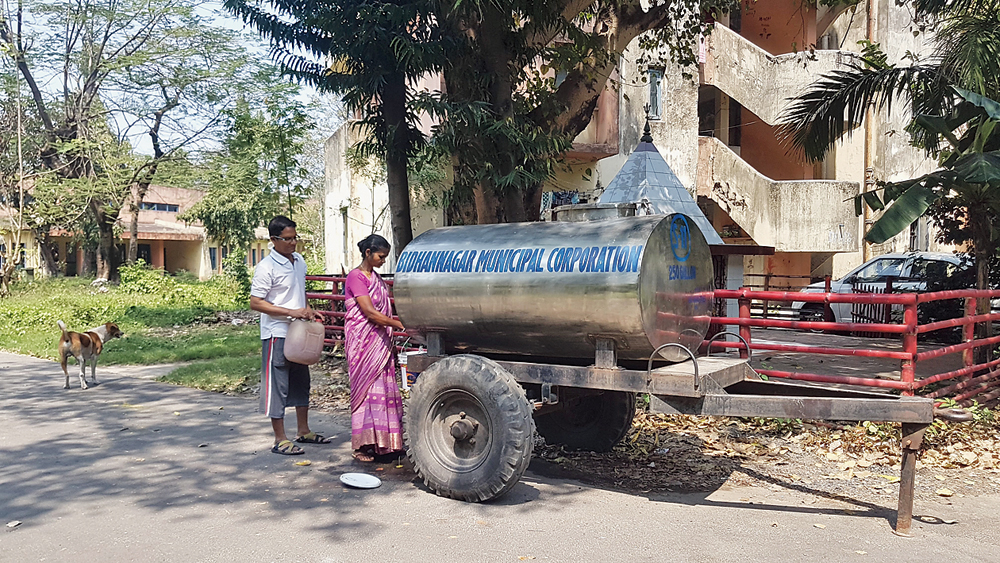 Although Bidhannagar Municipal Corporation is not responsible for the maintenance of this estate, it was sending three tankers carrying 500 gallons of water a day for a few days after the incident. "Now is not the time to point fingers. As far as I'm concerned, people need water and the corporation will provide it," mayor Krishna Chakraborty had said on Friday.
Water woes
Residents who would receive water from the collapsed tank were initially having to queue up with buckets behind the tankers. "I only have one bucket and one jerrycan at home, with which I'm making my third trip of the day," said Shankari Maiti, at about noon on Sunday. "This is highly inconvenient. My daughter-in-law is pregnant and we cannot even offer enough water!"
At the L/IV/2 building, Anurag Srivastav's family was unable to cope. "The tankers are parking far from our building and the water is being whisked away by slum dwellers before we get to it," his wife grumbled on Sunday.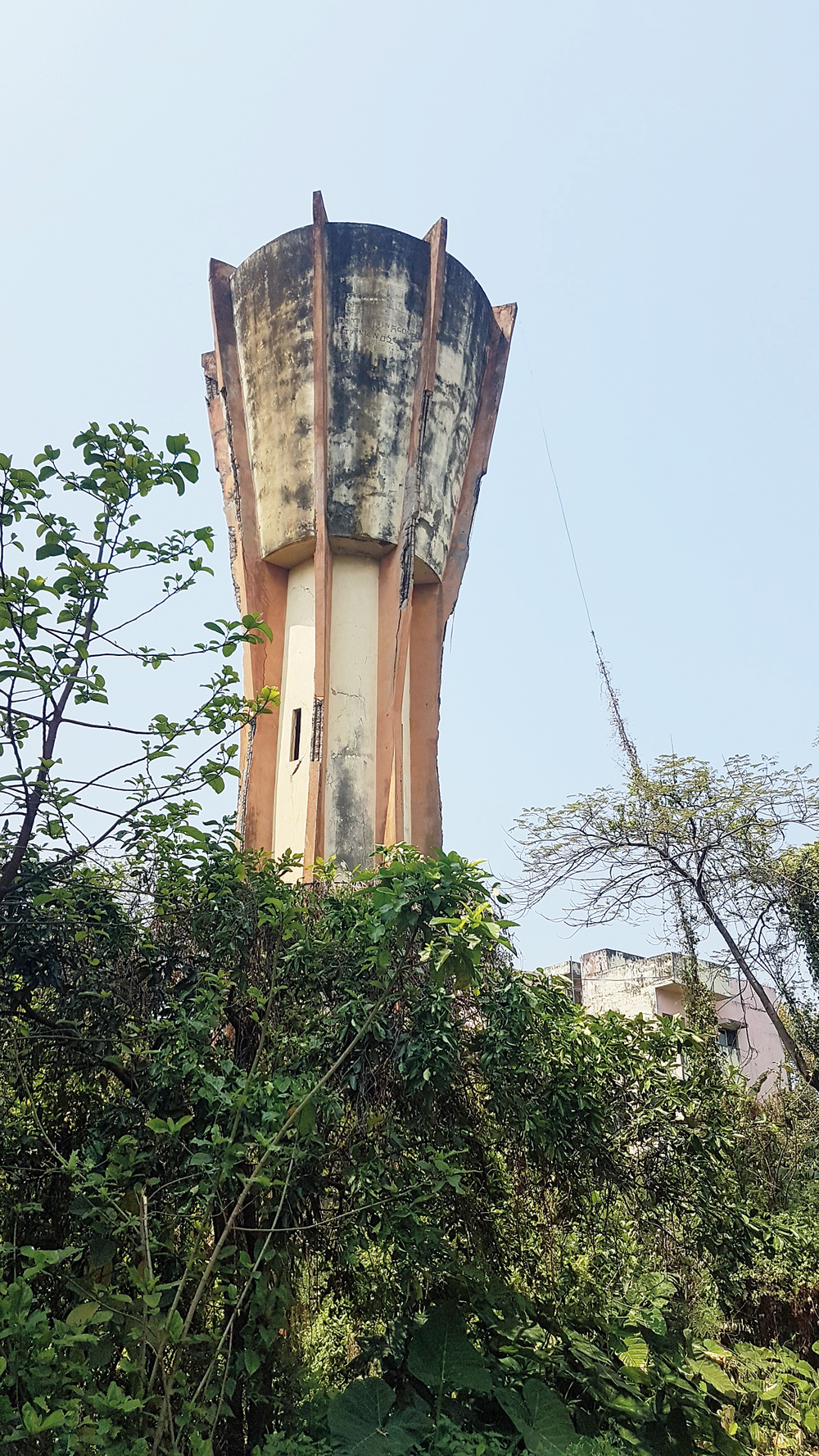 The three families living in this building were pooling in money to buy 3,500l of water a day from an agency. Rashmi Kiran, another resident was taking her family to a friend's place in BD Block to shower every day.
BSNL officials had come to asses the situation on the day of the incident and eventually provided a solution. "All our water comes from underground. Instead of sending this water up to the overhead tank, the officials have linked the pipes such that the water is being sent directly to the buildings. Most residents are receiving water now," Gond said on Wednesday.
Buildings blocks
The buildings of P&T quarters are also accidents waiting to happen. Some have their interior rods exposed, others have chunks dangling dangerously. The fields and common areas have become jungles and the community hall is in a shambles.
"Our roads were so bad rickshaws would refuse to enter. Imagine having to walk through such a huge complex with heavy shopping bags," says Sunil Sarkar, a resident. "We finally had to request councillor Tulsi Sinha Roy to repair them as BSNL wouldn't do it."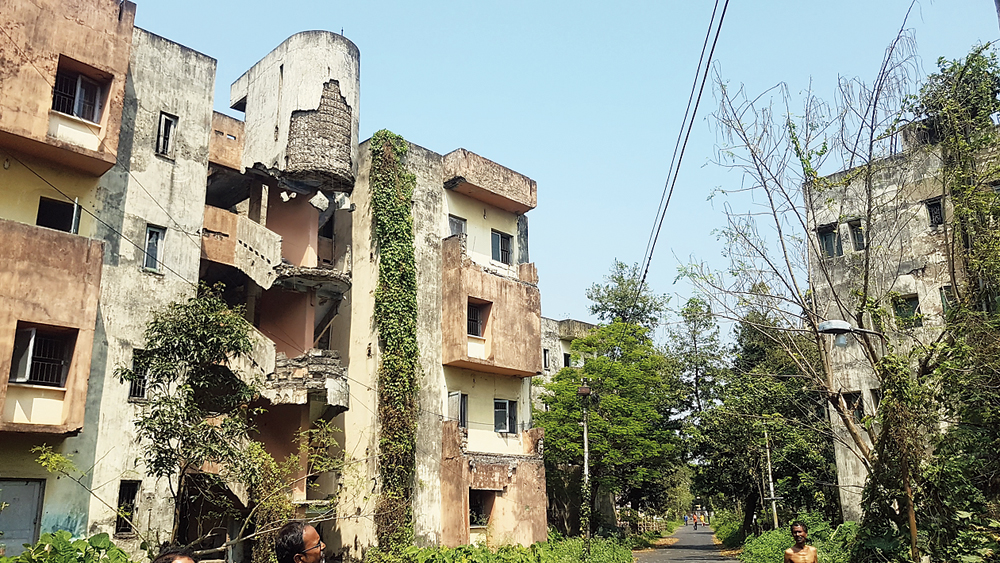 As for the buildings, Sarkar recalls how the staircase of the three-storey D II/4 building collapsed a couple of years ago. "The fire brigade had to climb up and pull the residents out," he says. "The scariest part is that many of us continue to live in such dilapidated buildings. What if they collapse next?"
A BSNL official looking into the tank issue said their first priority was to provide water to residents. "And we have ensured that by linking the pipes and pumps. We will take further steps as necessary," he said. "Repairs of the tank and buildings were not possible as there was a funds crunch."
Other tanks
The rest of Salt Lake has 15 tanks of 1,20,000 gallons capacity each. These were built by the urban development department and their maintenance is carried out by the corporation.
"We have always ensured periodical repairs of our tanks but last year we asked a team of structural engineers from Jadavpur University to specifically inspect tanks numbered 3, 7 and 10," said Chakraborty, the mayor. "We shall now broaden the ambit and ask them to inspect all tanks so they can advice us about any necessary repairs."