Cracks on runway trigger seven-hour halt in flights at Bagdogra
The delay of the flights inconvenienced hundreds of passengers at the second-most important airport in Bengal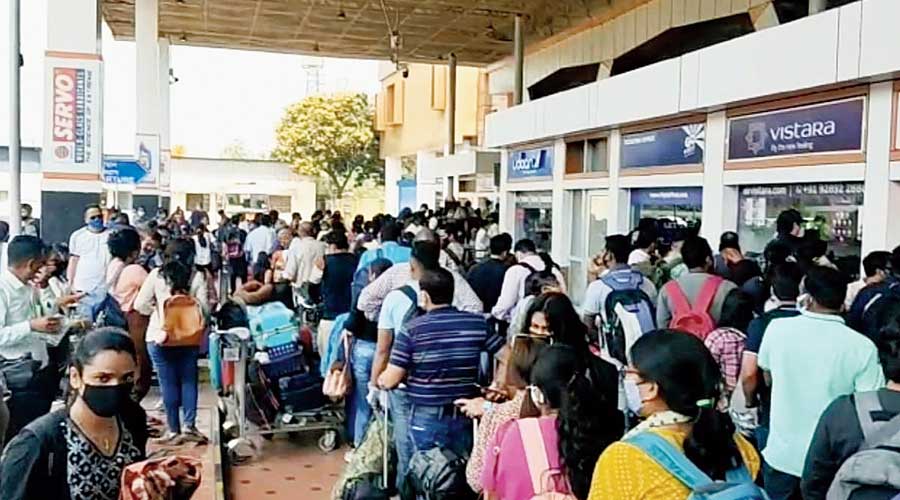 Passengers at the Bagdogra airport on Tuesday.
Picture by Passang Yolmo
---
Siliguri
|
Published 16.03.22, 02:13 AM
|
---
Flights remained suspended for over seven hours at the Bagdogra airport on Tuesday as cracks were spotted on the sole runway.
The delay of the flights inconvenienced hundreds of passengers at the second-most important airport in Bengal. They swarmed at the airport in the morning hours and had to wait till late evening when the services became normal after necessary repairs.
Sources said three flights had landed at the airport in the morning. However, as the cracks were noticed on the runway around 9.30am, the authorities decided to halt services.
As the Bagdogra airport is a civil enclave — the runway and the air traffic control are maintained by the Indian Air Force — the IAF authorities carried out necessary repairs so that flight services could be restored.
"There had been a problem in the runway and hence, flight operations had stopped. There are chances that the operations might start around 4.30pm," said an official of the Airports Authority of India (AAI) in the afternoon.
The sudden halt in the operations occurred around a month ahead of the planned closure of the airport. From April 11 till 26, flights will remain suspended at Bagdogra because repairs would be carried out on the runway.
As the flights stopped landing at or leaving Bagdogra on Tuesday, the crowd swelled as more and more outbound passengers arrived. Altogether, 26 flights or 52 flight movements were scheduled for Tuesday.
"I am taking my uncle to Delhi for treatment. We were supposed to take a flight at 1pm but representatives of the airline have told us that it has been delayed," said Rakesh Kothari, a stranded passenger.
The suspension of the operations for a few hours also brought to surface the inadequate infrastructure at the terminal. Many passengers iterated the need for the immediate expansion of infrastructure.
"The airport can handle passengers of four or five flights at a time. Today, as flights stopped arriving and departing, the inadequate infrastructure was evident. It was a chock-a-block situation as the terminal and the arrival area was crammed with people. The central and state governments should take necessary steps for the construction of the new terminal that can handle adequate number of passengers," said Tarun Dutta, who was waiting to take a flight to Bangalore.
Around 5pm, the flight operations resumed after the completion of the repairs.
"The first flight landed at 5.05pm after seven hours. Some more flights have started arriving in Bagdogra and there are plans to run the airport till 10pm so that the passengers can reach their destinations and the inbound travellers can arrive here," said an AAI official.
Of the 26 flights, three were apparently cancelled. All other flights landed and departed.