Crackdown on errant bikers in Calcutta
607 booked in one night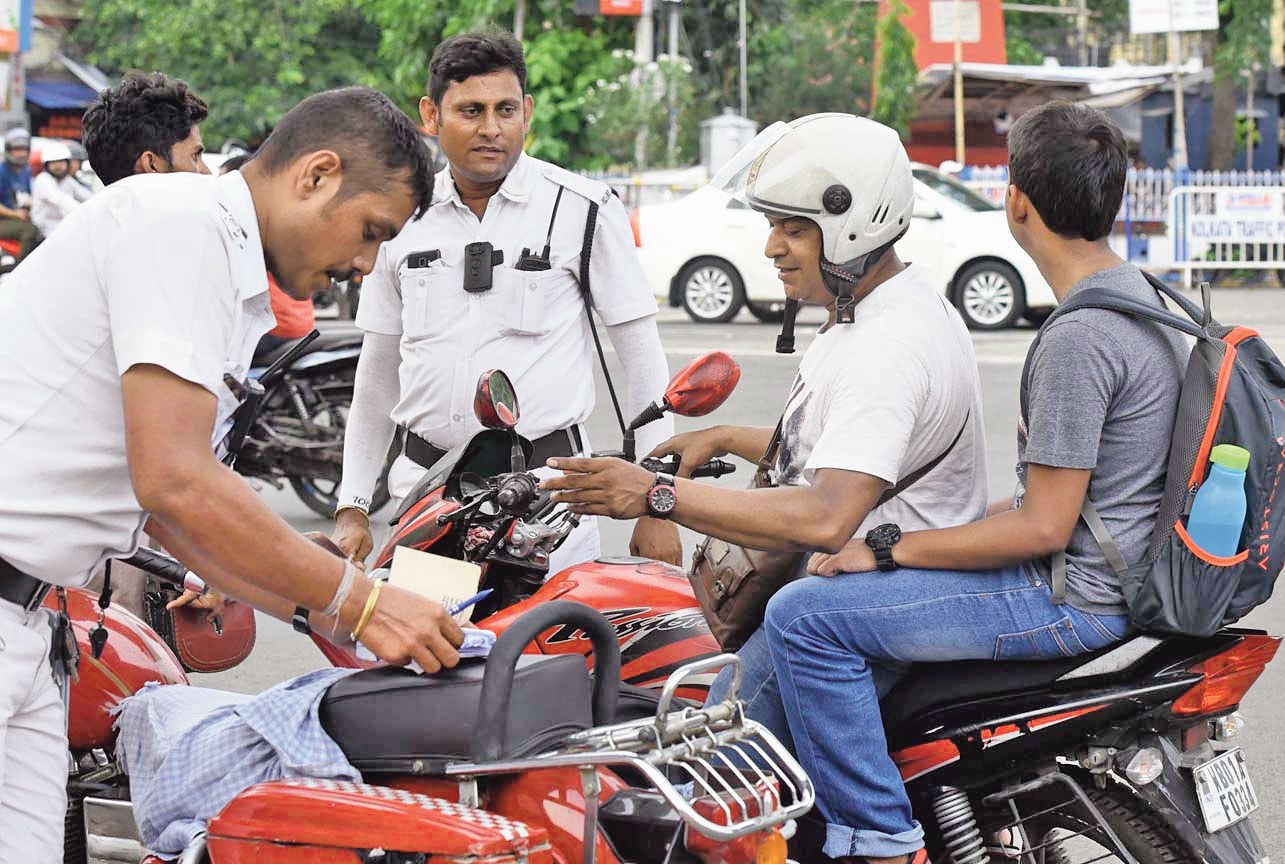 A rider being fined during the crackdown for his pillion rider was without a helmet.
Picture by Pradip Sanyal
---
Calcutta
|
Published 21.06.19, 02:36 AM
|
---
Helmetless bike gangs that are often seen zigzagging down empty roads in Calcutta at night in violation of traffic rules almost disappeared on Wednesday night following a crackdown by police on unruly bikers.
As many as 607 bikers were prosecuted in a few hours. Of them, 205 were booked for not wearing helmets and 315 for "triple riding" (riding a bike in a group of three).
Sources in the traffic police said the count was almost five times the number of bikes prosecuted on a Wednesday night on an average.
One such helmetless bike gang had allegedly heckled model Ushoshi Sengupta and the driver of the app cab she was travelling in at the Exide crossing and again near her home in Lake Gardens early on Tuesday.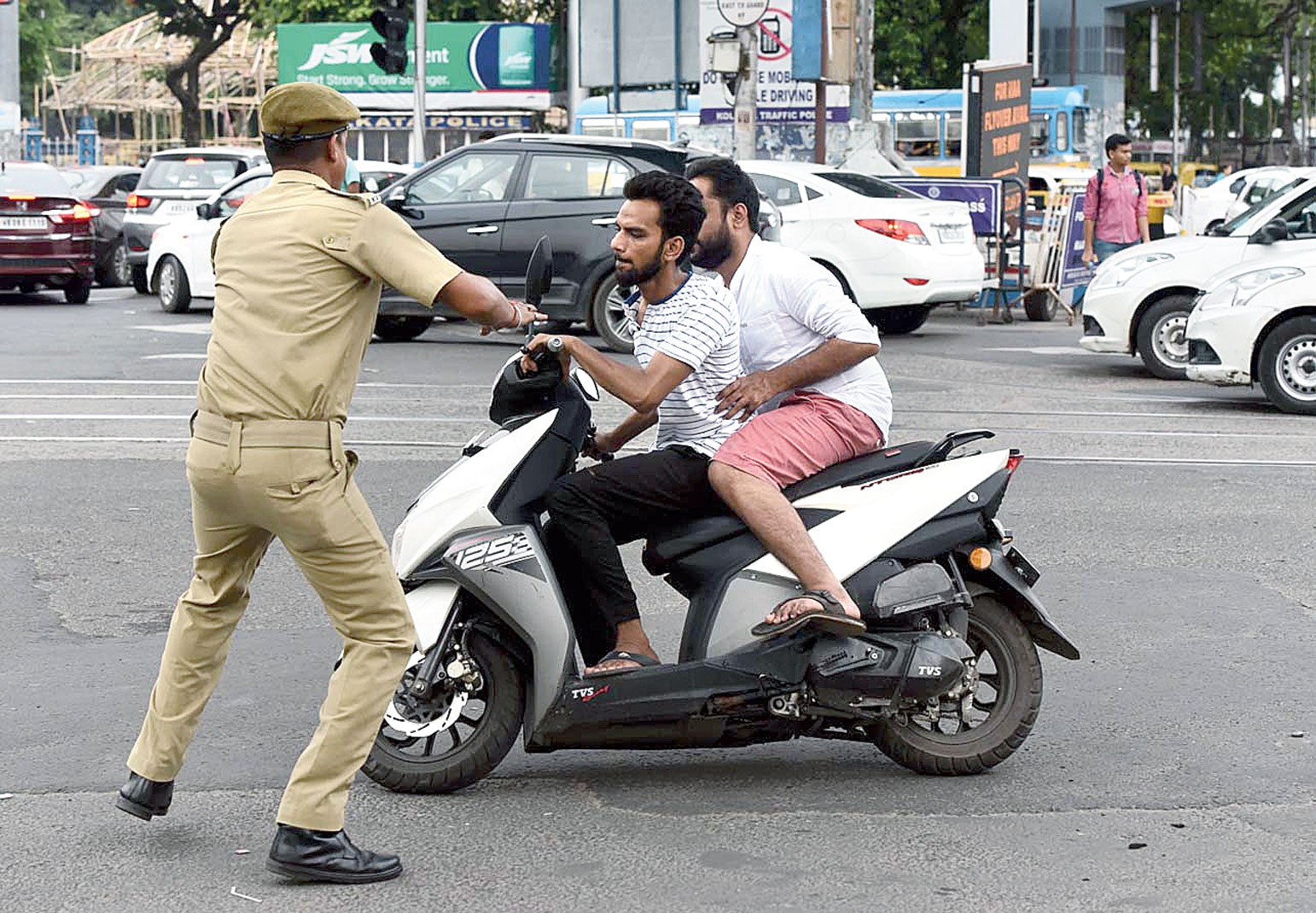 She approached an officer in front of Maidan police station, less than 100m from the spot of action at the Exide crossing. The officer is said to have initially pleaded helplessness saying the spot was in the Bhowanipore police station area.
Ushoshi later approached Charu Market police station but was allegedly met with the same response initially.
"The harassment of the woman and the public outcry over the alleged conduct of the police triggered the nightlong drive against rogue bikers," an officer said.
Reckless driving, speeding, jumping signals and helmetless biking are some of the common offences motorcyclists commit at night when roads are empty and policing slack.
Officers said the drive — in central and south Calcutta and along parts of the Bypass — was conducted by teams comprising representatives of the traffic department and respective police stations.
A big team was deployed on Camac Street. Multiple teams were posted on the 6km-stretch between Gurusaday Dutta Road and Golpark, via Ballygunge Phari.
"The idea was that if a biker escaped one team, he would be intercepted by another," said an officer. Close to midnight, 10 bikers were booked at Ballygunge Phari.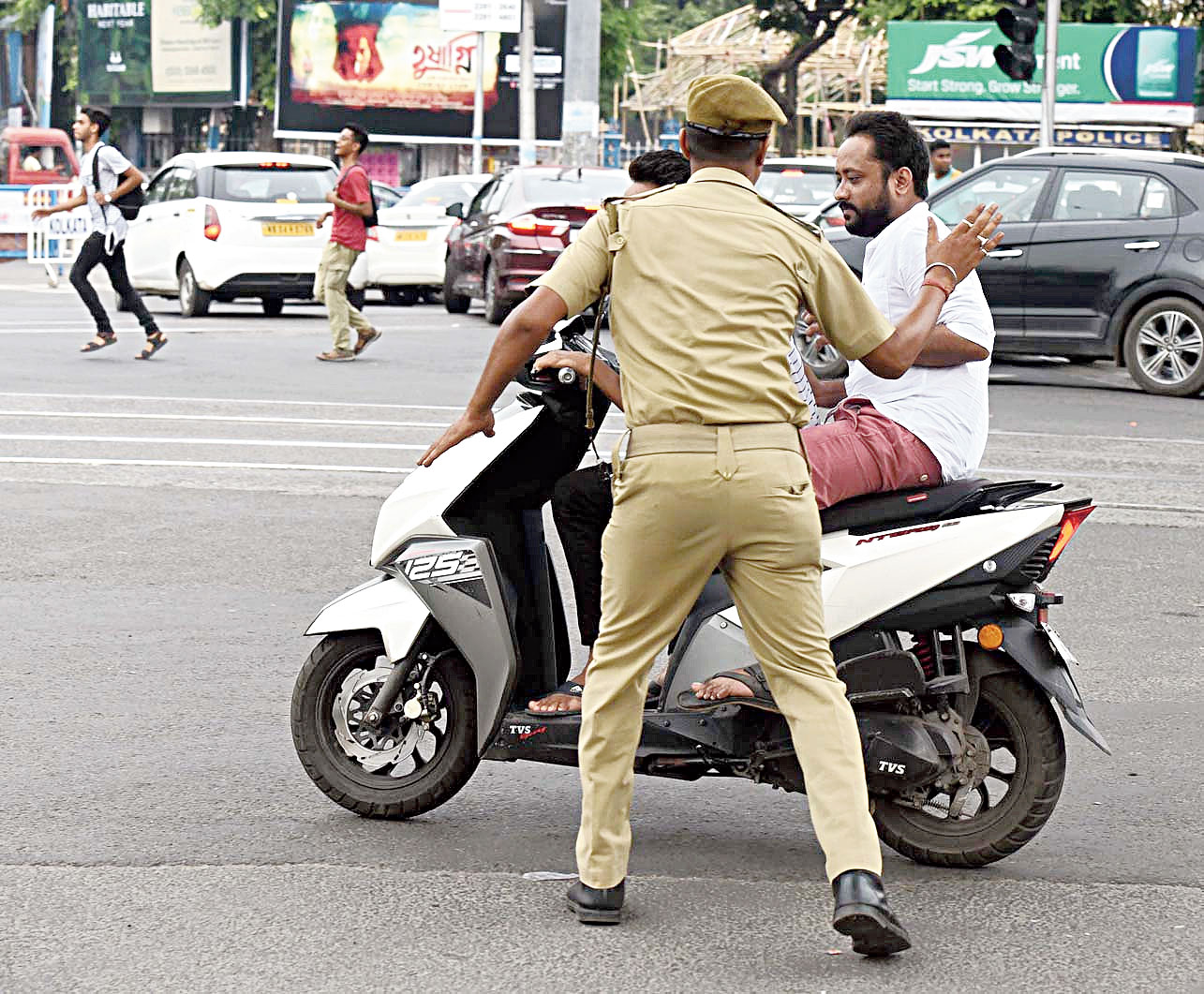 While some bikers pleaded with the cops to let them go, others challenged them.
In most cases, the errant bikers were fined on the spot and issued receipts. Repeat offenders had their documents seized and were asked to collect them from the respective traffic guards after paying a fine.
At least six bikes were seized after the riders failed to produce their driving licence.
A man returning home at night said he did not see a single helmet-less biker between Esplanade and the Bypass.
Deputy commissioner (traffic) Santosh Pandey said the drive would continue over the next few days.
"There should be an element of surprise. We will change the location every night," Pandey said.
All 25 traffic guards have been asked to focus on prosecuting errant motorcyclists for violating traffic rules throughout the day.
"When a drive is launched, the news spreads like wildfire. Bikers either wear helmets to avoid prosecution or take alternative routes," an assistant commissioner said.