CPM dubs Gorkhaland Territorial Administration 'a failure'
Md Salim also launched a vitriolic attack against both Trinamul and the BJP and termed the BJP as a "fake Opposition" that could not raise a protest in Bengal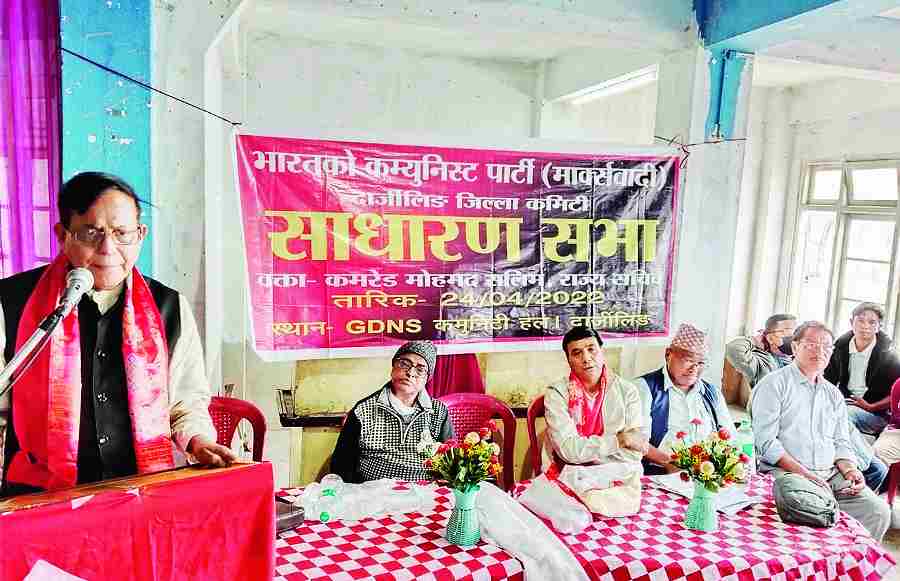 CPM state secretary Md Salim at a party meeting in Darjeeling on Sunday.
Telegraph photo
---
Darjeeling
|
Published 25.04.22, 03:27 AM
|
---
CPM state secretary Md Salim on Sunday termed the Gorkhaland Territorial Administration (GTA) an entity without autonomy and a failure at a time the hills are divided on the issue after Bengal chief minister Mamata Banerjee announced her plans to hold the GTA elections soon.
The GTA as a body had been conceived and largely finalised when the CPM-led Left Front ruled Bengal. The CPM and the Gorkha Janmukti Morcha could not ink the GTA agreement largely over territorial issues as the hill party had wanted 398 mouzas from the Dooars and Terai in the plains.
Mamata, who came to power in May 2011, managed to sign the deal inside three months in July after she decided to form a committee to look into the demands for inclusions of plains mouzas.
Md Salim, who was in Darjeeling on Sunday to attend a workers' meet, said that the GTA "has utterly failed".
"The people of the hills have seen the GTA, it was advertised a lot, lot of PR (public relations) work was done but apart from corruption and loot…what problem has it solved…," the CPM leader said.
"The GTA has utterly failed, where is autonomy, there is only authority, I am against such authoritarian measures. You replace one authority after another," said Md Salim referring to the appointment of administrators to the body since 2017. The CPM leader also underlined that the hill body did not have constitutional recognition.
The CPM veteran's statement comes at a time two principal parties, the Bharatiya Gorkha Prajatantrik Morcha  and Hamro Party are not averse to contesting GTA elections. These two parties had dominated the recent Darjeeling civic polls.
The Gorkha National Liberation Front (GNLF), which is an ally of the BJP, and Bimal Gurung's Gorkha Janmukti Morcha, are opposed to the GTA polls.
Md Salim also launched a vitriolic attack against both Trinamul and the BJP and termed the BJP as a "fake Opposition" that could not raise a protest in Bengal. "The symbol of BJP is now a bulldozer, something that symbolises destruction," said Md Salim.
New hill party
A new political party, Bharatiya Gorkha Suraksha Parishad (BGSP), was launched in Darjeeling on Sunday. It is spearheaded by S.P. Sharma, who was the former general secretary of the Akhil Bharatiya Gorkha League (Bharati faction) also has not openly welcomed holding the GTA elections. "It is time for hill parties to be independent of the influence of parties of Bengal and Delhi," said Sharma.