Covid: Teachers appeal to state project director to suspend distribution of midday meal
The rationing of food items from schools made them vulnerable to coronavirus that has claimed several lives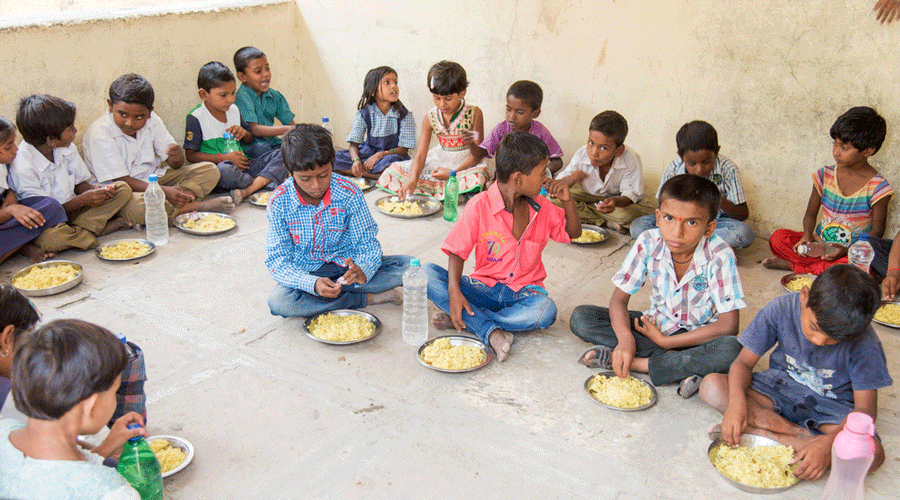 ---
Calcutta
|
Published 12.05.21, 01:20 AM
|
---
An organisation of head teachers of government-aided schools in Bengal has appealed to the state project director of cooked midday meal scheme to suspend the distribution of dry midday meal items from schools to prevent the spread of Covid-19.
With classes on hold, school authorities give raw midday meal items to parents of students under the state government's order. Teachers are supposed to go to schools for at least six days a month and make packets of rice, lentils, potatoes and soya beans, as well as soaps to hand over parents.
Members of the Advanced Society for Headmasters and Headmistresses alleged that distributing dry midday meals from schools made teachers vulnerable to coronavirus that has claimed the lives of many teachers. As an alternative, head teachers requested the project director to transfer allotted cash to parents' bank accounts.
"Guardians hardly wear masks. Teachers need to get close to each parent to hand over meal packets and get their signature. This exposes teachers to the infection. We have lost at least 25 head teachers so far, and many more assistant teachers," said Chandan Kumar Maiti, secretary of the organisation, also headmaster of a school at Mathurapur, South 24-Parganas.
However, a senior education department official said the cash-transfer idea wasn't feasible. Acknowledging the teachers' concern, he said the gross value of midday meals, if sent to parents, would be too meagre to buy groceries. Schools buy items in bulk and hence they came cheap.
"A student is allotted Rs 7 to Rs 8 per day for cooked food served at schools. Within this, the students get rice, daal, egg (twice a week) or soya bean, and chhana. Such a meal for a month would be impossible to arrange in Rs 210 to Rs 250. Schools manage as they buy in bulk," the officer added.
The organisation members also said that when Centre and state government have implemented 50 per cent attendance rule in offices to avoid crowds, why distribution of midday meal items was being physically done from schools.