Covid surge in Bengal blamed on festive shopping
Darjeeling tops the list of north Bengal districts witnessing a surge in coronavirus cases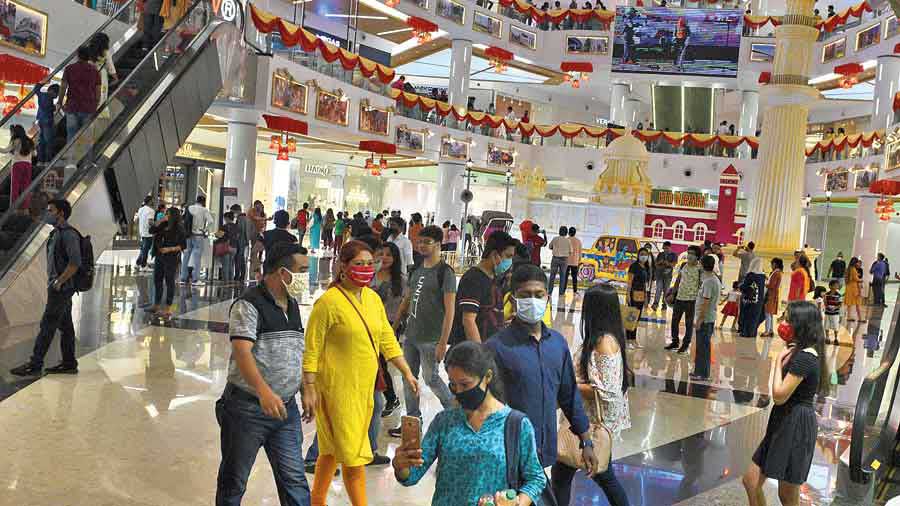 ---
---
The data of Covid-19 cases of north Bengal districts according to the state health department indicates a surge in the number of such cases ahead of and during the Durga Puja.
Darjeeling tops the list of north Bengal districts witnessing a surge in Covid-19 cases.
Sources at the department said that according to the data of total number Covid cases reported from October 12 to 28, the trend of infections is high in most districts of the region.
Only North Dinajpur and Kalimpong districts are the exceptions.
According to the data, 2,210 people got affected in Darjeeling district during this period (October 12 to 28), followed by Jalpaiguri (1,877), Malda (1,667), Cooch Behar (1,530), Alipurduar (908) and South Dinajpur (906).
In North Dinajpur and Kalimpong, the number of infections is much less, that is, 605 and 231 respectively.
A health official said the data "clearly indicated" that people acted more responsibly in North Dinajpur and Kalimpong during this period.
He added that the data indicated that most new cases were reported from marketplaces that were crowded with shoppers ahead of the festival.
"To know the extent of Covid-19 infection for a particular period, we need to collate the data for a fortnight or so. This data indicates the contagion has spread through crowded marketplaces," said a health official.
The official said that in Darjeeling district, most of cases were reported from the plains. The highest number of cases in Darjeeling reported on a single day was 189, which is much higher than the usual trend. In Jalpaiguri, the most number of cases recorded in a day (during the same fortnight) is 180.
Sushanta Roy, the officer on special duty deputed by the state to handle the Covid situation in north Bengal, said: "To know the extent of the spread of infection during Durga Puja days, we need to wait for another seven to 10 days."
He advised those who had gone out during puja days to stay in home isolation.
"We all have seen how people roamed around during puja days, gathered in public places and jostled in immersion ghats without maintaining physical distance in most places. Rising data indicates that the infection has spread during these days and we are apprehensive of a sharp spike soon. We would suggest people who went out during the puja days to stay in home isolation for five to seven days," said Roy.
Additional inputs by Binita Paul in Siliguri