150 BJP workers arrested for violating Covid protocols on first day of Shaheed Samman Yatra
Union minister of state Shantanu Thakur was allegedly detained by officers of the Calcutta airport police station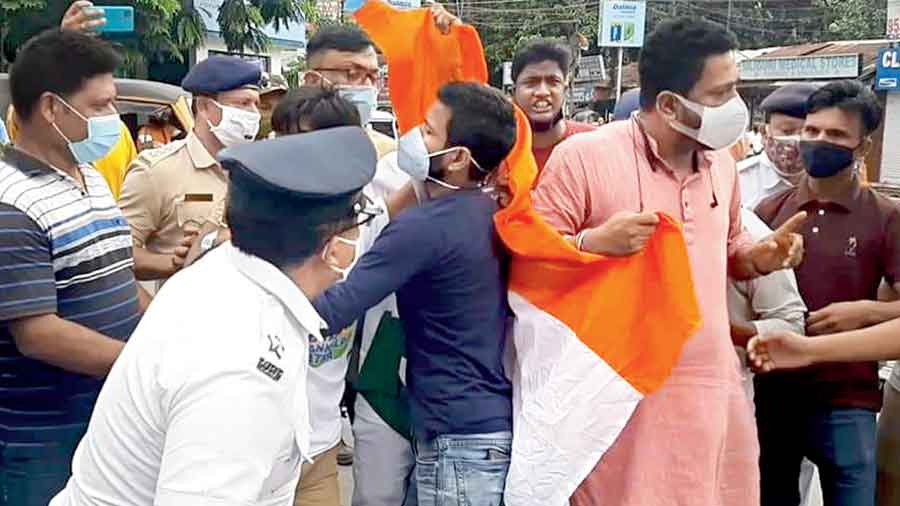 Policemen intercept BJP supporters at Hashmi Chowk in Siliguri on Tuesday.
Passang Yolmo
---
Calcutta, Siliguri
|
Published 18.08.21, 01:04 AM
|
---
Around 150 BJP workers, including eight MLAs, were arrested across Bengal and Union minister of state Shantanu Thakur was allegedly detained by officers of the Calcutta airport police station for violating Covid protocols on the first day of the party's Shaheed Samman Yatra on Tuesday.
Four MPs from Bengal, recently appointed ministers of state in the Union government, and party workers had gathered at three destinations — Calcutta party headquarters, Gouripur Kalibari Jessore Road and Bagdogra — to lead the Shaheed Samman Yatra held to remember BJP workers allegedly murdered by their Trinamul counterparts between 2018 and 2021.
Police stopped them at various places.
"It is clear that police are working as servants of Trinamul. If Trinamul can celebrate Khela Hobe Divas on Monday, why aren't we allowed to do our work while abiding by Covid protocols," said Bongaon MP Thakur, the Union minister of state for ports, shipping and waterways.
While Thakur was allegedly detained, state BJP vice-president Joyprakash Majumdar, five MLAs and others were arrested by airport police from Gouripur on the northern fringes of Calcutta. According to Majumdar, they were kept at the police station for almost three hours.
"All of us were arrested. They detained Shantanu (Thakur) illegally because one can't arrest a Union minister for no reason," Majumdar said. Thakur wrote a letter to the officer-in-charge of the airport police station alleging he had been detained illegally.
Police sources claimed Thakur voluntarily sat inside the police van that took arrested BJP supporters to the police station.
Two persons of the BJP's youth wing were arrested in front of party's headquarters at 6 Muralidhar Sen Lane in Calcutta. Later, MLAs Anup Saha and Sushanta Ghosh were arrested from the same spot. They were to accompany Bankura MP and Union minister of state for education Subhas Sarkar on his yatra.
Twenty-one members, each from BJP's Barasat and Hooghly organisational districts, were also arrested. Siliguri MLA Shankar Ghosh and 30 BJP supporters were arrested in Siliguri.
Around 45 BJP supporters attired like the Narayani Sena troops of erstwhile royals of Cooch Behar were on their way to Bagdogra airport to welcome Nisith Pramanik, the BJP's Cooch Behar MP and Union minister of state for home affairs and sports, when they were arrested from Bihar More there.
As the news spread, a large number of BJP supporters came in front of the police station. Its gate collapsed under pressure and injured some cops.
Those arrested were later released on personal bonds.
Pramanik and John Barla, the Alipurduar MP and the Union minister of state for minority affairs, returned to north Bengal for the first time on Tuesday after becoming ministers, and started the yatra from Bagdogra.
Suvendu on Mukul
BJP's Nandigram MLA and Bengal's leader of Opposition, Suvendu Adhikari on Tuesday said his party would move court next week, seeking immediate implementation of the anti-defection law against Mukul Roy.
Roy, the former Trinamul de facto number 2, joined BJP in 2017 and became one of its vice-presidents and an MLA, but recently joined his old party. Since then, Adhikari and the BJP have been desperately trying to get the Assembly Speaker to reject Roy's membership by invoking the anti-defection law.