Covid: Drives to collect blood and plasma
Mukesh Sharma, secretary of Kalimpong District Voluntary Blood Donor Forum, fears of a crisis in blood banks if people do not donate before being inoculated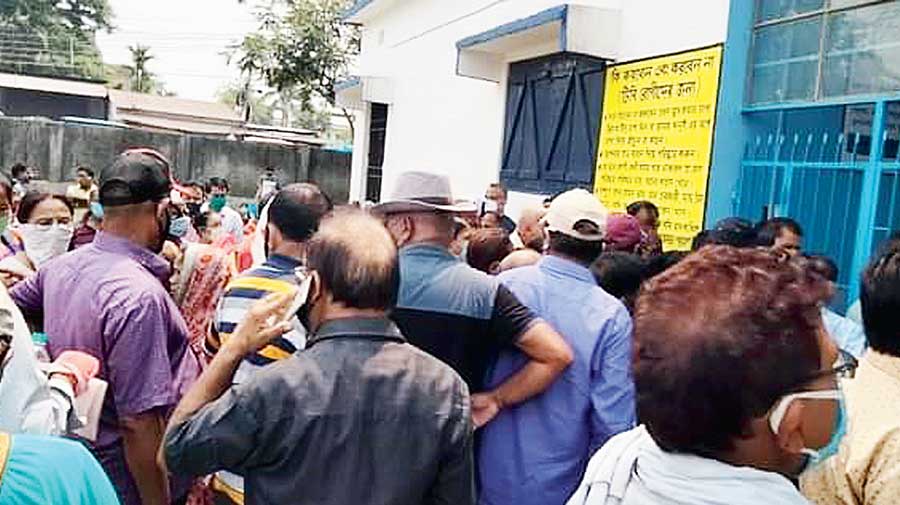 People stand in queue in front of a health centre to get a jab at Debidanga, on the outskirts of Siliguri, on Wednesday.
Passang Yolmo
---
Darjeeling
|
Published 29.04.21, 01:49 AM
|
---
The rush to register for vaccination has started but social workers from Darjeeling hills and plains have launched campaigns to urge people to donate blood before being jabbed and provide plasma if one has recovered from Covid-19 infection.
Mukesh Sharma, secretary of Kalimpong District Voluntary Blood Donor Forum, fears of a crisis in blood banks in the months to come if people do not donate blood before being inoculated with the vaccine. "We have started a campaign in Kalimpong requesting people to donate blood before taking the vaccine. This is because one cannot donate blood for some days after receiving the jab," said Sharma.
P.D. Bhutia, general physician, said it is being advised that people should donate blood only 28 days after the second dose of the vaccine.
According to the Centre's guidelines, the second dose of Covaxin should be taken between 28 to 42 days, while the second jab duration for Covishield should be between 28 to 56 days. This means those who take the jabs will not be able to donate blood for over two months. 
The Centre plans to vaccinate everyone aged above 18 years from May 1.
Most blood banks depend on blood donation camps which is bound to dry up at a time when the pandemic is surging.
"Even in normal times, less than 1 per cent of the area's population donate blood. The Kalimpong district hospital requires about 100 to 120 units of blood per month," said Sharma stating that the restriction on blood donation could pose problems for patients during the vaccination drive.
In Siliguri of Darjeeling district, social workers have launched a  drive to seek plasma donors.
Abhijit Dey, member of Covidwin Sahayata Siliguri, said their group had started seeking plasma donors in Siliguri from Tuesday. "We started the drive one day ago and have been approached by four people to help them with plasma. However, we have not yet got a donor," said Dey.
The group is looking for patients who have recovered from Covid-19 during the last 90 days so that plasma can be extracted from their blood as it would contain antibodies to the virus.
"Plasma therapy has worked for some. It is part of a rescue therapy and not a permanent solution. Some people are coming forward for plasma donation in Siliguri," said Dr. Bhutia.
Dey and his organisation want to bring seekers and donors on a common platform. 
"We are also helping patients with oxygen and ambulances. During the first wave, we were into distributing mask and sanitisers but this time the need is different," said Dey.