Covid: 5,000 tourists without negative reports sent back from East Midnapore
Officials said they opted to scan incoming vehicles because of recent reports that several hotels in the seaside towns had been wilfully flouting safety protocol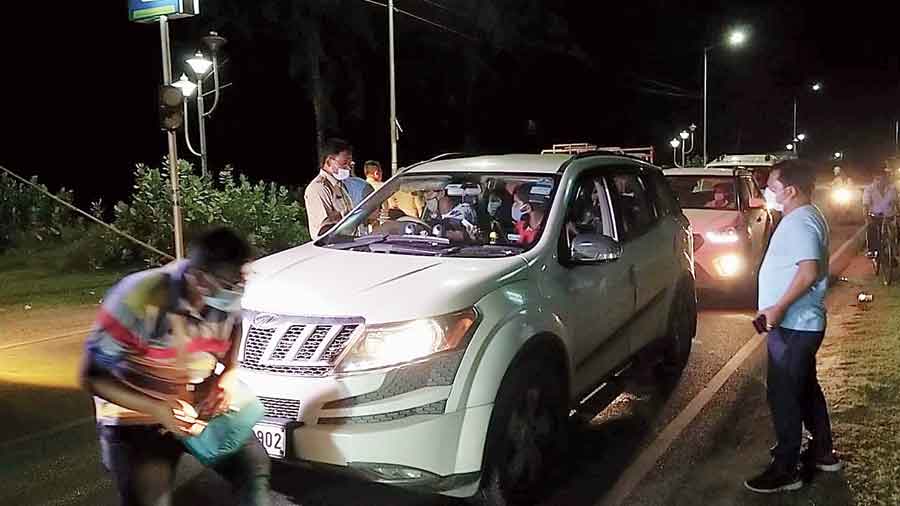 District officials and police check tourist vehicles in Digha on Friday night
Telegraph picture
---
Digha
|
Published 18.07.21, 01:26 AM
|
---
Officials in East Midnapore have since Friday set up barriers on the outskirts of the district's sea resorts and are checking vehicles and hotels to turn away tourists without up-to-date Covid negative reports or proof of their being fully vaccinated.
A senior official of the district administration said since Friday night they had sent back around 5,000 tourists, including some from hotel rooms in Digha and Mandarmani on Saturday during raids conducted jointly with the police.
The crackdown on tourists comes in the wake of an order issued last Monday by the Contai subdivisional officer stating that those entering East Midnapore tourist towns such as Digha, Mandarmani, Sankarpur and Tajpur must provide either a negative Covid test report not older than 48 hours or proof of being fully vaccinated with two doses to be eligible to book a hotel.
"The extraordinary crackdown comes in the midst of findings that similar to hawkers and hotel workers, tourists are also acting as superspreaders in this pandemic. So, despite the losses suffered by the tourism industry, (tourist) movement will have to be restricted," said Ramnagar-I BDO Bishnupada Roy, who is leading the checks over this weekend.
The checks started on Friday night. Police personnel were also seen on the fringes of Digha on Saturday afternoon and evening, turning away scores of tourist vehicles whose occupants did not have the required Covid documents.
"The weekend saw a big influx of tourists here, with most not obeying the norms (that mandate carrying proof of their current Covid-negative status or being fully vaccinated with both the doses)," said an official.
Officials said they had opted to scan incoming tourist vehicles because of recent reports that several hotels in the seaside towns of the district had been wilfully flouting Covid safety protocol.
Current Covid safety protocol dictates hotels to operate at 50 per cent occupancy.
However, many hotels on Saturday were during the raids found to have close to 75 per cent occupancy. Many had admitted visitors without the required Covid-negative or fully-vaccinated documents.
Authorities on Saturday sealed one hotel in Digha and start cases against two others in Digha and one in Mandarmani. The raids in the hotels were led by district magistrate Purnendu Majhi.
Some hoteliers on Saturday closed their hotels in the wake of the raids.
"We had thought we could make some profit this year (after last year's losses during the pandemic-induced lockdown) but more than 80 per cent of our bookings have been cancelled. With the revenue we currently have, we can't even pay for electricity," said a New Digha hotel manager, Ashish Khan.
The local hoteliers' association joint secretary Bipradas Chakraborty admitted the industry was taking a hit.
However, he claimed it was a "necessary loss" to keep the pandemic at bay.
"We will follow all necessary measures to operate our hotels safely," he said.
Last week, the Digha-Sankarpur Development Authority had begun conducting rapid testing for incoming tourists but gave up the effort later owing to insufficient infrastructure and the sudden influx of tourists.