Total lockdown will hurt poor, we appeal to people to abide by safety protocols: Mamata Banerjee
"Whenever we get vaccines from the Centre, we will inoculate everybody in the state free of cost"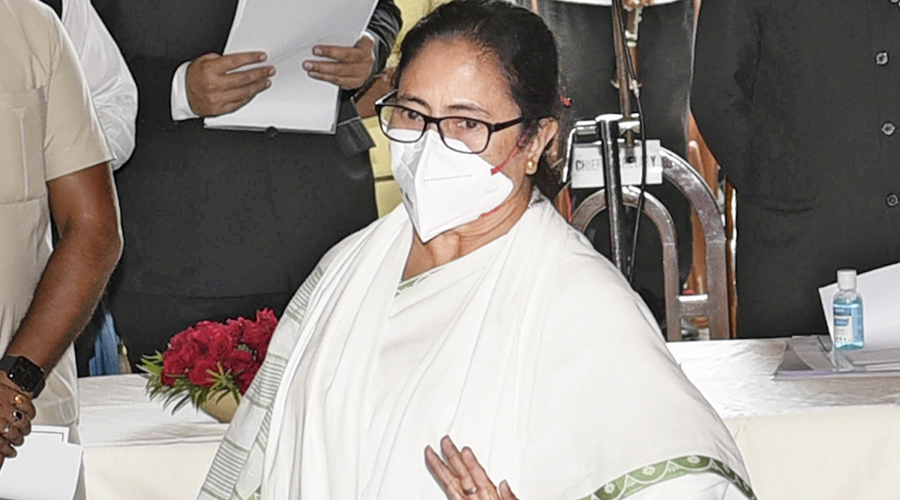 Mamata in Raj Bhavan on Monday.
(Bishwarup Dutta)
---
Calcutta
|
Published 11.05.21, 01:58 AM
|
---
Chief minister Mamata Banerjee, after the inaugural meeting of her cabinet on Monday, said her third-term government's first priority was a war effort against Covid-19, and lambasted the BJP-led Centre over its alleged mismanagement of the pandemic and discourtesy towards her government.
Speaking to journalists, Mamata virtually also ruled out a total lockdown in view of livelihood concerns.
Before repeating her demand for waiver of GST on vaccines and other essentials in pandemic management, Mamata said: "The Centre has not been giving us any money by way of assistance….We are asking for 3 crore vaccine doses, being given one lakh. One lakh doses is vaccination for 50,000 people. Our state has 10 crore people."
"The Centre has a lot of money. If it gave just Rs 30,000 crore, universal free immunisation for all in the nation could have been done," said Mamata, who has been questioning the Narendra Modi government's priorities such as the Central Vista and the new PM residence. "Whenever we get vaccines from the Centre, we will vaccinate everybody in the state free of cost."
On a lockdown, Mamata said: "We have so many restrictions in place....Instead of us imposing a total lockdown, if we behave like there is one… we appeal to people to abide by safety protocols....Total lockdown would mean countless people will starve....daily wage earners."
She questioned the saffron ecosystem's IT cell's propaganda after her party's win. "'Genocide'? Where did 'genocide' take place? Other than in Sitalkuchi (the CISF firing on April 10)?" she asked on charges from the saffron ecosystem of her overseeing a "Hindu genocide".
She also condemned the central team sent by Amit Shah's ministry, which toured Bengal to allegedly pay heed exclusively to BJP complaints of violence, and said law and order was a state subject. "Those who send a central team in less than 24 hours of the government taking oath, do they have the minimum courtesy? This landslide of a mandate, even after that. Law and order is a state subject," she said, on a day Calcutta High Court "appreciated" her government's measures for restoration of normality.
"Why is the central team (still) here, going to places and fomenting tension? They came and spoke to the (state) chief secretary, that's okay. Why are they still going around, visiting BJP homes? Have they visited even one Trinamul home? Why not? Any SUCI home? Why not? A home of any other party? Why not?" she asked, adding half the victims of the post-results violence were from her party.
"We gave compensation to every victim family, even those of BJP workers. Did they do anything of the kind, despite what they did in Tripura, for instance?" she asked.
In the saffron echo chambers, there has been deafening noise from the chorus of outlandish demands ranging from the imposition of Article 356 in Bengal and "reducing it Kashmir-like rubble" to even a "third Partition" of the state (culling out parts in the north and the west that voted in favour of the BJP and giving them separate BJP-led governments).Numerous fact-checking exercises by the likes of AltNews have revealed many videos and pictures circulated by the saffron camp and its followers on social media – given substantial coverage by pliant sections of the national television media – as "evidence" had little or nothing to do with Bengal.
By bringing up Sitalkuchi, the chief minister was referring to the April 10 event, where central forces under the Election Commission of India – in an act defended even by the Prime Minister – opened fire in a polling booth, killing four villagers. Several BJP leaders, underscoring the religious identity of the victims, had vowed during campaign to ensure such incidents took place in many other parts of the state.
"Only because the BJP's IT cell, with RSS branches in 30 nations… is still sending fabricated content, alleging it's taking place in Bengal. Nothing happened in Bengal. Bengal has been peaceful," said Mamata.