Dr Kafeel Khan flags child mental health concerns amid pandemic
'We always blame the children for their so-called irritating behaviour or tantrums. But we care little to know what's been going on in their lives over the past one year'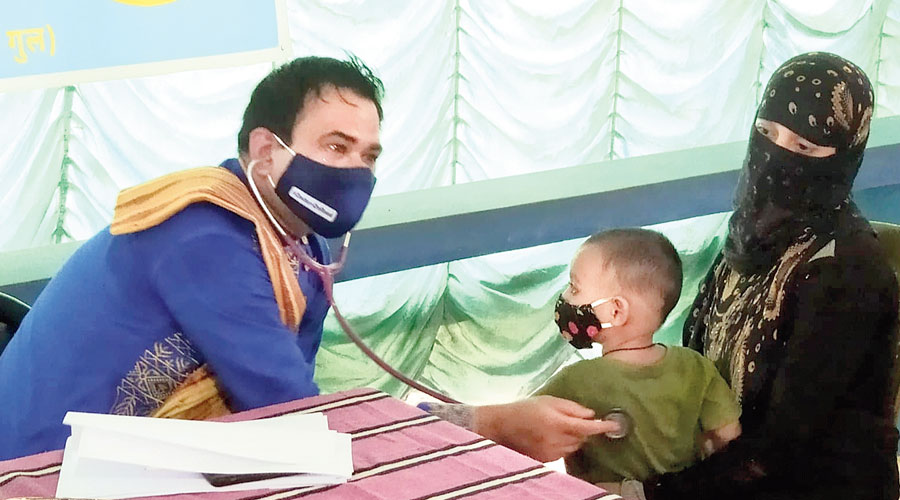 ---
Kankinara
|
Published 02.07.21, 02:42 AM
|
---
For paediatrician and outspoken activist Kafeel Khan, allaying the worries of children is part of his job.
But in the aftermath of the second wave of Covid-19, Khan is the one raising an early flag for a potential "fallout" of the impending third wave and is asking parents to be on alert.
"Healthcare infrastructure, particularly for child health in many states, is quite abysmal. I pointed it out in my home state in Uttar Pradesh and earned the wrath of the state government as a result," said Khan, who had called out oxygen shortage at a hospital in Gorakhpur where he worked in 2017, earning the ire of the Yogi Adityanath government.
Khan was speaking to The Telegraph at Kankinara in North-24 Parganas on Thursday, July 1, which is celebrated as Doctor's Day, after flagging off "Doctors on Road",  a nationwide child-health initiative he launched last year.
Khan fears the third wave could bring to the fore a unique problem in the form of children's mental health.
"We always blame the children for their so-called irritating behaviour or tantrums. But we care little to know what's been going on in their lives over the past one year," he said.
"A large section of children and teenagers faced immense trauma in the past year owing to Covid-related deaths. I have also seen that deprivation of human contact through the suspension of school causes immense harm to mental health," he said. "This can be a much bigger problem in the long term," he added.
"Khan iterated the need for a "positive approach" to child health care and said mental health facilities should be "mandatory".
On existing infrastructure for children's health, especially mental health, Khan cited the "abysmal" state of Uttar Pradesh.
He suggested the problem was endemic and that all the doctors lived amid bureaucratic fear. "No doctor in UP can dare speak about the (current) situation. The doctors are a helpless lot. Many of them are being compelled to leave their jobs and are opting for private practice," he said.
On child-focused infrastructure, he suggested "immediate" procurement of paediatric-ventilators and hiring of skilled technicians to run such devices.
"Children can't be treated by all physicians," he said. "The physiology of children, their psyche is different from adults, so understanding them is very important," he added.
Khan, who had been accused of the deaths of 70 children from oxygen shortage in 2017 while serving as an academic doctor at Gorakhpur's BRD Medical College and Hospital, was eventually acquitted of all charges but re-arrested under the National Security Act for his controversial speech against the Citizenship Act at Aligarh Muslim University. He was released on September 1, 2020, from Mathura jail after Allahabad High Court dropped charges against him terming his arrest "illegal".