Couple shot dead by relative's 'abductor'
Family members of the deceased said Tanmay Bar, 24, had climbed a coconut tree to land on the terrace of the couple's two-storied residence around 3am on Wednesday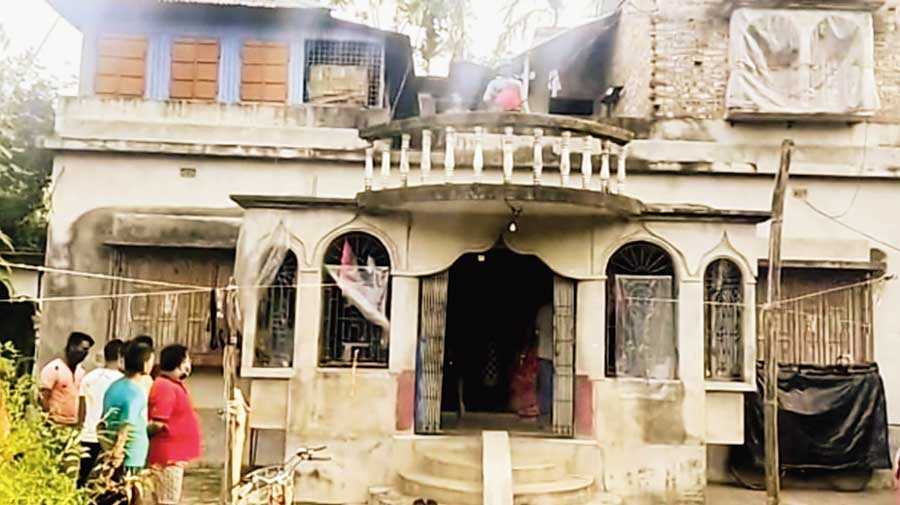 ---
|
Habra
|
Published 17.09.20, 02:35 AM
---
A retired army man and his wife were shot dead at their home in Habra, North 24-Parganas, during the early hours of Wednesday allegedly by a youth who was accused of kidnapping the ex-soldier's niece at gunpoint earlier.
Family members of the deceased — Ramkrishna Mandal, 58, and his wife Lila Mandal, 51 — said Tanmay Bar, 24, had climbed a coconut tree to land on the terrace of the couple's two-storied residence around 3am on Wednesday.
The accused was out on bail in the abduction case.
Police sources said Bar had broken open a door on the terrace and the noise alerted Ramkrishna and Lila. They woke up fearing a theft bid. "When the couple came out of their rooms, the duo came face-to-face with Bar, who shot at the couple from close range and fled," said a police source.
Ramkrishna and Lila, both residents of Kumra-Tunighata, were rushed to Habra state general hospital, where the woman was declared dead. Ramkrishna was transferred to Barasat state general hospital and succumbed to his injuries on the way.
A doctor at the Habra hospital said: "The deceased woman had a bullet injury to the head, while her husband was shot in the chest."
Habra police have started a murder case against Bar, a resident of Habra's Kashipur, on the basis of a complaint lodged by the victims' family. However, he could not be arrested till Wednesday evening.
Superintendent of Barasat police district Avijit Banerjee, who visited the crime spot, said: "We began a search for the accused. The motive behind the murder could be ascertained once he is arrested."
The couple's daughters are married and they stay elsewhere. Ramkrishna's younger brother Jyotirmoy Mandal, who is also a retired army man, said: "The youth turned desperate recently and had threatened to eliminate us, including my daughter, whom he kidnapped and married by force in 2016 when she was a minor. However, my daughter returned home last year because of physical torture and never returned to him."
Local sources said, in 2016, Bar, a palmist by profession, allegedly kidnapped Jyotirmoy's daughter and took her to Bangladesh where he married her by force. Before kidnapping the girl, Bar had allegedly orchestrated an acid attack on the girl, but she had a close shave.
"After the girl became an adult in 2017, Bar returned to India and forced her to register their marriage. However, in 2017 he was arrested on charges of kidnapping. The same year, he was released on bail and had since been torturing the girl. Eventually, the girl managed to escape from his clutches and refused to return to him. The girl had recently filed a divorce suit," said a relative of the Mandal family.
Asked why the girl's uncle and aunt were targeted, family sources said being the head of the family they were very behind all the legal actions against Bar.