Councillor leaves BJP in immigrant annoyance
Santanu Roy, a three-term Trinamul councillor since 2004, had joined the BJP in 2017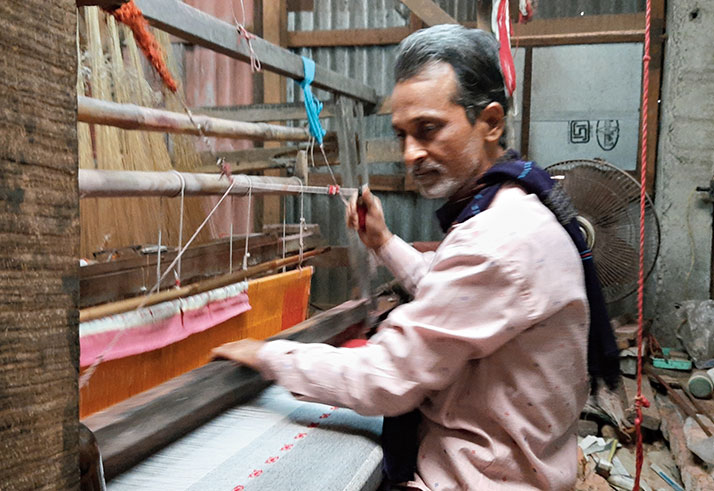 ---
---
A councillor of the Sainthia municipality has returned to the Trinamul Congress from the BJP after Hindu Bangladeshi immigrants who comprise more than half of voters in his ward refused to support him in the wake of the saffron camp's citizenship thrusts.
Santanu Roy, a three-term Trinamul councillor since 2004, had joined the BJP in 2017. Roy — a councillor of ward 7 that is made of Muradihi Colony and Surya Sen Pally — has around 3,000 voters, of whom around 1,700 are Bangladeshi Hindu immigrants. They had moved to Sainthia starting from 1971. In the Lok Sabha polls this year, the BJP secured a lead of 1,237 votes in his ward.
Sources said the immigrants, all Indian citizens now, had mostly built permanent homes on government-assigned land for refugees. A large number of them are weavers who run handloom workshops out of their homes.
The neighbouring ward 6 also has a high population of immigrants with roots in Bangladesh. The BJP secured a 1,127-vote lead in the Lok Sabha polls in the ward.
"The immigrant population is the main reason for my three consecutive victories. I joined the BJP in 2017 after most of them seemed impressed with Prime Minister Narendra Modi. So, I thought I could perform better if I joined the BJP," said Roy.
"As 13 lakh Hindus were among the 19 lakh people whose names were excluded from the National Register of Citizens in Assam, the voters in my ward became annoyed with the BJP. Many have relatives in Assam whose names were excluded from the NRC. Then, I spoke to senior leaders and decided to return to my old party — Trinamul Congress," he added.
Residents of Muradihi Colony said they had initially thought the BJP and its government were going to be helpful to Hindus.
"My wife is from Assam and her family members have been living there. But so many of them were left out of the NRC. They have been terribly harassed over the past months, being made to run from pillar to post, to prove their citizenship that they already have. We are panicking now, although we have been living here since 1971," said Amulya Basak, a 52-year-old weaver working on his handloom.
Swadhin Bhowmik, 30, an immigrant from Bangaldesh, whose parents had died a few years ago, is worried now as he has no documents at all of his ancestors
"I was born in Sainthia, but my parents had come from Bangladesh without documents. Both my parents died a few years ago. I am afraid as I have only the documents to prove my citizenship, but nothing to prove the citizenship of my deceased forefathers," he said.
The Trinamul leaders in Birbhum said they were aware of Roy's return to the party.
After Roy's return, a party meeting was organised in his ward with Birbhum Trinamul chief Anubrata Mondal and other senior leaders to assure the immigrant population that Mamata Banerjee would not allow the NRC or the Citizenship (Amendment) Act to be implemented in Bengal.
"It was difficult for him to be with the BJP as the immigrant voters in his area became annoyed with the NRC. Santanu is an old party leader and a good organiser in Sainthia town, and when he approached us, we welcomed him again," said Abhijit Sinha, Trinamul's district vice-president in Birbhum.