Could have supported Droupadi Murmu: Mamata Banerjee
Not consulted over tribal woman candidate, says CM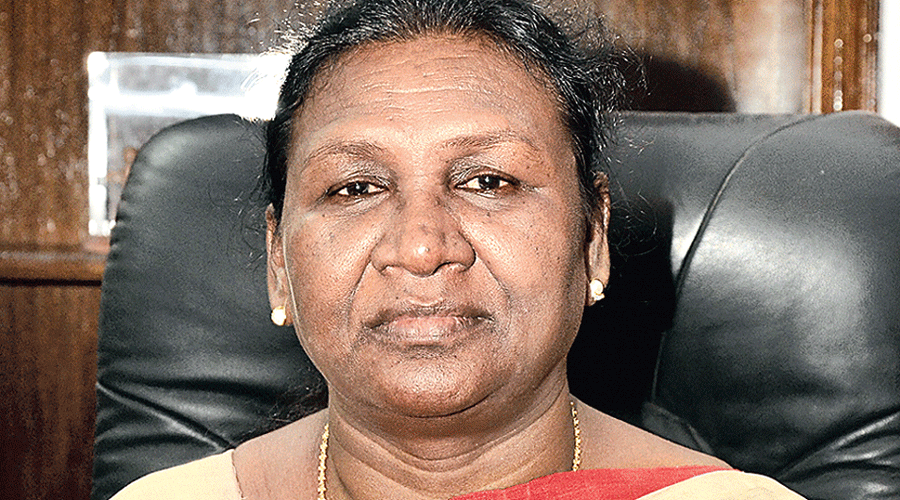 Droupadi Murmu.
File photo
---
Calcutta
|
Published 02.07.22, 12:50 AM
|
---
Mamata Banerjee on Friday said she would have considered supporting the NDA's presidential nominee, Droupadi Murmu, as a consensus candidate had the BJP consulted her before the Opposition collectively decided to field former Union finance minister Yashwant Sinha.
"If the BJP had informed earlier that they are fielding a tribal, adivasi woman for the presidential election, we too would have tried. I have a sentiment towards women anyway," the Trinamul Congress chief told journalists on the sidelines of the Iskcon Rath Yatra. "For the sake of a greater interest, certainly the 16-17 Opposition parties, we could have arrived at a decision together in favour of a consensus candidate, which would have been good for the nation. A.P.J. Abdul Kalam was, once (such a consensus candidate)," Mamata added, a week after receiving a call from Murmu requesting her support.
The Bengal chief minister played a lead role in trying to get the non-BJP forces together last month for the presidential polls, convening a meeting at the Constitutional Club in New Delhi.
The ruling coalition, led by the BJP, initially did not have the numbers for a guaranteed victory. After Murmu — a tribal woman — was fielded, it became a sensitive issue for many parties across the spectrum — those opposed to the BJP, disgruntled allies and those who have supported the BJP on key policy matters at the Centre but have of late turned hostile due to local politics.
Similar social and political concerns may have forced Mamata to take a softer stand on Murmu, sources in Trinamul said.
"Droupadi Murmu has a better chance of winning now… in the wake of what's happened in Maharashtra," Mamata said.
"When the BJP had called us, they had only sought our suggestion, said nothing about their suggestion. I always prefer a consensus candidate. But since 17-18 parties, we sat together and made a decision… unless everybody agrees, I cannot turn back from that alone," she added.
"But I want the presidential election to take place in peace and beauty. Every caste, creed, race, we will respect equally…. I am sad there is a contest. But I think all Dalits, all tribals, everyone is with us. We do not cause divisions between people," Mamata said.
A Trinamul Rajya Sabha member said on the condition of anonymity that the choice of Murmu was a game-changer.
"What she (Mamata) is trying to prevent is a huge loss of face for the Opposition and for Yashwantji," he said.
"More importantly, Mamata Banerjee cannot risk being viewed as anti-women and anti-tribal," said the MP, adding that support from women was a big reason for her victory against the BJP in the Assembly elections last year.
The BJP, on the other hand, received the support of tribals in certain belts while making steady inroads into Bengal.
Mamata's comments prompted derision from the Congress and the Left, both accusing her of a secret entente with the BJP.
The BJP mocked what it called Mamata's U-turn, allegedly for the sake of tribal votes. "This is happening only after Droupadi Murmu's victory stands guaranteed. No need to read too much into this," said BJP national vice-president Dilip Ghosh.