Coronavirus tests on samples of Iskcon duo
The 2 devotees — one from Malaysia and the other from Australia — had arrived in the first week of March to celebrate Holi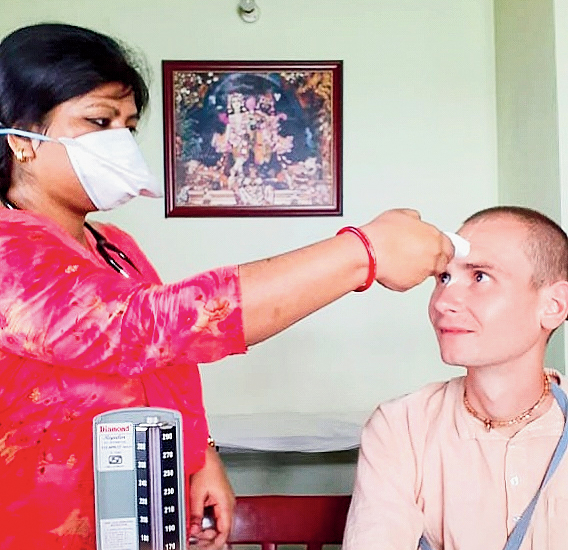 A devotee (right) being checked at the Iskcon's community hospital in Mayapur
(Picture sourced by The Telegraph)
---
Krishnagar
|
Published 12.03.20, 10:02 PM
|
---
The Nadia district administration has sent samples of blood, sputum and swabs from nose and throat of two Iskcon devotees to Calcutta for Covid-19 test as they have been suffering from influenza for about a week.
The two devotees — one from Malaysia and the other from Australia — had arrived the Iskcon headquarters in Mayapur in the first week of March to celebrate Holi. They have been kept at an isolation ward at Iskcon's community hospital in Mayapur.
The district administration advised the Iskcon authorities to keep them under observation until the test reports arrived.
Nadia district magistrate Vibhu Goel said: "We have sent the samples for tests as a precautionary measure to be sure enough about the nature of the influenza. There is nothing to be panic."
"We have been waiting for the test reports that are expected to arrive late on Thursday evening. I have spoken to the doctors who have preliminarily indicated the two devotees were suffering from common symptoms of influenza. Nevertheless, we wanted to be sure
enough about the exact nature of their illness," the Nadia DM added.
Sources said the two foreigners had been singled out during screening of patients at the Iskcon's community hospital in Mayapur on Wednesday since they had influenza.
Every year, a large number of devotees from abroad attend the Holi festival in Mayapur, which is known as the 'Gaur Purnima Festival'.
This year, too, around 8,000 devotees from around 80 countries, including those in Asia where an outbreak of coronavirus has already claimed many lives, had congregated at Mayapur for the festival that ended on Tuesday.
On Friday, the Bengal government had directed Iskcon authorities to prepare themselves to combat any possible outbreak of coronavirus by complying with health department guidelines.
Goel held a meeting with the Iskcon officials on Saturday to suggest ways to combat the threat. The district administration also deputed a doctor who has been regularly examining devotees at the Iskcon's community hospital in Mayapur since Sunday.
Unconfirmed sources at Iskcon said the two devotees had arrived in Mayapur on March 3 after touring other places in the country.
Head of communications at Iskcon Mayapur's, Subroto Das, said: "Two devotees had reported to the hospital with normal symptoms of cold and fever. The government doctor stationed at our hospital wanted them to be examined as a precautionary measure."
Another Iskcon official said: "At present, we have no one who has been diagnosed with Covid-19 symptoms. Nevertheless, we are taking precautions and welcoming devotees at the same time."