Red cross on quarantine homes in Bengal
Work begins to erase marks after fears are aired over stigmatisation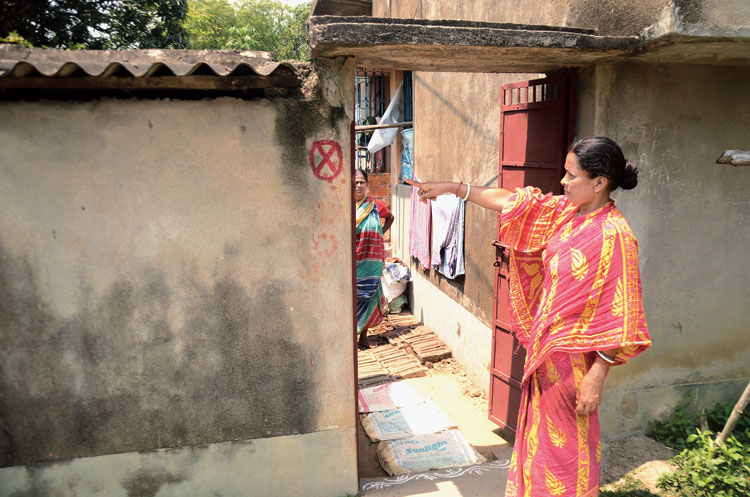 ---
|
Arambagh
|
Published 02.04.20, 09:34 PM
---
Hundreds of houses of home-quarantined persons who have come from other states or abroad have been marked with red crosses in Hooghly's Goghat, triggering apprehensions that they might face stigmatisation because of the panic over the coronavirus outbreak.
Following the district administration's intervention, work has begun to erase the marks.
Sources said the local administration, police and representatives of panchayats had decided to mark the houses with red crosses after receiving complaints of people breaking home-quarantine rules.
Manas Majumder, the Trinamul MLA from Goghat, said the decision was taken to let people know who all had been advised home quarantine. It had become difficult to make people follow quarantine rules, he added.
"There are 16 gram panchayats in my area and around 450 such houses have been identified for marking," Majumder said.
Asked if this was the right way to ensure home quarantine, the MLA said: "We had no other option."
Health experts have advised against marking homes as they fear this would lead to the harassment of quarantined families at a time when there is widespread panic over Covid-19. As per reports of the Bengal health department, there are 57,741 people in home quarantine across the state.
A girl studying nursing in Bangalore who returned to her Goghat home a few days before the lockdown started, said she felt humiliated after her house was marked with a red cross. "I am feeling bad. As a student of nursing I know that no one should be tagged. I am asymptomatic and have been obeying quarantine norms," she said.
Officials in the Hooghly administration said the marking was done at the panchayat level and that the rural staff had been directed to stop the drive immediately.
Hooghly district magistrate Y. Ratnakara Rao said the decision had been taken at the local level. "It may be that those at the local level had done it in good faith. However, it is not a direction issued from the district administration. I will look into the mater," he said.
Tathagata Basu, the Hooghly (rural) police chief, said: "The police had no information about the marking of houses with red crosses."
Sources said the BDO had ordered that all such red crosses drawn on houses be erased immediately. "The work to erase the marks has started," an official said.