Oximeters worth Rs 18 lakh seized at Petrapole
Smugglers seize opportunity in pandemic-induced increase in demand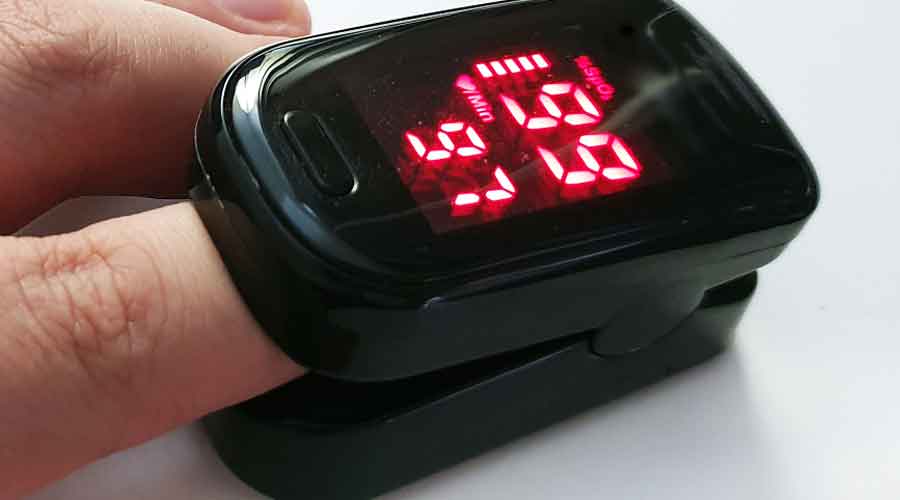 ---
|
Calcutta
|
Published 01.08.20, 01:51 AM
---
Coronavirus outbreak has created a demand for pulse oximeters in the market and smugglers have found in it an opportunity to bring in Chinese-made devices into the country through the India-Bangladesh border, an interception of a truck by the Border Security Force at Petrapole has revealed.
The consignment valued at Rs 18 lakh was seized from the truck at Petrapole early on Thursday while it was heading towards Calcutta.
Pulse oximeter is a low-cost non-invasive device that is used to check the oxygen level in blood, a measurement that is considered critical in the diagnosis and treatment of Covid-19 patients. The device also provides pulse rate reading and oxygen saturation in blood.
Preliminary investigation by the intelligence wing of the BSF revealed that Indian drivers engaged in export to Bangladesh through the Petrapole land port and those who travel to Benapole in Bangladesh were being lured into the illegal trade. The devices are delivered to operators in Calcutta and adjacent areas.
The BSF authorities have caught Jani Baidya, a truck driver, who is a resident of Netajinagar area in Bongaon, and handed him over to police for further investigation.
Sources said the BSF's 179-battalion patrolling near the public access gate outside the boundary of the integrated check-post in Petrapole had intercepted the truck.
The BSF personnel spotted five bags inside the driver's cabin. The bags contained finger-tip pulse oximeter devices of three different types with each priced between Rs 1,800 and Rs 1200, the sources said.
A spokesperson for the BSF's South Bengal Frontier said: "The pulse oximeters were being illegally carried by the driver from Bangladesh to India without custom clearance. We immediately apprehended the truck driver and seized the vehicle."
"The driver confessed that a person from Benapole in Bangladesh had given him the pulse oximeters."
"The driver got the devices when he went to deliver export cargo at the Jayantipur area of Petrapole. He was given Rs 500 for the job," the spokesman added.
Conducting a probe into the incident, the BSF identified the Benapole-based operator as Bapi Mandal and his India counterpart is Sukumar Biswas, who is yet to be arrested.
Trader shot dead
Chandan Das, 32, co-owner of a plywood shop, was shot dead by unidentified assailants at his shop in Rathtala area of Kalyani town on Friday afternoon. Family members suspect Das was killed apparently because he recently refused to oblige a group of extortionists who demanded cash from him.
Police sources said about 3.45pm Das was alone at his shop-cum-residence and preparing to go upstairs for lunch when two assailants on a motorcycle came and one of them pumped two bullets into his chest from close range killing him on the spot. He was rushed to JNM Hospital, where doctors declared him dead. Police have started a murder case, but no arrests have been made so far.